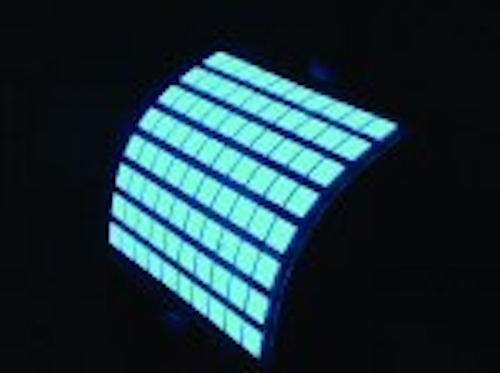 Konica Minolta and General Electric have signed a strategic alliance agreement to accelerate the development and commercialization of organic LEDs for lighting applications. The goal is to bring OLED lighting to market within the next 3 years.
Although OLED lighting products are at any early stage in development, the two companies say that OLEDs have the potential to deliver dramatically improved levels of efficiency and environmental performance, while achieving at least the same quality of illumination found in traditional products in the marketplace today.
For a review of the current status of OLED lighting, see OLED light sources advance towards the lighting market.
Michael Idelchik, VP of Advanced Technology Programs at GE Global Research, said that both companies have achieved significant advances in OLED technologies at the R&D stage. "Now, we will pool our substantial resources and expertise to accelerate the development of this transformational technology."
Masatoshi Matsuzaki, president of Konica Minolta Technology Center, said "Having such unprecedented attractive features as flexible, thin, light weight, and sheet form, OLED lighting is considered one of the most promising new business opportunities for us in the future."
R&D success
In June 2006, Konica Minolta announced the successful development of a white OLED with a world record power efficiency of 64 lumens per watt at 1,000 cd/m2 - a brightness which is appropriate for lighting applications (see news item).
Before that, KM developed its own highly efficient and long-life blue phosphorescent materials. Applying these material technologies, along with multi-layer design technology and innovative optical design technology, KM developed an OLED having a practical light emission level of approximately 10,000 hours.
Reliability is a key issue for OLEDs. KM has been developing ultra-high barrier film fabrication technology to enable high productivity, as well as coating technology that is derived through KM's development of photographic film and display materials.
GE has made substantial investments in OLED research that have resulted in world records for OLED lighting device size and efficiency. In 2004, GE researchers were able to demonstrate an OLED device that was fully functional as a 24–inch by 24–inch panel, which produced 1,200 lumens of light with an efficiency on par with today's incandescent bulb technology (see news item). This was the first demonstration that OLED technology could potentially be used for lighting applications. Since then, GE has more than doubled the level of OLED efficiency using device architectures that are scalable to a large area and can be produced cost-effectively.
GE has also focused on all aspects of producing large-area OLED lighting. These include plastic film substrates, ultra-high barrier coatings, and fabrication processes and equipment to enable high speed, cost-effective "roll-to-roll" manufacturing.
GE Consumer & Industrial Vice President Michael Petras said, "In a world demanding higher standards for energy efficiency and environmental performance, OLED lighting has the potential to become a major lighting source on both fronts."
Petras added that because OLED lighting is soft and diffused, it will create some exciting application opportunities for designers and specifiers. "The applications are numerous, ranging from ceiling lighting for office and residential applications to interior automotive and aircraft lighting to many specialty lighting applications such as task lighting, sign and various forms of interior retail lighting.