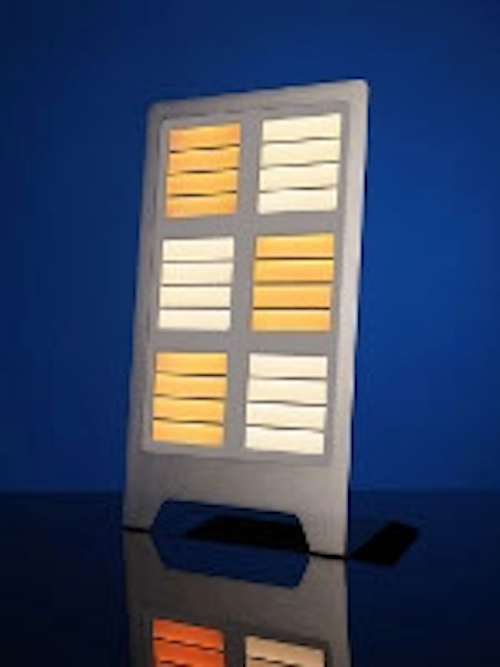 Universal Display will have two years and $4 million to demonstrate the scalability of its UniversalPHOLED technology for the general illumination market, and together with Moser Baer Technologies will build a pilot production line. Novaled, meanwhile, has a new top-emitting white OLED technology that is made on a metal substrate, doesn't require brittle and expensive Indium Tin Oxide (ITO), and is rated for 50,000 hours of life.
Novaled developed the new OLED using its PIN (p-doped, intrinsic, n-doped) OLED technology that leverages proprietary host and doping materials, and blue fluorescent emitting material from SFC Korea. The company also adds a proprietary light-extraction layer that eliminates color shift and increases efficiency.
The metal substrate in the new PIN-OLED-based design offers improved heat dissipation, mechanical stability, and flexibility, and offers compatibility with roll-to-roll manufacturing techniques.
The new Novaled OLED outputs 30 lm/W with an initial luminance of 1,000 cd/m2. With this achievement Novaled demonstrates once again the robustness and potential of its PIN technology", says Gildas Sorin, Novaled CEO. "Configurations like top or bottom, inverted or non-inverted organic structures with various emitting materials and metal electrodes bring the proper high performance for each specific market request in the display and lighting domain."
Universal manufacturing
Universal, meanwhile, is a technology leader in phosphorescent OLED technology and materials and has claimed a 4x energy efficiency advantage over competing technologies. The US Department of Energy (DOE) has invested $4 million in Universal under the American Recovery and Reinvestment Act of 2009 for a program titled "Creation of a US Phosphorescent OLED Lighting Panel Manufacturing Facility."
Universal will use the funding to prove out the technology, materials, and manufacturability of its UniversalPHOLED technology for commercial lighting. Moser Baer Technologies (US subsidiary of Moser Baer India) will design and build a US-based pilot production facility for Universal.
"This new US DOE program represents a very important step towards the establishment of high-volume manufacturing of white OLED lighting panels in the US," stated Steven Abramson, President and CEO of Universal Display. "We are delighted to have this opportunity to team with Moser Baer Technologies, with its experienced leadership in manufacturing of thin-film, high-volume products.
"By combining our highly-efficient UniversalPHOLED technology and materials with Moser Baer Technologies' proprietary manufacturing technology, we believe that the new pilot facility can demonstrate a cost-effective route to high-volume production of energy-efficient and environmentally-friendly white OLED lighting products, which in turn can serve as a basis for new manufacturing investment and job growth in the US."