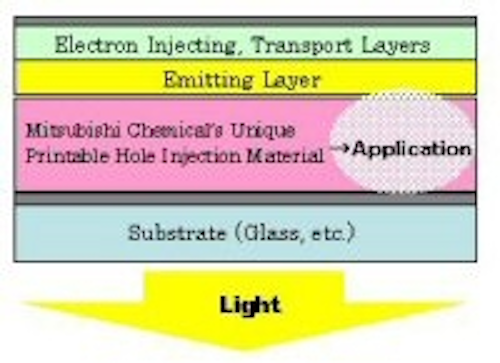 Mitsubishi Chemical Corporation and Pioneer Corporation have entered into an alliance covering their OLED lighting businesses, as well as a capital alliance that will strengthen their inter-company relations.
Mitsubishi Chemical is entering the OLED lighting business, and is aiming to begin full-scale mass production and launch of illumination products in 2011 through its Verbatim brand. The company's target sales for the OLED lighting business are ¥30 billion (about $330 million) for 2015, and ¥100 billion ($1.1 billion) for 2020.
Mitsubishi Chemical plans to use OLED lighting panels supplied by Pioneer, but is also looking into performing joint research on printable OLED lighting development, as well as commercialization of such products.
Also, in order to strengthen the strategic partnership between the two companies, Pioneer will issue Mitsubishi Chemical about ¥600 million in new stock through third-party allotment.
Both companies are currently performing joint research on OLED lighting panels that use printable hole injecting material (HIM) and new emitting materials. In line with its goal to start early stage mass production and marketing of new printable emitting materials, Mitsubishi Chemical is moving on with research and development, as well as looking into the commercialization of printable OLED lighting.
OLED lighting panels are typically created through a vapor deposition process, which makes it difficult to mass-produce large, uniform surfaces with no defects. However, Mitsubishi Chemical says that its unique printable materials can enable the mass-production of panels with an area of about 14cm square, using Pioneer's commercial lines.
Mitsubishi Chemical plans to display the world's first dimmable/tone-adjustable OLED prototype this year at Light+Building (April 11 - 16 in Frankfurt, Germany) in the Verbatim GmbH booth.