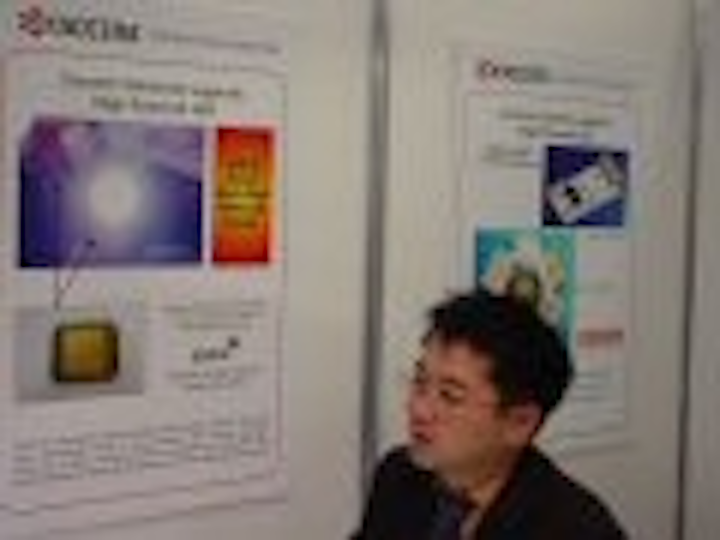 Following on from small-scale LED seminars in the past two years, Photonics Cluster(UK) has succeeded in creating a forum for the European LED community via its EuroLED conference, which took place on May 16-17 in Birmingham, UK.
The event had a full two-day technical program, four workshops and more than 20 exhibitors, and next year's event has already been penciled in for June 6-7, 2007.
Day one focused on technology, with contributions from LED makers and packaging companies such as ceramic substrate manufacturer Kyocera (see photo) and silicone supplier NuSil Technology. Other sessions focused on optics, test & measurement and safety, as well as competing technologies such as electroluminescence and OLEDs.
Sven Murano of OLED manufacturer Novaled expects the first OLED lighting products to reach the market in 2008, and that following advances in performance, design and manufacturing, OLED will become a major lighting technology in the next decade.
Keith Scott from Philips Lumileds discussed how to compare apples to apples when selecting LEDs, and the trade-offs that need to be considered between luminous flux, efficacy, color-rendering index (CRI) and lifetime. Scott considers there could be two separate pathway for development of warm white LEDs; firstly high CRI (90+) with an output of around 20+ lm that can replace 15-20 W halogens and incandescents, and secondly products where the focus is high flux (30+ lm) with a lower CRI of 70+.
Streetlighting was big on the agenda, with Mark McClear of Cree identifying this as one of the "big white" applications that are emerging now and will drive the demand for white LEDs. As the efficacy of white LEDs increases, fewer devices are required per fixture, reducing the initial cost – often a barrier for LED applications. McClear said that Cree will shortly introduce white XLamp devices with an output of 70 lm and efficacy of 60 lm/W.
In the exhibition area, both Advanced LEDs and Whiteley Electronics (see photo) demonstrated sophisticated white LED-based streetlights with solar power options.
A wide range of other applications – signage, emergency lighting, variable messaging systems, machine vision – were all discussed in detail on the second day. A more detailed report is planned for the next issue of LEDs Magazine Review.
Missions report from Japan and the USA
The UK's Department of Trade and Industry (DTI) through its Global Watch Service recently sent two missions to Japan and the USA in November 2005 and March 2006, respectively. The team reported their findings on May 18 as a follow-on to EuroLED.
Some of the findings from Japan were discussed in a recent article, and the highly detailed reports from both missions can be downloaded as PDF files.
Unlike Europe or the US, the Japanese LED industry is highly organized, and the Japanese LEDs Association (JLEDs) has over 70 members. There are detailed roadmaps and a wide understanding of LED technology which has even filtered through to public awareness, stemming mainly from the energy-saving potential of LEDs.
In the US, energy consumption is not a major driver, and US companies tend to be market-driven and focused on short-term objectives. While a number of organizations exist, membership is not particularly widespread.