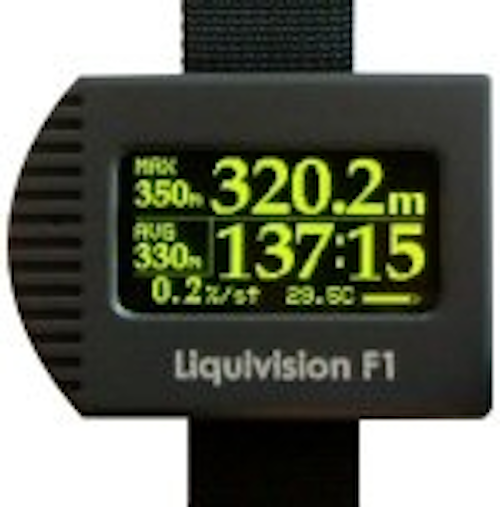 In the world of scuba diving, the ready availability of critical information is vital to the diver's underwater safety and success. Previously, LCD displays in dive computers were difficult to read due to their limited viewing angle and unimpressive brightness.
However, the Liquivision F1, powered by Osram Opto Semiconductors' Pictiva OLED display, now offers divers a dependable illuminated display. The F1's OLED display is bright, viewable at sharp angles and its impressive performance has rendered all other diving computers (free and scuba) outdated.
Designed by record-holding freedivers, the Liquivision F1 is the first use of an OLED display in a dive computer. Traditional LCD diving computers are difficult to read underwater, mainly because they use standard low-contrast reflective LCDs. These are most often the same type seen in an ordinary wristwatch i.e. black characters on a gray background.
The use of the Pictiva OLED ensures a visible display at any depth, in all conditions. In fact, numerous divers have reported that not only can they read their computer with ease, but their underwater companions can also read the same F1 from a distance of five or even 10 meters away.
"Traditional diving computers are notorious for being unreadable in anything except the most ideal underwater conditions," said Eric Fattah, founder of Liquivision. "The Pictiva OLED changed this situation from the core. The OLED is extremely bright, and can be read at any angle. Most importantly, it consumes much less power than an LCD, so it can be on the entire dive."
"We are very excited to have the Pictiva as an essential part of the first-ever diving computer with an OLED display," said John Cramer, product marketing manager with Osram Opto Semiconductors. "OLEDs are being adapted into many new applications because they offer distinct advantages over LCDs."
Technical divers place their trust in their dive computer. Being unable to read it for any reason can interfere with the safety of the dive. For this reason, tech divers would bring numerous lights and back up lights, whose primary purpose was to illuminate their computer, rather than see marine life.
With the Pictiva OLED-based Liquivision F1, not only are dive lights and button-pushing unnecessary to read the computer, but some divers have reported that the OLED is so bright that the computer itself becomes a dive light whose glow can be used to read other instruments such as pressure gauges.
Pictiva OLED displays by Osram support both parallel and serial interfaces and are available in single color (yellow, orange, green, or white) with 4-bit grayscale capability. Operating half-life is 40,000 hours under ambient conditions.