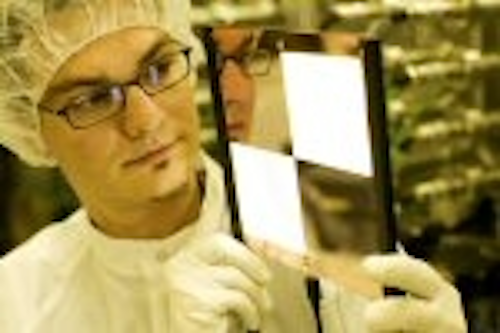 The Zumtobel Group, the Austria-based lighting manufacturer, is planning to join forces with Fraunhofer-Gesellschaft and several employees of the Fraunhofer Institute for Photonic Microsystems (IPMS) in Dresden, to found a joint venture company by the name of "Ledon OLED Lighting GmbH & Co. KG." With 13,000 employees, the Fraunhofer-Gesellschaft is the leading organization for applied research in Europe.
Ledon OLED will be focusing on the development and production of light modules based on OLEDs, and aims to set up a team of 10-15 highly qualified specialists in its initial year.
The company will be based in Dresden, a key location for OLED technology in Europe. Ledon OLED will be drawing up a strategic agreement with Fraunhofer Gesellschaft that governs pilot production on the Fraunhofer IPMS pilot line in Dresden - see Fraunhofer opens Center for Organic Materials and Electronic Devices in Dresden (Nov 2008). This "world-beating" production line can turn out high-efficiency OLED panels on 370 x 470 mm2 substrates with a cycle time of three minutes.
The Zumtobel Group already has a strong focus on LEDs through its subsidiaries Ledon Lighting and TridonicAtco Optoelectronics. Thorn Lighting, a UK-based subsidiary of Zumtobel, has been involved in the development of OLEDs for several years – see UK OLED project targets replacement conventional lighting (July 2007).
Along with the production of OLED panels, Ledon OLED says that it will be developing and manufacturing complete OLED lighting solutions, including extremely robust contact and light-conducting elements, as well as concepts for addressing large-scale OLED systems.
Zumtobel Group CEO Andreas Ludwig described OLEDs as "where the future lies when it comes to wide-area lighting solutions. By setting up Ledon OLED we are one of the early movers investing in this technology of the future," he said.
"We are out to offer our customers new and customised solutions involving the use of high quality OLED light modules in luminaires and signage lighting," said Jörg Amelung, co-founder and future Managing Director of Ledon OLED. "Our unique approach in this respect is entirely dependent upon close collaboration between all parties."
The Directors of the Fraunhofer IPMS, Hubert Lakner and Karl Leo, have hailed the foundation of Ledon OLED as a major milestone on the road to a European OLED industry, commenting: "Merging the manufacturing expertise of the Fraunhofer IPMS with the experience of a leading provider of professional lighting solutions like the Zumtobel Group will greatly accelerate the market launch of high quality OLEDs for lighting applications and provide key impetus for the ongoing development of this technology of the future."