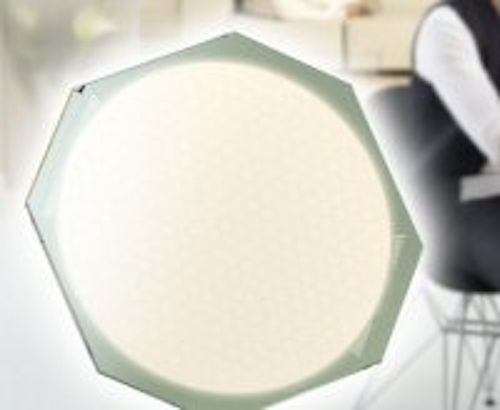 Osram Opto Semiconductors has introduced Orbeos, its first OLED light source, which is aimed at premium-quality functional lighting applications such as architecture, hotels and catering, offices, private homes and shops.
The Orbeos OLED panel has a round lamp surface of 80mm diameter, is 2.1mm thick and weighs 24g. Osram believes that these limited dimensions will ensure plenty of different usage options.
The panel's efficiency is quoted as 25 lm/W, which Osram says is better than conventional halogen lamps. It has a warm-white color temperature of 2,800K, with a CRI of up to 80, making it suited to lighting that is "atmospheric and functional at the same time."
According to Osram, OLEDs "rate highly with their pleasant, non-glare light" and open up totally new design possibilities for architects, lighting planners and designers, making it possible to create illuminated areas such as lit ceilings or partitions.
Orbeos can be switched on and off without delay, and is continuously dimmable. Unlike LEDs, heat management is simple. The panel contains no mercury and emits no UV or infrared radiation. Its brightness level is usually 1,000cd/m2 with power input of less than a watt. In ideal operating conditions it has a lifespan of around 5,000 hours.
Orbeos is available with a frosted glass surface. The panels can be easily mounted using spring contacts.
"Our Orbeos adds to the wide range of lighting in the premium segment. Not only do its technical features have an effect here, but first and foremost its completely different appearance", says Markus Klein, senior director SSL at Osram Opto Semiconductors. "Orbeos is a combination of energy savings and aesthetics."
The Orbeos OLED panel is the first product developed by Osram on the market. In 2008, the first commercially available "Early Future" table lamp by renowned lighting designer Ingo Maurer with OLED tiles from Osram Opto Semiconductors demonstrated how OLEDs can be used in functional lighting.
The rapid advance of OLEDs in general lighting has succeeded not least thanks to the technical principles of the "Organic Phosphorescent Lamps for Applications in the Lighting Market" project (OPAL), which is funded by the German Federal Ministry of Education and Research (BMBF).