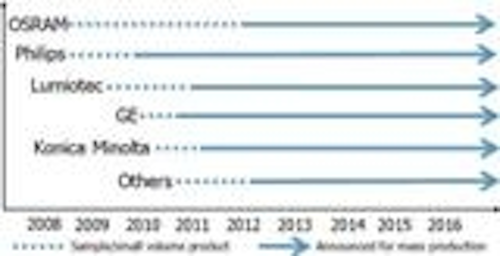 The OLED lighting industry will pick up momentum in 2011, with Philips, GE, Konica Minolta, Lumiotec and OSRAM entering mass production, according to DisplaySearch's newly-released report,
OLED Lighting in 2009 and Beyond: The Bright Future
.
The OLED lighting market will have revenues reaching $6 B by 2018 and surpassing PMOLED displays in the 2013/2014 timeframe. DisplaySearch discussed the OLED display market in its December report: Worldwide OLED revenues up 60% year-to-year in 3Q08, report says.
OLED lighting has unique features that will help its growth, says Jennifer Colegrove, director of Display Technologies at DisplaySearch. Its "devices emit from the surface, can be made flexible/rollable, and even transparent like a window or reflective like a mirror. OLED lighting is thin, rugged, lightweight, and has fast switch-on times, wide operating temperatures, no noise and is environmentally friendly. The power efficiency of OLED lighting has also improved dramatically in recent years."
Contents of report
Market size, in both area (sq m) and revenue ($) are forecast through 2018, with breakdowns for six applications, including:
automotive,
display backlights,
decorative/general lighting,
healthcare/industrial,
signage/advertisement
Market forecasts are also given by substrate type, detailed by flexible versus rigid.
In OLED Lighting in 2009 and Beyond, DisplaySearch analyzes trends in the lighting industry and compares OLED lighting with five other lighting technologies: incandescent, fluorescent, high intensity discharge, LED and electroluminescent (EL).
The report covers the OLED lighting supply chain, including more than 130 companies and universities. The report also forecasts the efficiency, lifetime, and average selling price of OLED lighting devices.
OLED lighting technologies, including structures, materials, efficiency improvement techniques, lifetime trends, and manufacturing (roll-to-roll vs. batch), are discussed and analyzed.