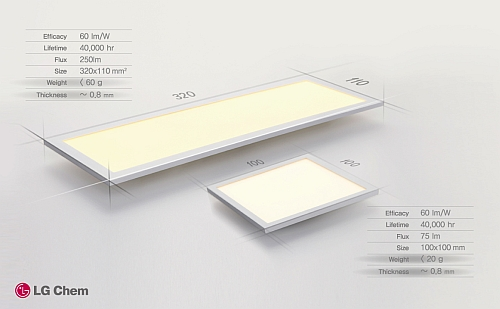 Approaching Lightfair International, OLED panel maker LG Chem said it would slash prices by two-thirds and leading OLED fixture maker Acuity announced a new amber product family based on panels from OLEDWorks.
LightFair International (LFI) will surely see news made in the OLED lighting space and LG Chem and Acuity made OLED-centric announcements prior to the open of the exhibition. LG Chem said that it will cut prices to 33% of current levels for panels sold to OEM fixture makers. Meanwhile, Acuity expanded what is already the broadest OLED luminaire line in the industry with the amber OLED Marker Light Series of products.
Market stimulus
LG Chem hopes to spur activity in the OLED lighting market with its announcement of impending price cuts. The company said that panels have been selling to OEMs for $600/klm (dollars per kilo lumen) or above. The pre-LFI announcement indicated that LG will target $200/klm price levels going forward.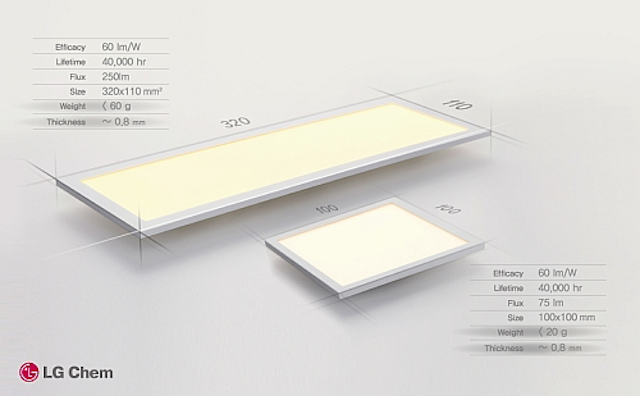 OLED lighting: LG Chem drops prices while Acuity adds amber fixture at LFI
"As a pioneer of OLED light panels, LG Chem decided to propose attractive prices to selective partners who are willing to stimulate the market with mass-production of OLED luminaires," said Sung-Soo Park, vice president and leader of the OLED Light Division at LG Chem. He said that the new price will be discussed with customers starting at LFI.
While the price cut is surely significant, the maturation of OLED technology still trails many projections including price predictions made by the US Department of Energy (DOE) meant to define levels that would lead to broad deployment. As we covered in an OLED feature article in 2012, the DOE had expected prices to hit $25/klm by 2015 and that goal seems unreachable at this point.

The issue remains manufacturing cost as we covered in the previously linked feature and in an update published early in 2014. Still, it's advancements in manufacturing that will enable the price reduction at LG Chem. The company said that it has altered the glass substrate and the encapsulation materials used in its panels. The result will be thinner and lighter panels with no loss in performance.
LG will initially apply the new technology to 100×100- and 320×110-mm panels that are the most popular products in its portfolio. Later the company will apply the new manufacturing techniques more broadly.
LG had shown larger 320×320-mm panels for the first time at the Light+Building (L+B) trade fair back in April. Watch our website for our June issue due shortly that has an L+B feature article. LG Chem has also moved to offer CRI of 9 across its portfolio.
Acuity and OLEDWorks
Acuity Lighting, meanwhile, has been the most arduous pursuer of OLED technology for lighting at the fixture level and is also probably LG Chem's largest customer. But Acuity has turned to OLEDWorks as the supplier of panels for the new OLED Marker Light Series.

Acuity's newest OLED designs generate directional light and are meant as a directional beacon in high-traffic areas. Specifically, Acuity is targeting healthcare facilities with the new product line.
The OLED fixtures will deliver soothing glare-free light while also offering energy efficiency in what is often a 24-hour-day operating scenario. The fixtures output 590-nm amber light with a luminance of 600 cd/m2.
The choice of amber light was made specific to the target application. "OLED amber lights uniquely provide low glare, naturally diffuse light, and are free of blue wavelengths that disrupt circadian rhythms, making these products specifically well-suited for the needs of the healthcare market," said David DeJoy, co-founder, chairman and CEO of OLEDWorks.