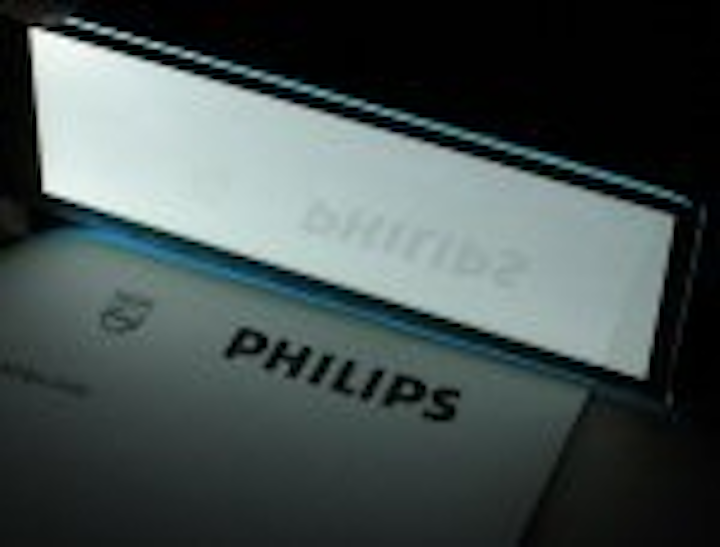 OLED100.eu
, an integrated research project, has brought together a consortium of experts from leading industry and academic organisations to accelerate the development of organic light-emitting diode (OLED) technologies in Europe.
The project has received EUR12.5 million (around $16.5 million) funding from the European Community's Seventh Framework Programme to form the technological basis for efficient OLED applications for the general lighting industry in Europe.
The OLED100.eu programme follows the successful OLLA (Organic LEDs for Lighting Applications) programme, which started in 2004 and concluded earlier this year (see OLLA project delivers final OLED milestone).
OLLA created the basis for organic lighting by developing white OLEDs with efficacies of 50.7 lm/W at an initial brightness of 1000 cd/m2 and with lifetimes well above 10,000 hours.
With OLED100.eu, Europe is continuing to invest in the development of organic lighting technologies and moving to specifications required for general lighting applications. The consortium will focus on five main goals:
High power efficacy (100 lm/W)
Long lifetime (100.000 h)
Large area (100x100 cm2)
Low-cost (100 Euro/m2)
Measurement standardisation / application research
"The European Council has agreed to cut at least 20 per cent in CO2 emissions by 2020 and OLED100.eu is an important initiative to advance the development of energy efficient lighting solutions," says Stefan Grabowski of Philips Research, project manager of OLED100.eu.
"Building on the success of OLLA, OLED100.eu will deliver OLEDs with twice the efficiency, 10-times the operational lifetime and 10-times the substrate size. The participation of leading lighting manufacturers like Philips and Osram ensures a rapid transfer of any result into real products."
Partners in the OLED100.eu consortium include:
Bartenbach LichtLabor GmbH, Austria
European Photonics Industry Consortium (EPIC), France
Evonik Degussa GmbH, Germany
Fraunhofer Institute for Photonic Microsystems (IPMS), Germany
Microsharp Corporation Limited, Great Britain
Novaled AG, Germany
Océ Technologies B.V., The Netherlands
OSRAM Opto Semiconductors GmbH, Germany
Philips Technologie GmbH, Business Center OLED Lighting, Germany
Philips Technologie GmbH Forschungslaboratorien, Germany
Physikalisch-Technische Bundesanstalt (PTB), Germany
Saint-Gobain Recherche S.A., France
Siemens AG, Germany
Technische Universität Dresden, Institut für Angewandte Photophysik, Germany
Universiteit Gent, Belgium
OLEDs are a new and attractive class of solid-state light sources and they are emerging as a compelling candidate to replace conventional lighting systems for large area illumination. Organic LEDs generate a diffuse, non-glaring illumination with high color rendering. They are flat, thin, and have the potential to serve as efficient large light sources.
OLEDs are instant-on, can be dimmed and can be produced on substrates of basically any shape. This high level of flexibility in terms of design and application make them highly appealing for designers, manufacturers and consumers.
Furthermore, as a highly efficient light source, OLEDs have the potential to achieve substantial energy savings. This latest EU research consortium provides important support to ensure Europe plays a leading role in OLED technology.