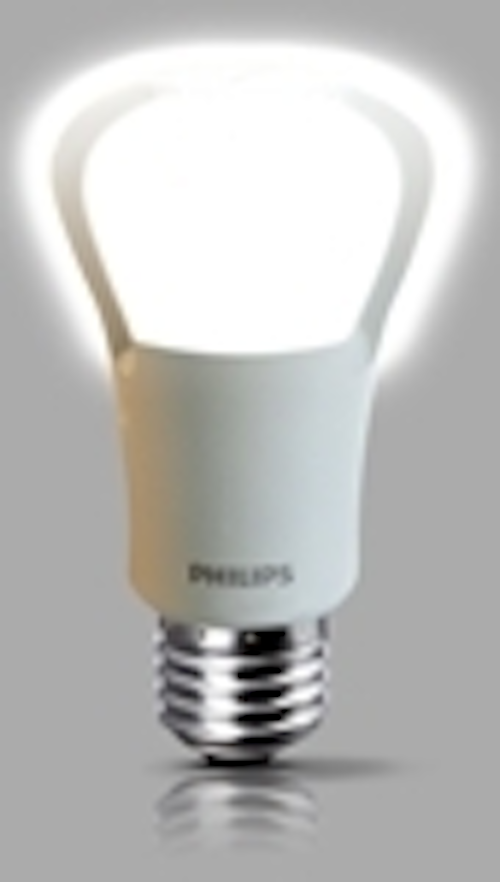 While the show floor was brimming with LED-based luminaires and lamps, Lightfair International (LFI) sessions demonstrated that skepticism still lurks over solid-state lighting (SSL). OLEDs were also highlighted on the show floor, although an expert panel focused more on the roadblocks that limit the technology to decorative lighting for now.
There were numerous LED-centric sessions at LFI, but one entitled "LED performance: Myths and facts – an LED industry report card" served to remind that SSL is a relatively new technology. Indeed presenter John Curran of consulting firm LED Transformations took a skeptical approach in his session that seemed targeted at newcomers to SSL. And clearly despite the prevalence of LED technology at LFI, the technology is still new to some lighting designers, architects, building owners, and municipalities.
Component and luminaire life
Curran described known issues with LEDs in lighting such as component life and the need for thermal management. He presented a case study detailing LEDs that maintained L70 (70% of initial brightness) for 148,000 hours when the junction temperature was maintained at 55°C whereas the useful life dropped to 67,000 hours at 85°C.
Curran also addressed LM-80 testing and misconceptions saying, "If someone tells you LM-80 is indicative of LED life, they are wrong." He said LM-80 only tells you how to take the measurements. He expects the
TM-21 standard
for predicting lumen maintenance to be more valuable saying, "TM-21 will tell you how to connect the dots."
Not all of Curran's comments were skeptical. He told the audience that if you buy LED products from a reputable manufacturer that other components would likely fail before the LEDs. But Curran also warned the crowd about the realities of the market discussing retrofit lamps and the consumer market. He quipped that if he bought a $40 LED bulb, "I'm going to keep the receipt for a while." His actual point was that residential customers are far more upfront-cost conscious than commercial customers, and residential customers look for much faster payback periods preferably inside one year. That could make residential a tough market to crack.
OLED lighting potential
While LEDs have become the workhorse star of LFI, OLEDs remain the technology of untapped potential. The "Creating a vision for OLED lighting session" allowed proponents to once again discuss that potential. The session featured Acuity Brand executives Jeannine Fisher and Peter Ngai, lighting designer Patricia Glasow, James Brodrick from the US Department of Energy (DOE), and consultant Paul Burrows of Reata Research.
Acuity clearly intended to use the panel to promote its investment in OLED technology and the introduction of the Kindred and Revel OLED fixtures at LFI. Burrow did the heavy lifting in the session providing a relatively complete explanation of how OLEDs work.
Burrows acknowledged the Acuity OLED announcements saying "Before today, there was no real OLED lighting product on the market." What he didn't say was that Acuity won't ship the OLED products until next year and they are likely to be below the 100-lm/W efficacy threshold that most experts believe OLEDs must reach to serve in mainstream lighting. Acuity hasn't released full specs for the OLED fixtures, but in the OLED session Fisher argued, "60 lm/W is the entry point for being able to mainstream OLED lighting."
Burrows was probably more candid than Acuity would have preferred in his other remarks. He said that you can easily make decorative OLED fixtures today, "but that won't save energy." His point was that OLEDs will have to replace ambient and task lighting for there to be a compelling energy-efficiency story.
Panel efficiency research
In his role at the DOE, Brodrick is squarely focused on energy efficiency. And he said that efficient lighting needs to address "panels rather than pixels" – thus his continued interest in OLEDs as a planar source. Indeed OLED projects won more than $4.8 million of the $14.8 million in R&D funds recently awarded by the DOE.
Burrows did note several potential OLED advantages. He said that OLEDs need simpler driver electronics than do LEDs, and with OLEDs the device efficiency is the luminaire efficiency. He also said that OLEDs will better deliver warm white light.
Still Burrows noted numerous roadblocks. He said today only 20% of the light escapes an OLED source without out coupling. There are also dispersion-pattern and substrate issues. All of the roadblocks can be overcome but for now manufacturing costs that are too high. He said cost today is $50 per square meter and that needs to drop to $20 or less.
Glasow chose to focus purely on the aesthetic advantages that OLEDs offer. She noted that the technology offers better RGB color mixing than LEDs. And she said, "OLEDs let you get rid of those heat sinks." But clearly energy efficiency and cost will gate wider deployment, and we will wait yet another LFI cycle or more to witness clearance of those hurdles.