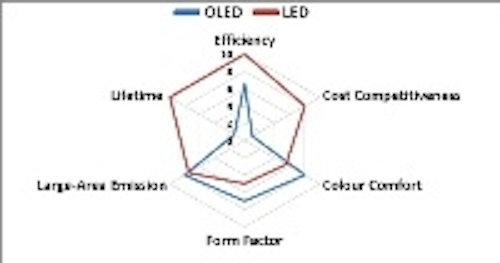 Despite the inherent advantage of being a surface emission source, OLED technology will struggle to garner significant market share in the general-illumination space with LEDs as competition, according to IDTechEx. The firm projects that OLED lighting will become a $1.3 billion market by 2023, but says that will only be 1.3% of the LED lighting market at that time.
The two solid-state lighting (SSL) technologies are often seen as being on parallel development paths with LEDs leading in technology maturity, such as in efficacy, by three to five years. The combination of the lead LEDs enjoy, obstacles to low-cost manufacturing of OLEDs, and the ability to produce planar lighting with LEDs and light guides will constrain the OLED market. The analysts believe it would take an "Apple-like design innovation" in OLEDs to change the outcome.
The analysts report that widely available packaged LEDs offer efficacy in the 90–100-lm/W range while OLEDs are in the 20–50-lm/W range. Of course, LEDs typically require secondary optics that can reduce the system efficacy slightly whereas with OLEDS the panel efficacy is essentially the system efficacy. LEDs also offer three to ten times greater life today.
IDTechEx said that packaged LEDs sell for $5/klm (dollars per kilo lumen) whereas OLEDs panels sell for $300–$500/klm. Strategies Unlimited has reported even lower LED prices earlier this year, saying that some LEDs are selling below $2/klm.
The analysts say that both the cost of the glass barrier layer in the OLED stack, and the integrated substrate remain very high with no sure cost reductions on the horizon. There has been substantial progress in the active layers. But overall manufacturing cost remains a huge obstacle and SSL manufacturers will continue to refine ways to deliver cost-effective diffuse light with LED sources.
The report entitled "OLED vs LED lighting 2013-2023" concludes that to succeed, OLED lighting companies will have to seek niche markets in applications such as hospitality where customers will pay a premium price for the attributes of the technology, such as sleek thin fixtures and soft glare-free light. The nearby figure shows the relative strengths of the two technologies from different SSL perspectives.