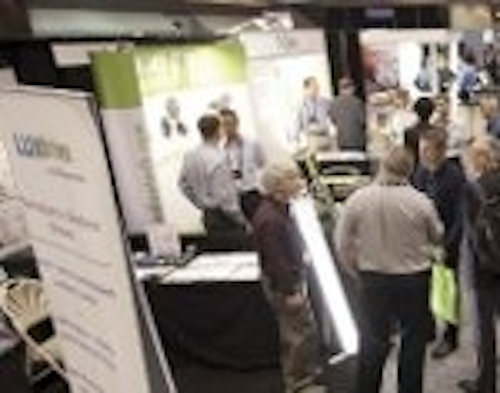 Download the issue or view the Ezine edition
.
+++ Cover +++
Artist Leo Villareal has converted the San Francisco Bay Bridge into the world's largest LED light sculpture using networked Philips Color Kinetics LED strings and a computerized control system that synthesizes animations and patterns that were inspired by traffic, wind, and the environment (see page 9).

+++ Features +++
STRATEGIES IN LIGHT SIL speakers urge the SSL industry to quicken the pace of innovation and truly leverage the benefits of LED technology
The prevailing theme throughout Strategies in Light was that LED technology has arrived and that the lighting community needs to move more quickly in going beyond the traditional industry form factors and to think beyond the traditional features of lighting products, reports Maury Wright.
MARKETS
Packaged LED market resumes moderate growth while the SSL market will enjoy 12% CAGR through 2017
General lighting applications are now the largest market, measured by revenue, for packaged LEDs, reports MAURY WRIGHT from the Strategies in Light conference, and the SSL market has grown to $11.8 billion for lamps and luminaires.
MECHANICAL
Equalize pressure to ensure reliable LED-based outdoor luminaires
Dealing with pressure differential is a hidden design challenge for robust LED luminaires, reports GARY CHAN, although preventing moisture ingress and venting products properly can deliver long, reliable lifetimes.
LED DESIGN Truly round LED sources deliver optimal performance in many SSL applications
At the LED lighting system level, CHUCK DEMILO and DON MCDANIEL explain that a round emitting surface can deliver optimal efficacy and light quality for many SSL applications.
FOCUS ON Thermal at SIL
Thermal management in an SSL product can encompass many elements starting with basic heat sinks but also including thermal materials, thermally-efficient circuit boards, active coolers, and other technologies, materials, and products.
DESIGN FORUM
Drive time-multiplexed LED arrays at high current
Adapting technology developed for display backlighting, you can drive large LED arrays at high current levels in general lighting products using time multiplexing, explains JOEL GEHLIN.
LAST WORD
Design choices for consumer electronics: LED or OLED?
OLEDs are making a major push into smaller consumer electronics explains DIGI-KEY director of lighting sales ROBBIE PAUL, and some new designs for larger products ranging from TVs to lighting may fi nd OLEDs a superior choice to LEDs.


+++ Columns/departments +++
COMMENTARY
Insiders call for faster innovation in SSL
NEWS + VIEWS
San Francisco lights Bay Lights bridge project
Dilitronics combines LEDs and controls in German hotel
Everlight amends Nichia patent claim
Philips Lumileds debuts Luxeon S and bare LED die components
Xicato announces 5-yr color warranty for SSL modules
LightingEurope association elects Executive Board
Zhaga publishes downlight spec
Sumitomo Electric to make GaN substrates with Soitec technology
Aixtron appoints Martin Goetzeler as new CEO
Sharp announces 100W COB LED
LRC and Penn St study roadway lighting
Osram unveils tuning reference design
NEWLED project aims to develop phosphor-free LED structures
Driver IC makers launch products at SIL
FUNDING+PROGRAMS
DOE announces 2012 NGL outdoor SSL winners at SIL
DOE plans to alter Lighting Facts program to simplify product family listings
Lighting coalition asks EPA to lower Energy Star effi cacy specs for high CRI lamps