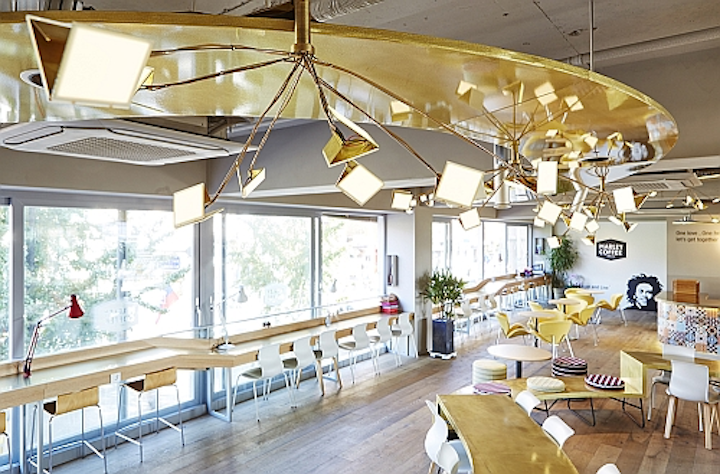 While others retreat from a tough market, LG is pushing ahead, touting OLED technology's design, health, and light quality advantages.
FRANKFURT – While large lighting companies abandon the elusive promise of OLED technology for general illumination, South Korea's LG Corp. is going full speed ahead by modernizing one of its manufacturing facilities to churn out much larger OLED panels than what the company has been producing.
Interested in more articles & announcements on OLED technology?
LG's new line in Gumi, South Korea will stamp out glass substrates that measure 1000×1200 mm, a fifth-generation size that leapfrogs from the second generation 370×470 mm-sized OLED mother panels that the company has been making in Ochang, South Korea.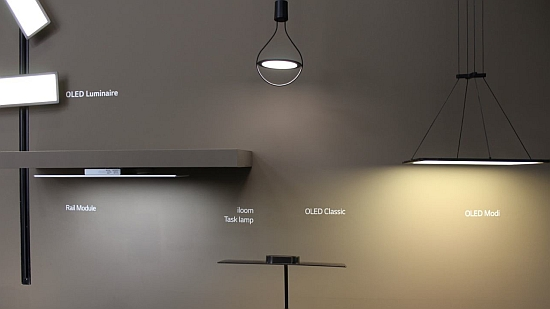 LG's production modernization reaffirms its commitment to OLEDs for general lighting, emphasizing light quality, style, design, and imaginatively weaving them into fabrics of buildings. Above, some LG task and home lights on display at Light+Building, just one genre of OLED lighting that LG showed off in Frankfurt. (Source: Mark Halper.)
The company hopes to start mass production on the new line in the first half of 2017, said Joon Park, vice president and head of OLED lighting sales and marketing for LG Display, in announcing the ramp-up at the Light+Building (L+B) 2016 exhibition here yesterday.
LG uses the "mother substrate panels" to carve out smaller panels it shapes into finished products. It currently claims to offer the industry's largest finished general lighting OLED sheet, at 300×300 mm.
The new facility at Gumi will initially produce 15,000 substrates per month, Park said. The Ochang line will continue to produce smaller substrates, and Gumi will continue to manufacture even larger OLED panels for the TV display market — separate from the general lighting market — using eighth-generation technology to crank out mother substrates of 2160×2400 mm, Park said.
LG's Joon Park says that OLEDs bring enormous advantages to general lighting, including design and a much healthier light quality. Compared to LEDs, OLED lighting is much more like natural sunlight, has superior color rendering, and is free of potential blue light health risks. (Source: Mark Halper.)
LG Display purchased the OLED business from its sister company LG Chem in December for around $135 million.
Park would not say how much LG Display is spending on the new line.
But the investment marks a vote of confidence in a market from which venerable lighting vendors have retreated. For example, lighting giant Philips last November sold much of its Lumiblade business to Rochester, NY-based OLEDWorks. And Osram CEO Olaf Berlien in January banished OLED as "too expensive" for general lighting, although he said Osram will continue to develop the technology for specialty products such as in the automotive sector.
OLEDs — organic light-emitting diodes — are thin patches of material that emit light in response to an electric current, liberating lighting from the bulb and chip form factors. Vendors such as LG offer both rigid and flexible forms. Proponents believe they will be built into the fabric of luminaires, buildings, furniture, textiles, clothing, and many other things, hailing a radically different lighting world and throwing open a world of new design possibilities and flair.
For the general lighting market, however, the technology is a bit like nuclear fusion: It has long been regarded by some as the Holy Grail, but its arrival for the most part remains perennially in the future.
Developers have struggled to lower their manufacturing costs and to match the energy efficiency of LEDs — the single-point light source to which they are naturally compared. That's a troublesome shortcoming given that energy efficiency has represented the chief selling point for LEDs, which tend to come in more conventional bulb form factor but which themselves are emerging in innovative designs, further undermining an OLED benefit. OLEDs also don't last as long as LEDs, which are highly regarded for a reputed lifetime of decades.
Park said OLEDs bring many advantages — not only the tremendous design and architectural ramifications of their thinness, but also their light quality is more human-centric and healthy than other light sources. Noting that OLEDs emit a "more soft and natural" and warmer light than LEDs, and that they have superior color rendering with a CRI of over 90, he likened OLEDs to organic food. "Organic food is expensive, but people are willing to buy it, because they know it's good for their health," Park said.
At L+B, LG showcased a number of stylish and innovative applications, including a window blind with OLEDs embedded, and a mirror with interspersed OLED tiles that look like part of the mirror when turned off.
LG's centerpiece OLED installation is at Seoul National University's main library, which uses over 1000 OLED task lamps. It sells OLED task lamps and do-it-yourself OLED lamp kits in its home country.
The business realities will be tough. Park said LG is not currently expecting huge revenue, and suggested that LG will try to seed the market with more end-user installations that show off OLED potential, versatility, and design flair. Even after years of industry development, Park said LG is at "the very early stage of our business" with general OLED lighting, a situation that reflects both the tough market as well as LG Display's recent acquisition of the business from LG Chem.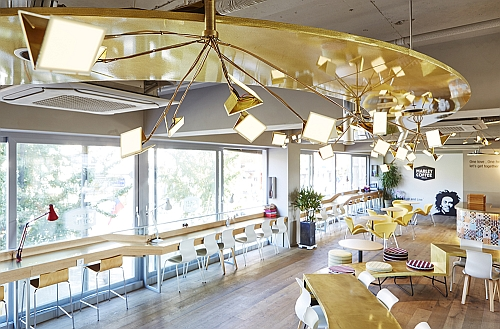 LG ramps up OLED for general lighting, will churn out more and larger panels
OLED technology is in an extended "early stage" for general lighting, so LG wants to establish more showcase installations such as this one at a Marley Coffee shop. (Source: LG Display.)
At the moment, "the main purpose is not to generate revenue," Park said. Rather, he noted that LG "is placing more priority on providing more experience in the market."
The ramp-up and modernization of the production line will help bring down costs because the fifth-generation substrates, at nearly seven times the size of the second generation, will provide economies of scale, he said. It's a chance that a company like LG, which already makes OLEDs panels for sectors other than general lighting — such as TVs — is willing to take, more than a general lighting company such as Philips or Osram.
As for OLED life expectancy, Park said an OLED panel should last for 30,000 hours — more if it's dimmed down, less if it runs at a high brightness setting. That's considerably less than the lifetime of an LED. In a hotel lobby that might operate the light for about 8 hours a day, 30,000 hours would work out to about 10 years.
Acknowledging that OLEDs' energy efficiency are behind LEDs', Park said efficacy will improve from today's 90 lm/W, going to 100 lm/W next year, and 120 lm/W by 2019. OLEDs probably won't be on a general par with LEDs until 2025, at which point they might exceed LED efficiencies at warm color temperatures.
The year 2025 is a long way off, considering that between now and then another light source could take hold — laser diodes, such as those under development by Soraa Laser Diode, the spinoff of high-end LED company Soraa founded by blue LED inventor and Nobel prize winner Shuji Nakamura.
An emerging question surrounding OLEDs is whether they will tie into smart lighting schemes that are beginning to take hold in the LED industry, where sensor-equipped luminaires are tying lights into data networks and enabling functions like color tunability.
Park said there "are currently no plans" at LG Display to bring OLEDs into that sphere.
MARK HALPERis a contributing editor for LEDs Magazine, and an energy, technology, and business journalist (markhalper@aol.com).