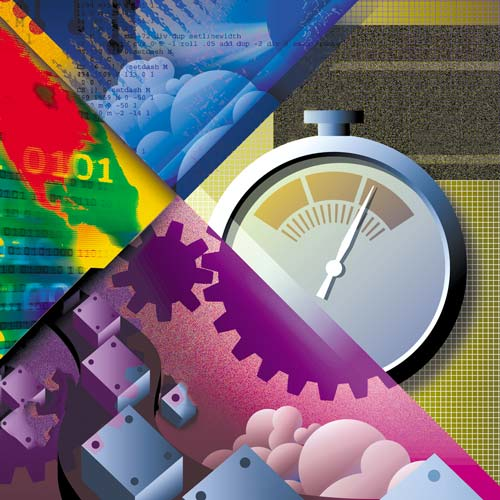 Fairchild and Power Integrations issue dueling statements regarding IP-related court activity while New York Governor Cuomo touts Rochester expansion by OLEDWorks.
In the latest LED business announcements, both Fairchild and Power Integrations, manufacturers of power-conversion ICs used in LED drivers, have released statements claiming victory in an ongoing patent dispute between the companies. New York Governor Andrew Cuomo has announced that OLED specialist OLEDWorks will expand its Rochester, NY operation and add 100 jobs. In news outside of the human visible spectrum, infrared (IR) LEDs are projected as a $120 million market just for security applications this year.
IP litigation
The Power Integrations and Fairchild intellectual-property (IP)-centric tiff is one of many ongoing in the solid-state lighting (SSL) sector. We covered several others in a news story two weeks back. In the driver-IC-centric suit, Fairchild originally sued Power Integrations in 2012 claiming that the latter's LinkSwitch II family of products infringed US Patent number 7,259,972. Power Integrations has released a number of products under the LinkSwitch brand, although most of that activity came in 2012 or earlier. The company's latest driver ICs have been in the LYTSwitch family.

Power Integrations has also subsequently made patent infringement claims against Fairchild. A recent jury trial on the dispute concluded in the US District Court for the District of Delaware, and the result seems to fall predominantly in the favor of Power Integrations, although both companies claimed to have achieved positive outcomes.
Power Integrations said the jury found Fairchild to infringe upon US Patent number 7,995,359 and that Fairchild has induced infringement by its customers. Power Integrations said it would seek a permanent injunction that would prevent Fairchild from importing and selling infringing products and even products that have similar circuitry. The patent is focused on a driver design with very-low standby power.
According to Power Integrations, Fairchild has now been found to infringe Power Integrations patents on five separate occasions. "Given that the Patent Office had already rejected Fairchild's patent in re-examination, Fairchild's lawsuit was a wasteful and unnecessary attempt by Fairchild to distract from their record of repeatedly violating our intellectual property rights," said Balu Balakrishnan, president and CEO of Power Integrations. "Nevertheless, this latest verdict ensures that another of Power Integrations' important innovations will be protected."
Fairchild, meanwhile, said the jury in the latest action awarded it $2.4 million in damages based on Power Integrations' sales of LinkSwitch II products. "Fairchild is gratified that the jury found in our favor," said Mark Thompson, Fairchild president and CEO. "PI [Power Integrations] was found to infringe this patent in 2012, and did nothing to change their sales or marketing practices. We brought suit to protect our intellectual property from this continuing infringement and we hope this will bring an end to PI's inducing activities."
Fairchild also said the latest jury cleared it from two Power Integrations' patent assertions, and that Power Integrations "was forced to withdraw a third patent" claim. Moreover, Fairchild said the jury awarded Power Integrations only $100,000 based on Fairchild infringing the former's patents.
Without question there will be more to come in the battle between these companies that goes back to 2004 and that has not been limited to the LED driver space.
New York and OLEDWorks
Moving beyond the LED business space but onto related SSL OLED technology, OLEDWorks is in an expansion mode. Most recently, OLEDWorks and Philips announced that the former would acquire Philips Lighting's OLED technology and manufacturing plant based in Aachen, Germany. Now the company, funded partially by the state of New York, will expand its US operations base.
New York Governor Cuomo made the announcement that OLEDWorks would invest $73.6 million over five years and add 100 new jobs at the Rochester facility. That investment will comes as OLEDWorks transitions from an R&D phase to commercial manufacturing of OLED panels.
"It's fitting that OLEDWorks is choosing to stay and expand its one-of a-kind manufacturing operation in Rochester, the birthplace of this technology," Governor Cuomo said. "We are proud to support this company — a true New York success story that is leading the way in developing this exciting new field."
OLEDWorks and much of the original OLED research resulted from work first done by Eastman Kodak at the Rochester site. OLEDWorks CEO and co-founder David DeJoy said, "Rochester, where many of the OLED pioneers reside, is uniquely positioned for OLED lighting manufacturing. OLEDWorks is committed to investing in low-cost production technology and anticipates creating new jobs as demand grows."
The New York-based Empire State Development program will help fund the expansion through tax credits. Based on performance, OLEDWorks could earn $2.5 million in Excelsior Jobs Program credits for both commitments to invest in its business and for job creation.
"Companies like OLEDWorks truly capture the innovative nature of the Greater Rochester economy," said Empire State Development president, CEO and commissioner Howard Zemsky. "Their expansion will bring with it tens of millions of dollars and more than 100 new jobs and is a big win for the community."
IR opportunity
In another SSL opportunity outside the visible spectrum, new research indicates a burgeoning market for IR LEDs. LED Inside has said that the market for IR LEDs used in surveillance applications could total $120 million in 2015. Political turmoil around the globe is in part responsible for the growth as governments upgrade their security infrastructure.