China's MLS emerges as a possible suitor for Osram's lamps and LED lighting business, the second company from that country linked to a possible bid.
Osram Licht AG's efforts to carve out its lamps business are picking up steam, as the company said it expects to complete a move by April. Meanwhile, a second suitor has emerged from China as one key industry observer said that a Chinese buyer would be a likely scenario, with over a dozen companies from the country that could be interested.
Interested in more articles on LED lighting & applications?
This time MLS, parent company of Forest Lighting, has authorized its chairman to bid for the division, the publicly held company said in a regulatory filing. In July, China's Shanghai Feilo Acoustics made a non-binding offer.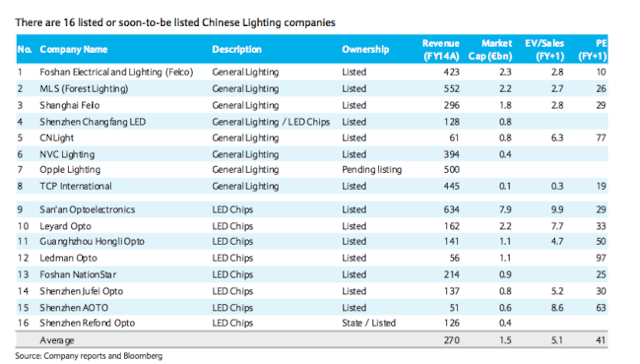 Osram gears up effort to sell lamps division
An Osram spokesperson told LEDs Magazine that the German giant – Osram is the world's second largest lighting company after Philips – plans to "carve out the business" by April and complete the move by July, confirming a report by Reuters. The transaction is widely expected to come as a sale of the €2 billion ($2.2B) division, although Osram declines to call it that.
When Osram first announced its intentions in April to part ways with lamps, it said it "intends to transfer the general lighting lamps business into an independent structure." Rival Philips has used similar language to describe its ongoing efforts to hive off lighting.
Both companies have been making and selling lamps for over a century, but are struggling to profit from the business as it heads into LED technology in which lamps cost more to make than traditional ones did, and last for a purported 20 years or more, eradicating the replacement market.
"In the past, for Osram, the lamps were the backbone," Osram CEO Olaf Berlien told analysts on a year-end earnings conference call today. "Now the new backbone for Osram is clearly the LED components." Indeed, Osram today announced that is investing €1B ($1.07B) to build a new LED chip plant in Malaysia, which is part of a broad new €3B ($3.2B) research and development initiative called Diamond.
Berlien described the lamp "carve out" as a "huge and complex project", entailing an operation that contributes 40 percent of Osram's revenues (31 percent in the fourth quarter according to a chart in the company's analyst presentation) and includes 10,000 employees. He said he wants to assure that the new ownership does not slip from the industry's number two position.
Osram chief financial officer Klaus Patzak said the LED lamp business "was loss making" in the quarter ended Sept. 30 as growth for the segment "was only in the mid-to-high single digit range."
In a research note before today's earnings call, investment bank Barclays said an acquisition by a Chinese company would make the most sense. "We think a Chinese tie-up is more likely, given the appeal of European brands and channels in China and the abundance of players," said the note, co-authored by analysts David Vos, James Stettler and Lars Brorson. An acquisition would also allow a Chinese company "to gain channel access overseas and consolidate low-cost manufacturing in China," Barclays said.
The analysts noted that many Chinese companies could afford the purchase. It identified 16 "listed or soon to be listed" Chinese lighting companies for whom an acquisition of Osram's lamp group would make sense (see chart). It did not say that all 16 are interested, although it made the case for a bid for one of them, Foshan Electrical and Lighting Co., also known as Felco.
Osram actually sold its own 13.5% share in Felco in September to China's Guangdong Rising Assets Management Co. for more than €350M ($375M).
"We believe its history as an Osram partner in China would make it a natural candidate to acquire the Osram Lamps business," Barclays reported.
In a precedent, Philips has agreed to sell its automotive lighting and Lumileds LED chip business to China's Go Scale Capital.
Osram declined to answer questions submitted by LEDs Magazine on today's call regarding whether more prospective Chinese buyers have emerged, or whether Osram might potentially sell part of its LED lamp operations to an Internet company that might want to leverage LED connectivity.
Meanwhile, reports have surfaced again that buyout firms including CVC Capital Partners, KKR, Bain Capital, Blackstone Group, and Onex are preparing bids for Philips' lighting group. The bid could value the group at €5.5B ($5.9B) according to Bloomberg, which said CVC and KKR are combining their efforts.
Philips declined to comment.
Barclays values the Philips lighting division at €4.9B ($5.25B), said Vos.
Jed Dorsheimer, an analyst with Canaccord Genuity, noted that in general the sale of lighting divisions by industry giants "might prove to be a bargain for potential acquirers" because of the potential to leverage digital lighting like LEDs into service offerings. Canaccord provides investment banking services to LED vendors Cree and Acuity.
The attempts by both Osram and Philips come as the world's third largest lighting company, GE, has decided to move commercial and industrial LED lighting into a new energy services business called Current, which connects objects like lights, solar panels, and energy storage devices into data networks. It's part of CEO Jeff Immelt's overarching Industrial Internet strategy of equipping things like gas turbines with sensors that route useful data about the turbine's performance and helps optimize its operation and its cooperation with other assets.
GE has kept residential LEDs and conventional lighting in the old GE Lighting group, now called Consumer and Conventional Lighting, as LEDs' sister publication Lux reported last month.
Some industry observers believe GE will try to sell the older lighting division.
In announcing financial results today, Osram said that fourth quarter sales rose 7.1% to €1.429B ($1.531B), from €1.334B ($1.429B) a year earlier. Net income for the period jumped to €69.1M ($74.05M), from €12M ($12.86M). For the year sales were €5.574B ($5.974B), up from €5.142B ($5.51B) in 2014; net income fell to €171.2M ($183.46M), from €193.1M ($206.95M)a year ago.
Osram's future relies on what Berlien described as the "three pillars" in the business remaining after the lamps carve out. Those segments now include Opto Semiconductors - LED chips; Specialty Lighting, including sectors such as automotive where it is pushing into laser and OLED technologies; and Lighting Solutions & Systems, which combines LED drivers, modules and luminaires into services and "solutions" offerings.
Osram is targeting revenue between €5B and €5.5B ($5.36-$5.9B) by 2020.
*Story updated at 4:58PM Eastern to add comments from CEO Berlien and CFO Patzak from today's analyst call, which took place after first publishing
MARK HALPERis a contributing editor for LEDs Magazine, and an energy, technology, and business journalist (markhalper@aol.com).