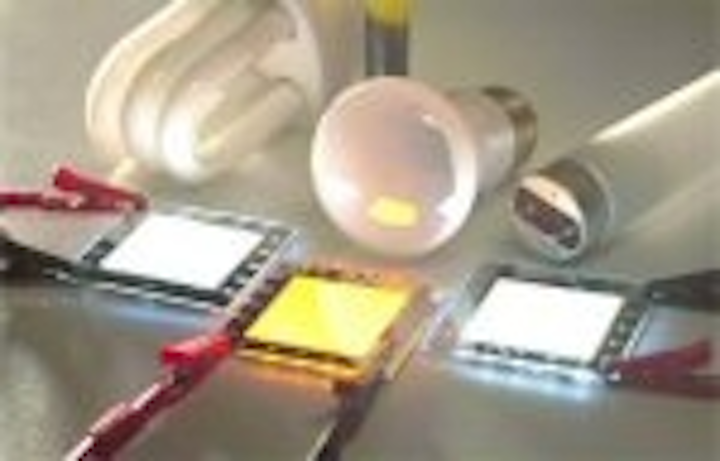 A joint research effort between Philips Lighting, Philips Research and Novaled has established a new record for efficiency of high-brightness white OLEDs of 20 lm/W, at a brightness level of 1000 cd/m
2
.
The results were attained by combining Novaled's proprietary doping technology with Philips' results on both layer schemes that build up an OLED device, as well as on materials selection.
"This is an encouraging result that clearly demonstrates the potential of OLED technology for lighting applications," said Klaas Vegter, Chief Technology Officer of the business group Lamps at Philips Lighting.
"We are pleased that within a considerably short period of time it has been possible to push the limits further. We are confident that this is not the end of the development and that OLEDs will establish themselves as the second solid state lighting technology in the market."
In the future, thanks to the diffuse emission character of OLEDs and their slim/lightweight form, it will be easier for people to create an adaptable lighting environment and to feel comfortable in any mood. By combining color with shape, OLEDs will also create a new way of decorating and personalizing people's surroundings with light.
OLEDs, unlike normal (inorganic) LEDs, incorporate organic materials in thin layers generating light emission when electrical power is applied. In contrast to LEDs, they are rather large-area sources with low brightness that emit diffuse light in any color. They can be easily structured to show patterns of color or homogeneous white light. Currently OLEDs are mainly applied in small display applications, e.g. mobile telephones, MP3 players or personal digital assistants (PDAs).
"Power efficiency is one of the crucial properties for light sources," states Gildas Sorin, CEO of Novaled, "and our proprietary doping technology is the key to increasing the efficiency through lower voltages."
OLEDs currently compare favorably in efficiency with incandescent sources like light bulbs, especially when colored. However, in the future, OLEDs offer the potential to become as efficient as energy-saving bulbs or even more so. Once efficient OLEDs are available at reasonable cost, they can be used for a multitude of applications in lighting.
This is another example of successful collaboration between leading OLED R&D centers in Europe, which have come together to form the OLLA project (see European research project develops OLEDs for lighting).