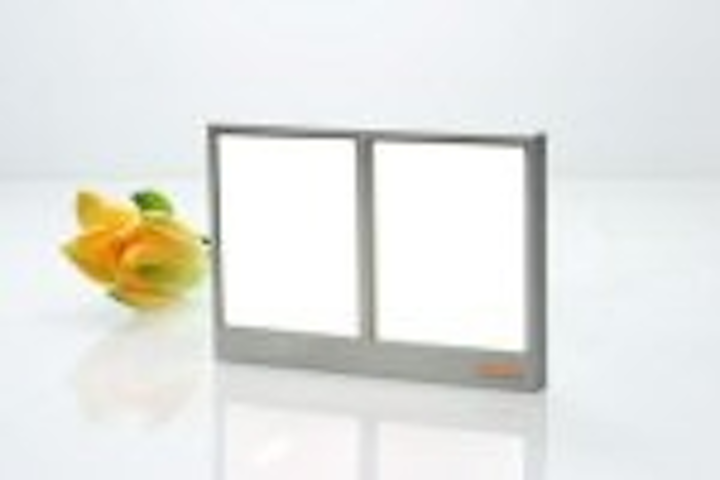 OLED market growing rapidly, Samsung in the lead
The worldwide revenue for OLED panels expanded to $408 million in 2004, up 63% from $251 million in 2003, according to a report from iSuppli. Thirty-one million OLED panels were sold in 2004, nearly twice as many as the 16.8 million units sold in 2003.
Driven mainly by the growth in demand for OLEDs as an alternative to LCDs for displays in mobile phones, the OLED market is expected to grow to $615 million in 2005, up 50.7% year-on-year. Unit sales are expected to nearly double again in 2005 to reach 60 million units.
By 2011, the OLED market is forecast to rise to 341 million units, representing a compound annual growth rate (CAGR) of 34%, while the market revenue will grow to $2.9 billion, or 29% CAGR.
Mobile phone applications accounted for 89% of the market in 2004, and are expected to be the dominant application for the next 5 years. OLEDs have long been used as secondary displays, particularly on the outside of clamshell phones, but are now being utilized as the main display. Color OLED displays are also being used.
Korea's Samsung SDI emerged as the dominant OLED supplier in 2004, with 44% of the market, driven by internal sales to Samsung's mobile-phone business. Taiwan's RiTdisplay captured 22% of the market, and has captured a leading share in OLED displays for MP3 players. Pioneer, the 2003 market leader, slipped to third in 2004 with a 20% share, followed by Univision (6%) and Philips (4%).
MP3 player panels accounted for 3% of OLED market revenue in 2004, but this could rise to as much as 15% in 2005. iSuppli identified more than 50 MP3 player models now using OLED panels.
The firm also predicts that OLEDs may appear in televisions smaller than 5-inch diagonal in size by 2006, while it will take at least 2 more years before screens larger than 9 inches in size start to employ OLEDs. Shipments of OLEDs for large-screen televisions are unlikely to reach 1 million units until at least 2011.
Osram delivers milestone in OLED program
OSRAM Opto Semiconductors has reached the first milestone in its three-year, white organic LED (OLED) project, funded by a $4.65 million grant from the US Department of Energy (DOE), with the company inputting a similar amount. OSRAM's first-year deliverable is an advanced prototype light source based on two 2-inch x 3-inch white emitting tiles, while the ultimate goal is the development, fabrication and characterization of a 12-inch by 20-inch OLED white light prototype.
The advanced white-light prototype is based on multiple, discrete 2-inch x 3-inch white-light devices fabricated on glass substrates. Each tile in the module has a luminous efficacy of 7 lm/W and a color-rendering index (CRI) of about 80. The prototype operates at an average luminance of 250 nits. At program end, OSRAM will produce a color-balanced OLED white-light source based on 32 tiles with a luminous efficacy of 40 lm/W at 800 nits and an operating half-life of 3,000 hours.
OSRAM's materials and device organization, in concert with the company's processing group, is working closely with major polymer materials suppliers and various academic institutions to develop the polymer emissive technology needed to meet the DOE project's performance milestones. The company's product development team is additionally creating the white lighting module, including the electronic control, for powering the lighting source. The lighting module will be field-tested by commercial lighting groups within OSRAM.
OSRAM Opto Semiconductors operates a manufacturing facility for polymer OLED flat panel displays. The manufacturing line is tooled for 400 mm square (16-inch square) glass plates and was the first manufacturing facility of its kind. It is one of the largest polymer OLED flat panel display manufacturing plants in the world, featuring highly automated, in-line processing for the majority of manufacturing steps.
CDT and Delta establish P-OLED production line
Cambridge Display Technology (CDT) and Delta Optoelectronics have established Taiwan's first pilot line for the production of full colour polymer LED (P-OLED) displays using ink jet printing.
The new facility has been established at Hsin-Chu with the delivery of three Litrex 142P ink jet printers, which have the ability to print 370 x 470mm glass substrates at approximately two to five minute intervals. When combined with the process technology now being developed at CDT and transferred to Delta engineers as part of the commercial transaction, the facility will pave the way for Delta-Opto's full-scale production of color displays.
Ink jet printing of full color displays is now widely seen as the key to production of low cost, larger displays utilizing the benefits of OLED technologies.
The initial phase of the technology transfer program resulted in the production of 5.6-inch full color active matrix display prototypes, ink-jet-printed at CDT's Technology Development Centre in the UK. In addition to the program on active matrix displays, the companies will also be working on full color passive matrix displays, giving Delta the scope to address a wide range of potential end user markets.
Samsung and UDC sign PHOLED licensee agreement
Samsung SDI Co., Ltd. and Universal Display Corporation have signed an OLED patent license agreement which paves the way for Samsung SDI to integrate Universal Display's proprietary OLED technologies into Samsung SDI's active-matrix OLED display products. Samsung SDI is today the largest supplier of passive-matrix OLED displays in the world.
Samsung SDI intends to introduce Universal Display's phosphorescent materials and associated technology in Samsung SDI's initial active-matrix OLED products. PHOLEDs have been shown to be up to four times more efficient than traditional fluorescent OLEDs, which is key for lower power consumption, less heat generation and longer operating lifetimes.
"UDC's phosphorescent materials, owing to their overall superiority to fluorescent materials in efficiency and color coordination, will contribute to Samsung SDI to benefit its customers with more visually attractive, much faster, and brighter OLED displays," said Eui Jin Yoo, VP and Head of AMOLED Operation Team of Samsung SDI. "We also expect that UDC's PHOLEDs having more saturated colors and cost saving advantages over the traditional fluorescent OLEDs would lead the OLED manufacturers to introduce OLED displays into the market quickly."
Innoled to trial OLED production
Singapore-based Innoled, a licensee of Cambridge Display Technology's light-emitting polymer technology, is set to commence pilot runs of its OLED production line next month.
Link to news item
Osram Opto expands OLED Pictiva product portfolio
Link to news item