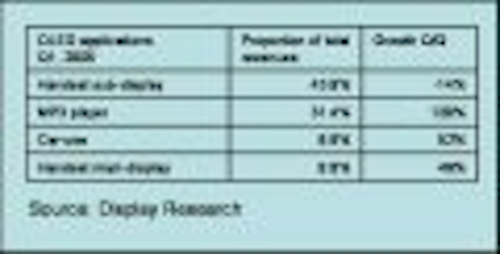 Blue PHOLEDs from Universal Display top 15,000 hours lifetime
Universal Display Corporation has announced what it describes as "a fundamental technical achievement" - the development of a sky blue phosphorescent OLED (PHOLED) with over 15,000 hours of operating lifetime.
This is the first blue PHOLED which has broken through, by an order of magnitude, the 1,000 hour lifetime barrier - a challenge that some people thought might be insurmountable.
UDC's proprietary blue PHOLED demonstrates a lifetime that exceeds 15,000 hours at an initial luminance of 200 cd/m2. The technology also has excellent efficiency, with 9.5% external quantum efficiency and 22 cd/A luminous efficiency.
With CIE coordinates of (0.16, 0.37) and a peak emission wavelength of 474 nm, which is equivalent to a sky blue color, this material system is not yet saturated enough for commercial full-color applications.
Earlier this year, Universal Display disclosed a deep blue PHOLED, and the company is now continuing its research efforts to unify the deep blue color, efficiency and lifetime in one system to meet the needs of the commercial OLED market.
In May, Cambridge Display Technology announced a lifetime of its blue polymer LEDs of 100,000 hours at 100 cd/m2 and 25,000 hours at 200 cd/m2.
Discovered in the late 1990's by Universal Display's research partners at Princeton University and the University of Southern California, the proprietary PHOLED technology offers up to four times higher efficiency than conventional OLED technology - a feature that is very important for today's battery-operated cell phones and other portable devices, as well as for tomorrow's large-area TVs.
Blue has always been the most difficult color to achieve; leading electronic display manufacturers have already evaluated UDC's red and green PHOLED technologies for use in commercial OLED products.
Now, with this blue PHOLED breakthrough, Universal Display says that it is "a step closer to an all-phosphorescent system that may provide significant benefits in OLED power efficiency for portable and large-area displays, as well as in other areas of organic electronics such as solid-state lighting."
OLED display sales rise 31 percent in Q1, says DisplaySearch
Shipments of OLED displays grew sequentially by 31 percent to 9.9 million units in the first quarter of 2005, despite a significant drop in sub-display sales, according to market research firm DisplaySearch Inc.
The total OLED market revenue for the quarter was $101.9 million, with South Korea-based Samsung SDI ($28.1 million) and Taiwan-based RITdisplay ($19.2 million) the leading suppliers. In terms of unit volumes, RITdisplay captured 24.7 percent of shipments, with Samsung second at 23.2 percent.
DisplaySearch noted that small molecule OLED designs continue to drive volume, with monochrome polymer (P-OLED) and active-matrix OLED displays remaining in low volume. Although OLED sub-display usage fell, MP3 OLED display usage rose substantially in both revenue and unit sales (see table).
CDT teams with IBM to offer a-Si TFT technology
Cambridge Display Technology has reached an agreement with the IBM Corporation to market IBM's advanced design and materials development in amorphous silicon (a-Si) TFT technology for OLED display devices.
CDT will offer to the market state-of-the-art OLED technology solutions based on IBM's advanced research.
The agreement covers driver technologies for both polymer light emitting diodes (P-OLEDs) and small molecule (SMOLED) technologies, so this move should broaden and strengthen CDT's relationships across the whole display industry.
"By working with IBM in this way, we are able to bring a highly valuable portfolio of know-how to our existing market contacts and beyond," said David Fyfe, CDT's CEO. "Amorphous silicon backplanes are the standard in larger LCD displays and increasingly in mobile devices, and there is much interest and advantage in their application to OLED displays.
"CDT is ideally placed, as the leader in PLED technology, to introduce the IBM portfolio to relevant markets, potentially speeding up the adoption of PLED technology into cell phones, televisions and other consumer applications."
Under the new arrangement, CDT will market IBM innovation in TFT devices, pixel circuitry, drive methods and active matrix OLED display modelling for display applications.
CDT's contacts and licensees will benefit from access to a wider range of relevant technologies, and to the synergies which are expected to follow from consideration of the operation of complete display devices.
Conference update
Intertech has announced that its OLED 2005 conference will now be held Novemeber 14-16 in San Diego.
Meanwhile, the Optical Society of America (OSA) will hold an Organic Optoelectronics Symposium as part of its annual meeting (October 16-20 in Tucson, Arizona).
Also, Cintelliq is organizing the 5th Organic Semiconductor Conference in Cambridge, UK on September 26-28, 2005.
See our Events page for more details.