OLEDs Update: OLLA, Novaled, CDT
OLLA has released its first newsletter, Novaled has developed a highly efficient green OLED, and CDT has demonstrated 14-inch OLED displays using ink-jet printing.
Nov 8th, 2005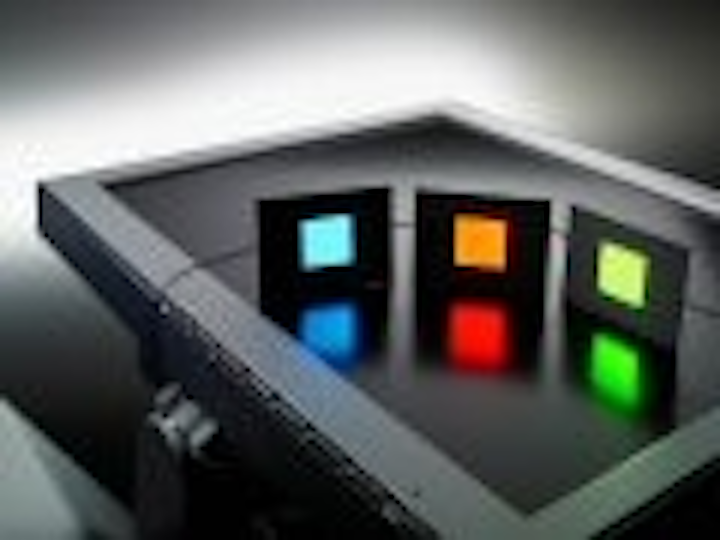 OLLA publishes first newsletter
OLLA, the European program focusing on OLEDs for lighting, has published the first issue of its newsletter.
Download the OLLA newsletter (PDF, 1.5 MB)
Novaled reports green OLED with 95 cd/A efficiency
OLED m,anufacturer Novaled has achieved what it claims is a new world record efficiency for a top-emitting OLED. The saturated green device has a current efficiency of 95 cd/A.
The record efficiency for green emission with a color coordinate of 0.31, 0.66 was measured at a brightness of 1,000 cd/m2 and a very low operating voltage of only 2.55 V.
Jan Blochwitz-Nimoth, Novaled's CTO, said that the foundation for the success is the company's PIN technology (using doped transport layers) and its proprietary molecular dopant in a full-organic OLED structure.
The company's PIN approach allows a free choice regarding the substrate material for optically optimized devices on highly reflective metal bottom electrodes.
Additionally, the Novaled PIN diode characteristics enable lowest driving voltages for high luminance, as well as high efficiency within a large brightness range. For example, the current efficiency was 90 cd/A for 10,000 cd/m2 at 3.1 V.
"Top emission OLED structures are necessary for more powerful active-matrix displays and the forthcoming lighting applications using non transparent substrates" says Gerd Guenther, VP Marketing and Sales. "With this new performance of its PIN OLED, Novaled confirms to be the proper partner to the OLED display and lighting makers".
CDT demonstrates 14-inch ink-jet-printed OLED displays
Cambridge Display Technology (CDT) has achieved another important step in the development of polymer OLED (P-OLED) display technology with the production of a number of 14-inch full color displays using ink jet printing.
The displays were produced at CDT's Technology Development Centre in the UK, and feature a resolution of 1280 x 768 pixels x RGB, equivalent to almost three million sub-pixels, or over 30 million ink jet drops.
The active matrix panels use an amorphous silicon backplane, and were made using a multi-nozzle approach - employing up to 128 nozzles - with no interlacing, and are believed to be the first of their kind ever produced.
The development strengthens CDT's view that multi-nozzle ink jet printing is the best approach to achieving scaleability and a low TAC time in the manufacture of high quality P-OLED displays.
Earlier this year, CDT demonstrated several 5.5-inch displays, and the latest 14-inch displays are part of a continuing program to develop both the underlying P-OLED technology and the means of manufacture. The WXGA+ panels were produced using printers from the Litrex Corporation, a company in which CDT currently has a 50% holding.