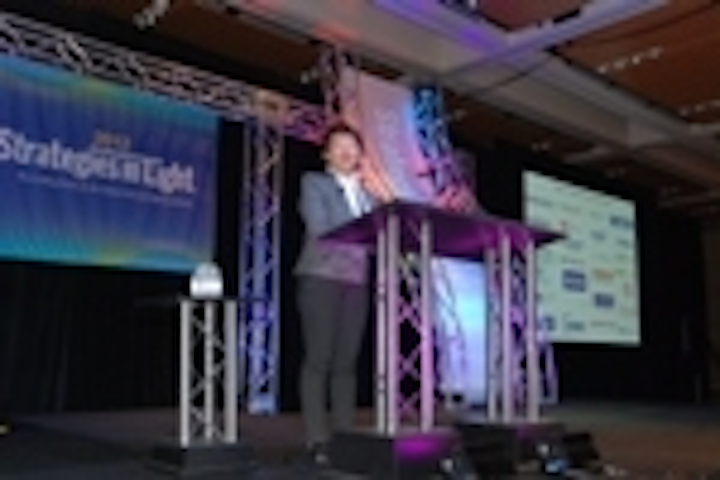 +++++
This article was published in the March 2012 issue of LEDs Magazine.
View the Table of Contents and download the PDF file of the complete March 2012 issue, or view the E-zine version in your browser.
+++++
Ella Shum, director of LED research of Strategies Unlimited based in Mountain View, CA, kicked off this year's Strategies in Light (SIL) conference with her LED market forecast as the opener of the HB-LED Market track. Shum said she expects revenues from packaged LEDs to be relatively flat in the coming years as good growth in LED lighting is offset by decreasing revenues in other applications. The market for LED components (i.e. packaged LEDs) in the lighting market grew 44% from $1.2 billion in 2010 to $1.8 billion in 2011.
Shum tracks the packaged LED market, which does not include LED chips or end products. The worldwide packaged LED market grew nearly 10% from $11.3 billion in 2010 to $12.5 billion in 2011. Fig. 1 shows the packaged LED market by application segment.
Strategies Unlimited also tracks the solid-state lighting (SSL) industry. Vrinda Bhandarkar, director of research for LED lighting at Strategies Unlimited and conference co-chair, provided a review and forecast of the LED lighting industry at SIL – see below.
Shum, also an SIL conference co-chair, stated that the most significant change in the LED market in 2011 was the price drop in LED components. The average cool-white 1W LED package fell in price from $13 per kilolumen to $6/klm in one year. Shum stated that in general the number of LEDs required for a given application is dropping, and prices are dropping even faster. Price reductions, combined with an oversupply of low- and medium-power LEDs (predominantly used in backlighting), has put pressure on revenue growth, while unit growth continues to rise.
The upside to such price decreases is more rapid adoption of LEDs in lighting, mobile, automotive, signage, and backlighting segments. As will be discussed, LED lighting revenues more than tripled in three years.
Top performers
The top ten manufacturers accounted for 68% of all LED component sales in 2011 but 75% of total sales in 2010. In 2011, the top three LED manufacturers each had revenues exceeding $1 billion. The companies in the top ten were the same in 2011 as 2010 but the order was slightly different (Table 1).
Packaged LED makers in Japan accounted for the greatest portion of overall LED component revenues (30%) followed by Korea (26%) and then Taiwan and Southeast Asia (19%).
LED growth by segment
Mobile applications including mobile phones, notebooks, tablets and portable DVD players, made up the largest LED segment at $3.4 billion. In the mobile phone market, OLEDs are beginning to supplant LED-backlit LCD displays (Fig. 2). However, the reduced market for LEDs in mobile phones is compensated by growing demand in tablets. Shum said the two products that matter the most in terms of tablet volume are the iPad2, which uses 36 LEDs, and the Kindle Fire, which uses 20 LEDs. A higher-resolution iPad3, which has yet to be introduced, is expected to use 80 or more LEDs.
The LED revenue for TV and monitor backlights was $3 billion in 2011, but is projected to drop substantially by 2016. "At the one end, manufacturers continue to pursue high-end edge-lit displays, such as the 85-inch display from Sharp," said Shum. However, demand for lower-cost televisions in developing regions has caused manufacturers to develop a lower-cost direct-backlighting scheme, which results in thicker panels (so-called chubby TVs). These use fewer LEDs compared with slim edge-lit designs. The resulting display cost is 5-10% higher than displays using CCFLs, compared with a 20-30% premium for the thinner edge-lit designs.
The lighting segment of the packaged LED market experienced the greatest upside in 2011, growing 44% to $1.8 billion. Shum said she expects LED lighting to continue to take a greater proportion of the LED pie in the coming years.
LED signs and channel letters came in at a market size of $1.4 billion in 2011. This market has the greatest demand and supply from China. According to Shum, 87% of all LED signs are manufactured in China today and she expects this percentage to only increase.
In automotive lighting, Strategies Unlimited is forecasting a 34% compound annual growth rate (CAGR) from 2011 to 2016 for front exterior headlamps. Automakers are also using LED-based interior lighting, including instrument panels using backlighting, and have started introducing LED-backlit decorative panels. OLEDs are being considered as sunroof materials, with some future designs showing OLED windows that also function as solar panels.
LED manufacturers' response
Shum said that LED manufacturers are reacting to pricing pressures in various ways. Companies are differentiating their products based on the quality of the light produced, including higher CRIs. She also mentioned the inclusion of embedded controls in packages and testing of LED packages at high temperatures. "Luminaire manufacturers may be willing to pay a premium for this testing," she said.
Due to continued pricing pressure and intense competition, Shum said she expects consolidation and vertical integration to occur as a means to maintain profit margins.
Strategies Unlimited's forecast for 2012 shows an LED market of $13.3 billion, up 6% over the 2011 level of $12.5 billion (Fig. 3). Essentially flat sales are expected for 2013 and 2014, projected at $13.3 billion and $13.1 billion, respectively.
LED lighting on the rise
The LEDs in Lighting track at SIL commenced with a plenary session in which Vrinda Bhandarkar reported LED Lighting revenue of $9.4 billion in 2011 and projected an industry-wide CAGR of 20% through 2016. In her talk entitled "Global Lighting Transformation," Bhandarkar opened by stating, "The rate at which we use energy now is unsustainable." And that energy-conservation theme pervaded the discussion on the uptake of SSL. Bhandarkar made a forecast for the LED lighting market and discussed the factors that could impact acceptance of the technology.
She began by stating that last year's "drastic decline" in the price of LEDs should lead to a faster uptake of SSL.
The LED lighting industry has already experienced tremendous growth. "In just 3 years the market has grown 3.5 times," said Bhandarkar. LED lighting revenue climbed from $2.7 billion in 2008 to $9.4 billion last year. Bhandarkar said that more LED lighting products are becoming mainstream and that is in part the impetus for the growth rate.
Winning in a down market
Ironically, LED lighting is a growing segment within a declining lighting market. Bhandarkar said, "In 2011, the general lighting market declined in the US and Europe but the global LED lighting market grew by 69%." Bhandarkar placed LEDs as being only 5-10% of the general lighting market, and that is why SSL was able to experience tremendous growth in a down market. The SSL lighting market almost doubled from $5.5 billion in 2010 to the 2011 level of $9.4 billion.
The presentation included a review of the LED lighting market by application segment (Fig. 4). The commercial and industrial segment showed the highest growth last year, and accounted for 25% of the total market in 2011. Some niches such as portable lighting including flashlights are essentially 100% LED at this point. Retrofit lamps accounted for only 13% of the revenue in 2011 – down percentage-wise from 15% in 2010. But the retrofit numbers are way up in terms of actual revenue due to the overall market growth.
Bhandarkar summed up the state of LED lighting saying, "No one is questioning whether LEDs will be there or not." The former skeptical view of the technology has largely disappeared and the primary driver for LED uptake is energy efficiency.
The presentation included a few product-specific market statistics. Bhandarkar said the price of LED downlights, retrofit lamps, and street lights dropped 15-20% in 2011. Globally, she said the industry sold 23 million LED recessed downlights. She said that those sales were "not only in the US and Europe but also in Japan and other parts of Asia."
Different lighting segments and market factors are driving uptake of different SSL product types. Bhandarkar said that the commercial segment has driven adoption of directional LED PAR lamps. Price is far more important for omnidirectional A19 lamps where consumers will ultimately become the driving force and where retailers establishing new low pricing levels will determine deployment. Bhandarkar said, "People could think about a $10 bulb," implying a threshold at which the typical consumer would consider LED lighting and which was achieved in low-end lamps in 2011.
Efficiency drives LED uptake
There are numerous reasons that LEDs will continue on a growth path, according to Bhandarkar, but most come back to efficiency. She pointed out the widely-debated DOE efficiency guidelines that have taken effect in the US. Moreover, others countries and regions including the UK, Korea, the European Union, Canada, Australia, and others are implementing lamp-efficiency requirements.
In the long term, Bhandarkar projected that LEDs will be the only clearly viable solution to the energy issue. She said many people expect a transition to halogen sources, but that increasingly-stringent guidelines in the US would result in a phase-out of halogen between 2014 and 2016.
Fluorescent technologies including compact fluorescent lamps (CFLs) also have a shaky future. Bhandarkar said that in general fluorescent technology provides a good quantity of light, reasonable efficiency, and in some products acceptable light quality. Still, she noted that low cost has been the driver of all fluorescent lighting usage. And the rare-earth quotas being imposed by China are raising fluorescent pricing.
Bhandarkar also discussed additional characteristics of LEDs that can compound energy savings. She said, "LEDs become the most flexible technology that can use controls easily" and of course controls and dimming increase the potential for savings. Bhandarkar also noted the directionality of LEDs and the ability of lighting design to eliminate wasted light.
LED lighting projections
Bhandarkar said the biggest uncertainty in Strategies Unlimited's projection is the impact of price declines. She said, "Frankly we do not know how the market will react to price declines." The projected combined CAGR for all LED lighting products is 20% through 2016.
Bhandarkar said that her projections rely on less-aggressive estimation of price decline relative to data that the DOE has presented. The DOE has used a relative cost index of 100 to represent the cost of an LED lamp or luminaire in 2010. By 2015 the DOE projects a reduction of 80% to a relative index of 20. Bhandarkar expects a more moderate 13-15% decline each year, and that would equate to an index in the range of 38 to 43 by 2015.
Bhandarkar concluded by pointing out that the LED retrofit market will quickly become a commodity market. She said that all factors including rebates and purchase incentives are pushing the segment toward commoditization, low cost, and broad adoption. "If you are going to be in the lamps market, you have to be part of the mass market," she said.
Bhandarkar sees the luminaire market quite differently, noting that we are just at the stage of having lighting manufacturers install LED sources in legacy form factors. She expects LEDs, as a disruptive technology, to result in new form factors and new ways of thinking about light. Bhandarkar said, "For the first time you have control over quantity of light. You can tweak the quantity of light. And you can control it wherever you want." Those factors, according to Bhandarkar, provide LEDs with a tremendous advantage over other light sources.