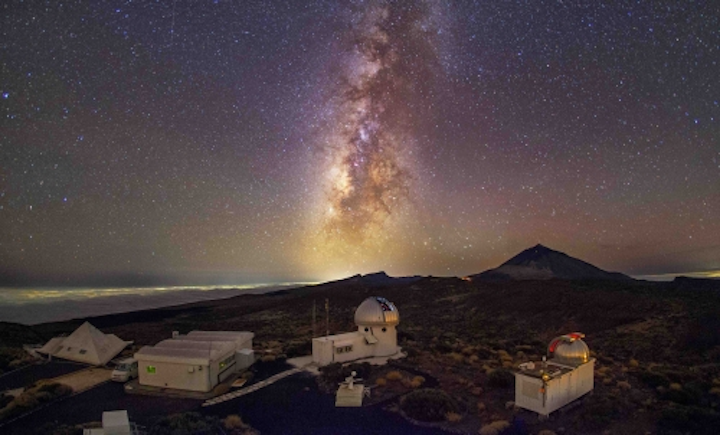 Signify's low-blue recipe and downward optics should help keep northern Tenerife safe for stargazing.
Signify is as ambitious a lighting company as you'll find. But one place where it's not reaching for the stars is Puerto de la Cruz in Spain's Canary Islands.
Interested in articles & announcements on sky glow and LED lighting projects?
Oh, it's endeavoring to deliver a quality outdoor lighting system there alright. But in this case, that means illuminating the streets of the city with 6000 luminaires crafted so light does not spill upwards and wash out the view of the area's famous night skies.
In a project set for completion by the end of August, Signify is replacing 4500 conventional luminaires with LED models built to minimize blue frequencies, the wavelength that Signify said can typically ruin sky views because they create a detrimental effect known as "sky glow." The luminaires also contain optics that direct the light straight to the ground.
Signify is connecting 3000 Philips Luma brand luminaires and 1500 Philips ClassicStreet to its remote Interact City management software for remote dimming. The other 1500 lights will continue to use sodium vapor luminaires, but connections to the same Interact City control and management software will help keep light levels low, according to Signify (formerly called Philips, and still called Philips in Spain until early 2019).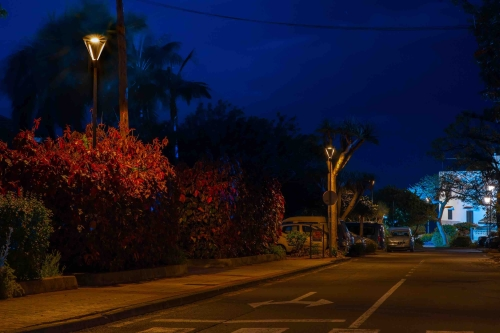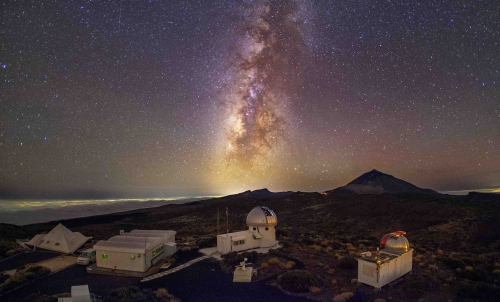 Canary Islands installs street lights that protect night skies
Street lights like those installed in Puerto de la Cruz (top) should help keep the view clear for astronomers at the nearby Teide Observatory. (Photo credits: Top, Signify; bottom, Daniel Lopez.)
Sky glow prevention is a huge concern in the Canary Islands, which claims to have the clearest skies in Europe. It is home to a number of major international observatories, including Teide Observatory, about 25 miles from Puerto de la Cruz on the northern end of Tenerife, the largest of the archipelago's seven islands.
Messing with the region's heavens is a big no-no, as Spain's Law for the Astronomical Quality of the Instituto de Astrofísica de Canarias (IAC) Observatories requires municipalities in Tenerife North and on the island of La Palma to mitigate light pollution.
Related: The great outdoor debate
"We want to preserve this precious resource and at the same time make our streets even safer for citizens and tourists," said Puerto de la Cruz mayor Lope Afonso, who also pointed out that it will save energy. "This latest technology meets the needs of local observatories and will also help us to reduce the electricity we use for public lighting by around 65%," he said.
Neither Puerto de la Cruz nor Signify would reveal how much the city is paying for the lights, but both parties emphasized the importance of keeping the world safe for stargazing.
"Sky glow caused by light spilling from cities into the night sky is an issue for astronomers the world over," said Paul Peeters, a Signify professional lighting business leader. "The Milky Way is hidden from more than one-third of humanity, including 60% of Europeans and nearly 80% of North Americans. Our street lights are fitted with LED modules with special optical plates that filter out blue light and direct the light to the ground."
The 6000 lights include a pilot of 100 "sensor ready" luminaires that can house chips from other vendors to monitor things like noise, air quality, and traffic. Mayor Afonso said the sensor-readiness "provides us with options future smart city services." The lighting industry is hoping that many cities start to use lights and the lighting infrastructure as intelligent network nodes and backbones, an idea that last week brought together GE's Current smart lighting group with telecommunications company Nokia.
For Signify, Puerto de la Cruz is the latest in a number of environmentally-oriented lighting projects, including a street-lighting scheme in Dutch residential area Zuidhoek-Nieuwkoop that assists bats, and another in Holland's North Sea island of Ameland that helps migratory birds.
MARK HALPERis a contributing editor for LEDs Magazine, and an energy, technology, and business journalist (markhalper@aol.com).