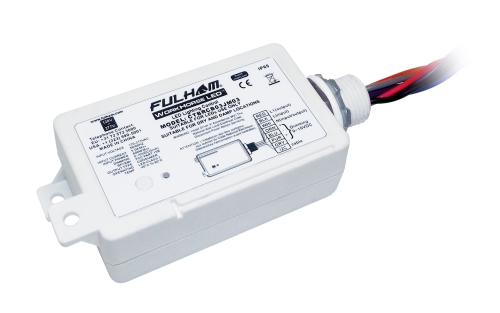 The small "bridge" can reside either inside or outside a fixture to wirelessly control dimming, color temperature, and other things in a mesh scheme.
Fulham Co, Inc. has introduced a small Bluetooth Low Energy (BLE) adapter module that adds wireless dimming, on/off, color temperature tuning, motion detection options, and other features to indoor and outdoor luminaires.
By mounting the module either inside a light fixture or outside, and deploying a smartphone app, users can control an expanse of lights using the Bluetooth Mesh scheme, Hawthorne, CA-based Fulham said.
Fulham is offering two versions. Both support wireless 0–10V dimming at a range of up to 160 ft, and both can receive sensor input for motion detection and for daylight detection and adjust lighting levels accordingly.
Bluetooth Mesh overcomes Bluetooth range limitations by allowing one beacon to hand off instructions to another. A standards group, after lengthy wrangling, finally ratified Bluetooth Mesh in July 2017, with backers claiming it would open the way for wide-scale wireless IoT lighting deployments, although that has yet to happen.
A typical installation of the Fulham product might place one box — Fulham refers to it both as a "controller" and a "bridge" — within a group of lights, treating each group as a single entity. A typical group might include two to six lights in a small office configuration although it can be more. Each controller supports up to 600W, so, for example, it could feasibly support twenty 30W LED fixtures, Fulham told LEDs Magazine.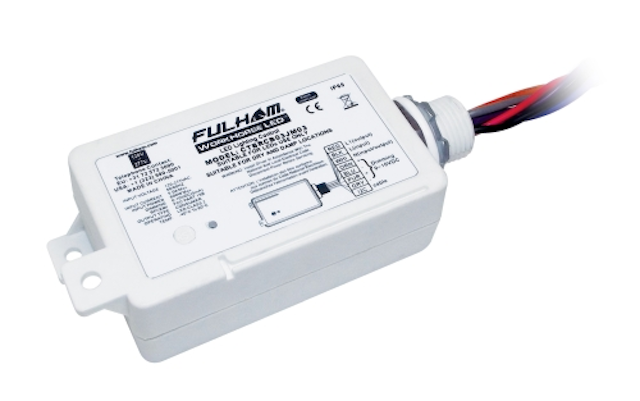 Whatever you call it — a bridge, a controller, a little box — this thing from Fulham adds Bluetooth mesh control of groups of lights or of individual lights if required. (Photo credit: Fulham.)
Users could also attach one bridge to each luminaire in cases where control of individual lights is required. The module measures 5.2×2.3×0.75 in. (including its mounting extension).
The higher end of the two controllers includes CCT tuning and provides power usage measurements and information (power metering).
"Bluetooth Mesh shows great promise for the lighting industry, making it an ideal solution to add wireless lighting controls as part of new installations or LED retrofits," said Fulham's Alvaro Garcia, senior director, product management. "With our new Bluetooth Bridge, installers can convert any 0–10V dimmable LED luminaire into a Bluetooth Mesh node. Since Bluetooth is a recognized standard, we anticipate a number of manufacturers will develop their own BLE lighting solutions, and our new Bridge products make it possible to add any LED luminaires to the mix."
End users operate the system using "other Bluetooth devices," Fulham said, noting that those include a wall switch from EnOcean, which Fulham stocks. Fulham is not providing a control app, but the idea is that control apps available from other vendors for Bluetooth gadgets would work.
Although Fulham does not provide an end-user app, it does offer an app for setting up and turning on the system and for monitoring it, using phones, tablets, and other devices compatible with the Apple iOS operating system.
Fulham is also offering optional motion daylight sensors, which users wire into the module via a plug-and-play connection, the company said.
One of the controllers, the CTBRCB02JM02, is available now. The higher-end model, called the CTBRCB03JM03-PC, will be available by the end of the year. Both run between 120–270V.
Fulham told LEDs that pricing will be set by distributors. It is backing up the two products with a five-year warranty.
MARK HALPER is a contributing editor for LEDs Magazine, and an energy, technology, and business journalist (markhalper@aol.com).