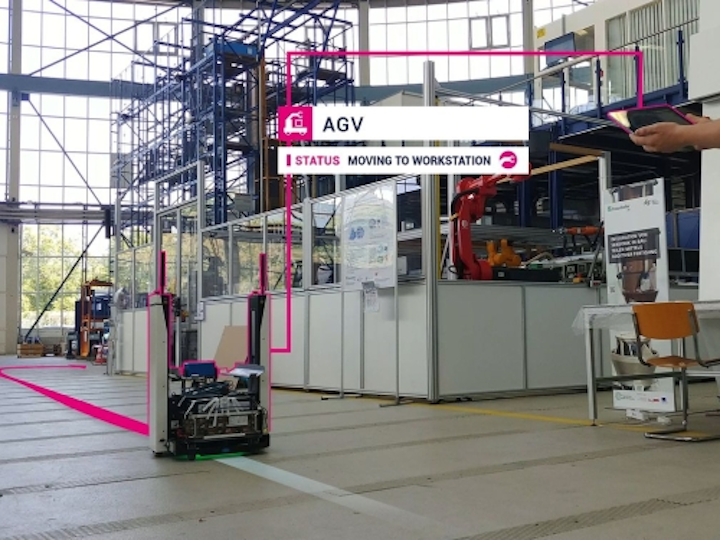 It doesn't just sell the concept. It practices it. Wirelessly networked roaming robots will haul materials around a factory, making the most of sensors, data and the like.
Here's one for the practice-what-you-preach department. Osram, the lighting giant that is working hard at adding Internet of Things (IoT) and data services to its offerings, is also pushing the boundaries of IoT technology as a user. It plans to put wirelessly-networked peripatetic robots to work on the factory floor, wheeling materials to stations exactly where and when needed.
The company is preparing now to launch the trial in January at a plant in Schwabmünchen, where it produces wires, chemicals, and other preliminary materials for LED lamps.
Munich-based Osram is working with Deutsche Telekom. DT will install a smart communications network called Campus Network that uses LTE connectivity plus "Edge Cloud," which transfers complex offsite computing processes to an onsite server.
Osram and DT said Edge Cloud helps speed up data processing, and that artificial intelligence (AI) will also play a big role.
With all of that at work, the robots — basically, wireless guided trays on wheels that Osram refers to as "real-time automated guided vehicles" (AGV) — will improve the efficiency of operations.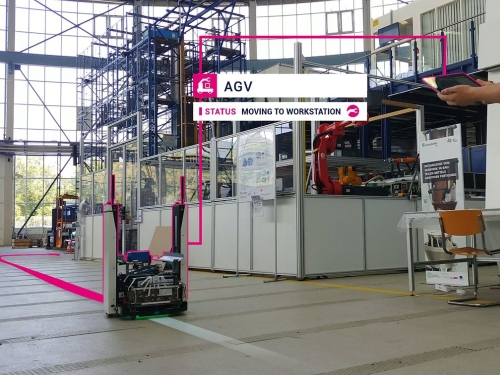 You can call it a real-time automated guided vehicle, or you can call it a robot. Whatever you call it, it is designed to shuttle manufacturing materials around this Osram plant in an IoT scheme. (Photo credit: Deutsche Telekom website.)
"With the support of AI and the dual slice Campus Network, the partners will test the transport of material by autonomous vehicles," Osram and DT said in a joint announcement. "By this they get a better understanding of the production environment in the Osram factory."
The companies did not reveal the amount of money they are spending. Osram also declined to tell LEDs Magazine how many robots it is testing over how big an area.
The project fits neatly into the "Future Concept Osram" (Zukunftskonzept Osram) factory modernization push articulated by Osram CEO Olaf Berlien last year, who said at the time that efforts would focus on facilities in Berlin and Schwabmünchen.
Robotic partners in the Schwabmünchen trial include Gestalt Robotics, InSystems Automation, and Fraunhofer Institute for Production Systems and Design Technology
"The AGV scans the environment in the plant with the help of sensors," Osram and DT said. "These environmental data will be transferred via Campus Network to an Edge Cloud. Complex algorithms transform them into control data. The interaction of LTE, Edge Cloud, and artificial intelligence guarantees the real-time processing. This allows the autonomous control of the transport system in the company area."
With all that talk about sensors, data, controls, and algorithms, the project is very much in spirit with Osram the vendor's mission these days to sell smart lighting, LED chips, and smart building services — not even always lighting related — in which sensors and communication chips gather data that helps improve everything from lighting to guiding driverless cars to improving real estate management.
MARK HALPERis a contributing editor for LEDs Magazine, and an energy, technology, and business journalist (markhalper@aol.com).