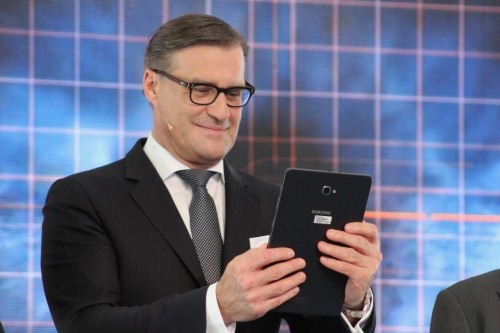 Bain Capital is among the private equity firms that are interested in the LED and lighting technology specialist, and so are other types of companies, according to reports.
As a financially struggling Osram continues to try to revamp itself away from general lighting and more toward digital goods and services, it is catching the attention of suitors looking to buy it out, according to news reports.
Bloomberg reported last week that Boston's Bain Capital "is exploring a takeover bid" for the Munich-based company, which has a market value of €3.8 billion euros ($4.3B). "Other potential suitors including rival buyout firms are also eyeing the former Siemens AG unit, though the interest may not ultimately result in a deal," Bloomberg said, citing sources "with knowledge of the matter."
As LEDs Magazine has pointed out many times, Osram CEO Olaf Berlien's efforts to remake Osram as more of a "high tech company" and less of a lighting company has in a sense ironically reshaped it in the mold of Siemens, the engineering conglomerate that sold off Osram when it was a more straightforward lighting concern over five years ago.
But Osram has since dumped its own light bulb operations, and is now also shedding luminaires. It is focusing on making LED chips, and is also selling software, sensors, data analytics and cloud computing that can help lighting systems and buildings in general to become "smart buildings."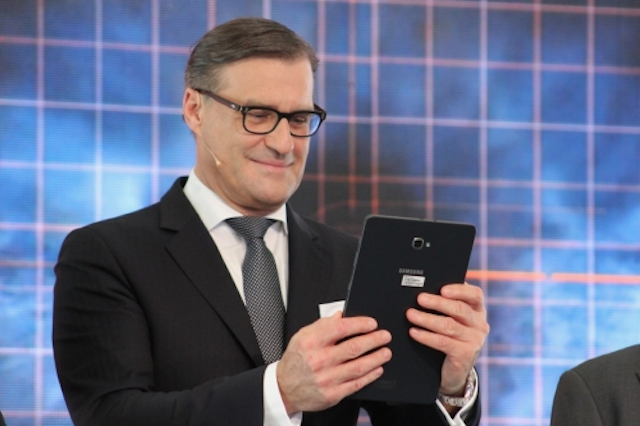 Osram CEO Olaf Berlien's attention on high-tech and digitization appears to be catching the eyes of buyout specialists. (Photo credit: Mark Halper.)
It is doing this via other vendors' lighting systems, and also independently of lighting at all, such as in a trial deployment of occupancy sensors with property firms in Lithuania.
The transformation has been costly, as the €4.1B ($4.6B) company has issued two profit warnings this year, and recently reported a 48% after tax profit plunge for 2018, to €142 million ($161M).
Other lighting companies such as Signify are experiencing similar pains as they search for new business models, generally trying to sell Internet-connected lighting, buildings, and outdoor spaces in an Internet of Things (IoT) scheme. They are trying to increase the service portion of their offerings, overhauling the longstanding product-based approach, which has become untenable in the era of solid-state lighting (SSL) in which light sources last for purported decades rather than burning out after 18 months or so.
Bloomberg did not name other potential suitors.
One German company known to be considering buying data integration companies — a description that applies to Osram these days — is Software AG, the Darmstadt-based database and middleware company that recently formed a cloud computing and IoT division.
When LEDs Magazine asked Osram in late October whether CEO Berlien might take note of Software AG's interests in buying data firms, a spokesman replied that he probably has indeed clocked the development, but advised us "do not hold your breath."
If a private equity firm were to buy Osram, it would extend a trend of investment outfits taking over companies long associated with the lighting industry. In the most recent example, New York City-based private equity firm American Industrial Partners has agreed to acquire GE's Current, powered by GE.
MARK HALPERis a contributing editor for LEDs Magazine, and an energy, technology, and business journalist (markhalper@aol.com).