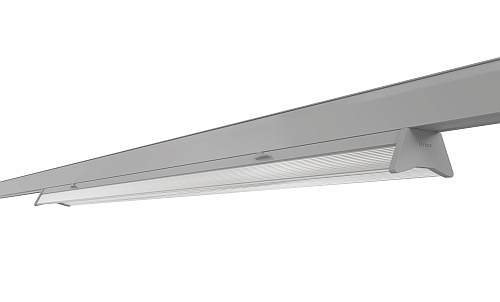 A pilot deployment of the company's Lightelligence system at an Edeka store could boost powerline communications for connected smart lighting. Nokia's involved, too.
Powerline communications (PLC), one of the lesser-known means for delivering Internet of Things (IoT)-enabled lighting, got a big boost this week when Osram revealed to LEDs Magazine that the technology is a key part of its Lightelligence IoT system, and that a Berlin supermarket has deployed it.
PLC uses standard electrical wires to carry data. The Internet can thus connect via a building's existing power cables to smart lights, carrying instructions for controlling light settings, and delivering information to support everything that a smart light might do, such as providing indoor navigation services, engaging shoppers with offers, tracking assets, and much more.
Osram told LEDs that a roughly 43,000-ft2 Edeka supermarket in Berlin is using PLC as part of a pilot deployment of Osram's Lightelligence system, which the Munich lighting and technology company introduced last March, and which hit the general market this week.
Lightelligence is a set of hardware and software options including, among other things, cloud computing connections, apps, and a multipurpose luminaire rail called Licross that can house lights, sensors, wireless communication chips, and other things. Osram refers to Licross as a "trunking system."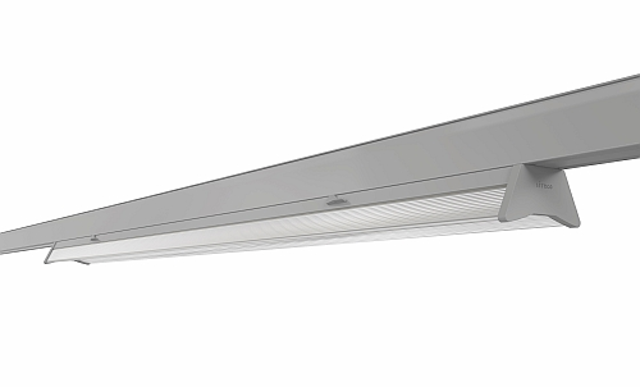 Osram taps powerline communications to deliver IoT lighting at Berlin supermarket
The Osram Licross luminaire trunking system houses sensors and communication chips at the Edeka store in Berlin, which feeds it data via electricity cables.
At the Edeka store, "Osram deployed the Licross trunking which...includes a high-data bandwidth connectivity backbone based on powerline communication," an Osram spokesperson said in response to an LEDs inquiry. "We realized data connectivity via electrical wires running inside the trunking system that is also used to power the luminaires."
The Berlin Edeka has deployed Licross above two 40-ft aisles. As of the time this story posted, Osram had not clarified for LEDs exactly what type of data the PLC carries.
But in the big picture, the store's Lightelligence system offers a number of services, including navigation delivered to shopper's app-enabled smartphones; customer flow and "conversion" information for store managers; temperature, humidity, and CO2 readings; and even Wi-Fi.
To enable those features, Osram outfitted the Licross ceiling units with various components including Bluetooth communication beacons and sensors, as well as LED lights (it's not clear whether the lights come from Osram, which is exiting the general luminaire market).
Osram also said that it partnered with communication equipment vendor Nokia at the Berlin store, although it did not provide many details on what role Nokia is playing. The company noted in general that Nokia is helping with "broadband communication services" and that "Nokia supports us with the technology to manage the network infrastructure."
Earlier this year, Osram and Nokia partnered to develop and trial 5G broadband wireless communication chips within the lighting infrastructure to deliver 5G inside commercial buildings.
Osram's partners at the Edeka store also include PointR, a London-based firm providing software for indoor navigation.
IoT lighting is still in an early stage. The retail industry is considered to be a potential bonanza. While retail deployments are slowly growing, they have been characterized by pilots and one-offs, rather than by massive chain-wide uptake. For example, Edeka has been trialing an IoT system from Signify (formerly Philips Lighting) at a single store in Dusseldorf, using a different set of technologies including visible light communication (VLC).
Up until now, much of the technology discussion around smart, IoT lighting has focused on wireless technologies such as VLC, Bluetooth, and ZigBee, and on a wired technology known as Power over Ethernet (PoE), with PLC lurking in the background.
Osram itself did not draw attention to PLC when it introduced Licross in March, making no mention of it in a press release at the time. But the technology, whose backers also include Wales' EnModus among others, now seems poised for more action.
LEDs Magazine hopes to bring you more details on this story as we get them.
MARK HALPERis a contributing editor for LEDs Magazine, and an energy, technology, and business journalist (markhalper@aol.com).