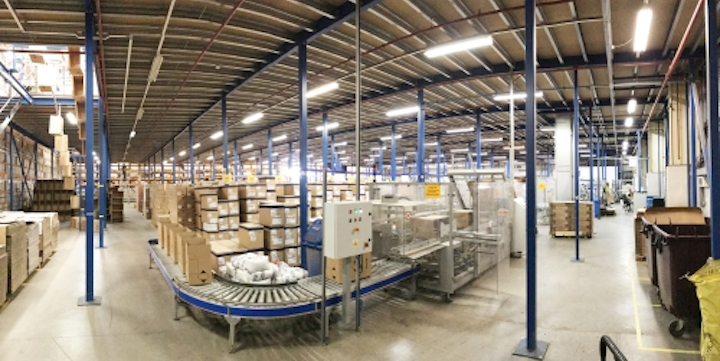 The latest powerline communication deployment by enModus looks like a small one but shows that wireless is not the only way to avoid expensive retrofit costs.
Serving another reminder that IoT lighting does not have to entail cutting edge wireless systems or fancy new Ethernet cabling, fashion and accessories retail chain Claire's has slashed energy consumption in a section of a warehouse by connecting new LED lights to data-based controls via existing standard electrical wires.
Interested in articles & announcements on powerline-based smart lighting?
The warehouse in Birmingham, England has deployed powerline communication (PLC) technology from Chepstow, Wales-based enModus to reduce electricity use by 96% compared to the previous lights. The savings come not just from the new batten-style LED luminaires but also from enModus' intelligent system called Wattwave, which monitors and controls individual lights from a central hub, all through conventional power cables supporting an Internet of Things (IoT) connection to lights in the ceiling ranging in height from around 9–46 ft. The UK's LED By Vision provided the lights.
Neither Claire's nor enModus would reveal the size of the deployment, believed to be small, but which could serve as the first phase of a wider deployment across the entire warehouse and its offices.
Claire's could use the savings. The $1.3 billion Hoffman Estates, IL-based chain went into Chapter 11 bankruptcy protection last March as it tries to regroup in the face of slowing shopping-mall traffic, a general retail trend in the age of online sales.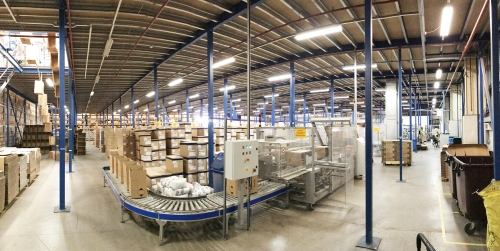 Retail chain Claire's slashes energy bill by controlling smart lights over standard cable
EnModus said the use of existing power lines enabled installation of the Wattwave system with "zero disruption to operations" at Claire's Birmingham warehouse, pictured above.
EnModus, founded in 2010, has been in a prolonged startup mode but has been scaling up recently, evidenced by a number of installations. As LEDs Magazine wrote, its technology has cut energy consumption by 99% at a Virgin Media technical center in the UK, which, like the Claire's job, is another small, low-hanging-fruit project expected to lead to wider deployment. Earlier installations have included a small deployment in shopping chains' warehouse and offices in England and at the Terex Trucks manufacturing plant in Motherwell, Scotland.
The company's PLC technology focuses primarily on energy monitoring and controls, as opposed to some of the broader IoT applications such as asset tracking, although enModus is expected to eventually add those and is already able to provide occupancy sensing. The energy monitoring applies beyond the lighting system, as Wattwave can keep an eye on electricity consumption by other systems such as HVAC and shop floor machines.
"Smart lighting is just one application," said enModus vice president of sales and marketing John Wanklyn. "Once installed, we enable a building-wide communications network that can deliver other benefits including real-time intelligence on building occupancy and other sensed inputs, plus ultimately control any mains-connected asset."
As PLC gains recognition, it could rival wireless technologies such as Bluetooth and ZigBee as a non-disruptive method for converting lighting systems into IoT lighting in a retrofit situation. Both PLC and wireless can make use of existing infrastructure. By comparison, another IoT technology, Power over Ethernet (PoE), generally requires the addition of Ethernet cabling, and thus many people consider it too unwieldy and expensive in a retrofit. (An older technology, DALI, has long required new wires, although plans are afoot for a wireless version.) PoE carries both data and electricity over Ethernet wired. It can often be more appropriate in a new build, where it can spare the costs associated with conventional electrical cabling and electricians.
MARK HALPERis a contributing editor for LEDs Magazine, and an energy, technology, and business journalist (markhalper@aol.com).
*Updated June 11, 2018 at 11:45 AM for DALI clarification.