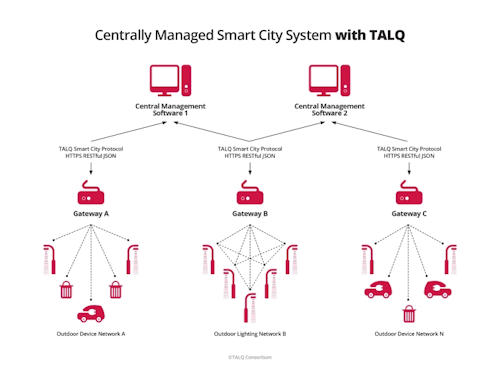 Globally, cities are contemplating smart-city application deployment that can rely on networked LED-based outdoor lighting as a backbone, and the TALQ Consortium has demonstrated interoperability among software from multiple vendors at a Valencia, Spain plugfest.
The TALQ Consortium has announced the results of an interoperability plugfest (an event where multiple vendors test their products' compatibility with others) that took place in Valencia, Spain recently. TALQ was formed back in 2012 with the mission of standardizing software interfaces for smart-city applications that would likely utilize a networking backbone of connected LED street lights. The plugfest revealed that seven different CMS (central management software) systems could all work with network gateways, controllers, and sensors from multiple vendors.
The plugfest involved CMS implementations and networking technology designed to the TALQ Specification 2.0 that was delivered to members of the organization earlier this year. More recently, the consortium published a whitepaper that explained the theory behind what the organization calls "The smart city protocol."
The TALQ protocol should help eliminate a major roadblock to the adoption of connected outdoor lighting and more advanced smart-city applications such as parking-space control and traffic monitoring that rely on sensors integrated in street lights. Many municipalities have refrained from moving forward with such projects because the available systems have been highly proprietary. TALQ will not ensure interoperability of individual devices such as sensors in a network. Sensors, luminaires, and gateways will have to be separately designed for compatibility with the network being installed. But any compliant CMS should be interoperable with any network implementation so long as both are TALQ compliant. A municipality could have multiple compliant networks deployed in different geographies or for different applications, and seamlessly manage all with one CMS.
Compliance is the next step in the promulgation of the TALQ protocol. The consortium hopes to have a TALQ 2.0 certification program in place by 2019. Such a program will enable CMS and/or networking-product vendors to have an independent analysis of a product designed based on the standard, and receive a certificate of compliance. Municipalities, utilities, and other parties that are looking to install smart-city systems can then require certification as part of the requisition process.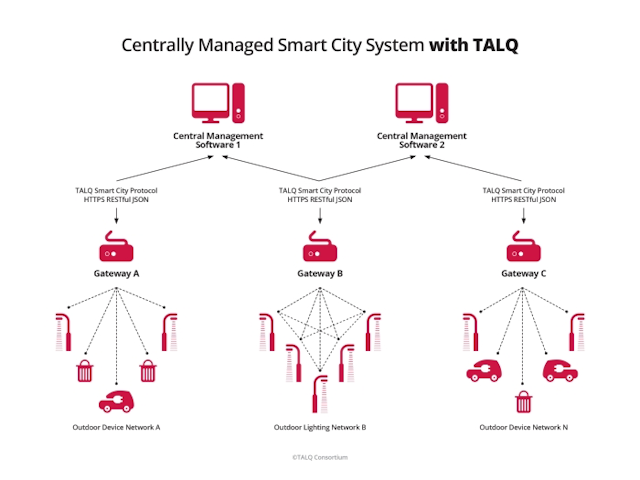 TALQ Consortium hosts interoperability plugfest for smart city networks
This schematic demonstrates how a smart city can be handled with a central management system (CMS) in an implementation that leverages the TALQ Specification 2.0 for networking all devices and equipment for the smart city.
There were a total of thirteen vendors from six countries that participated in the recent plugfest that was scheduled coincident with a TALQ developers workshop. The success of the plugfest was especially encouraging given the fact that the Version 2.0 specification is a relatively recent development. The consortium noted that participants generally felt that the new version is simpler to integrate than Version 1.0. The participants were able to test the TALQ Test Tool, discover some minor issues, and to also clarify some complex use cases. But no major issues that could significantly slow the process toward certification and compliance emerged.
TALQ will support an exhaustive set of capabilities for LED-based street light deployments. The standard will enable remote on, off, and dimming controls of individual lights and groups or zones of lights. The CMS can monitor operational characteristics of individual lights such as energy use and even operating temperature that might provide an indicator of reliability and lifetime. Still, the protocol also supports far more advanced applications that span to video and security applications; street lights may be the perfect place to install the required cameras or sensors for such applications. The sensors may be integrated in the luminaire or perhaps just share the pole and power supply with the luminaire as we reported in a recent Portland, OR project delivered by partners Current, powered by GE and Intel.