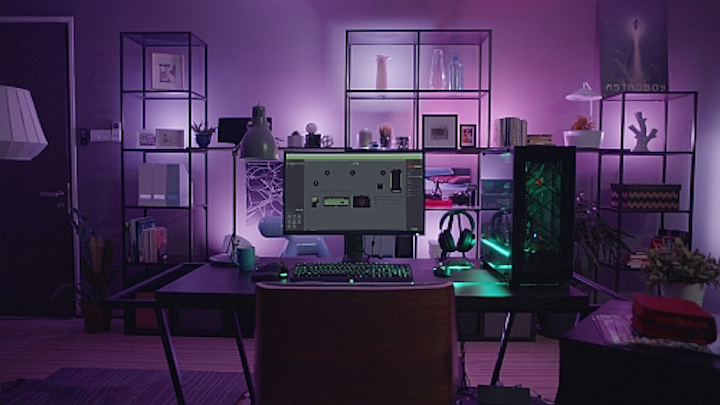 It's the company's second immersive lighting announcement in as many days at the CES consumer show. The lighting industry dives ever deeper into the IoT.
Philips Lighting dropped the second shoe this week in its revived push into immersive home entertainment lighting, announcing several enhancements that extend the ability of its Hue lights to change color, brightness, and color temperature in response to the action of video games, movies, and television programs showing on computer-connected screens, and to music.
Interested in articles & announcements on smart lighting applications like immersive lighting?
The announcements came at the CES consumer electronics show in Las Vegas, where Philips yesterday said it had partnered with PC gaming giant Razer to integrate interactive home lighting into Razer hardware and software.
The company today said it plans a second-quarter release of software called Hue Sync for any Windows 10- or MacOS High Sierra-based computers. The software "creates immediate, immersive light scripts for any game, movie, or music played on the computer, so consumers can enjoy the content they are playing, watching, or listening to even more," Philips said.
Philips is also providing software and game developers with application programming interfaces (APIs) and tools to help boost the availability of games and other content that take advantage of Hue interactivity. The technology announcements underscore the movement by the lighting industry to tap the digital capabilities of LEDs, as vendors look for new IT-oriented ways to earn revenue in a world where LED bulbs are expected to have long lifetimes and thus deprive vendors of traditional replacement sales.
It's all emblematic of lighting's Internet of Things (IoT) crusade. PC games and entertainment that manipulate the lighting will typically originate from Internet servers.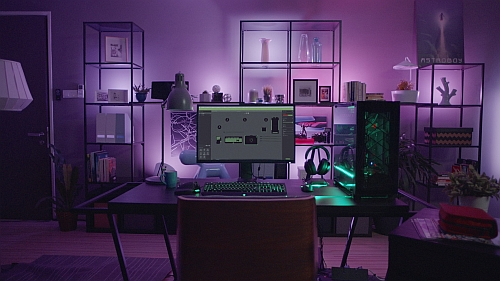 Philips unveils software for Windows and Apple computer games to drive interactive lighting
Philips Hue Sync software will prompt games, movies, music, and television to dynamically change the room lighting in response to the action. Here, it has dialed up purple for an interactive lighting experience. (Photo credit: Philips Lighting.)
As part of Philips' renewed push into entertainment, in December it quietly pushed out a free update to the Hue app, which controls Hue LED lights regardless of any entertainment connections and which now also helps control the coming interactivity advancements.
With the new Hue Entertainment line, Philips is playing up what it calls "surround sound for your eyes."
Philips has been talking about interactive home entertainment lighting for several years, but the concept has yet to really take off. In television, Philips has sampled the technology with the shows "12 Monkeys," "Sharknado," and "The Voice," among others. A Philips spokesperson told LEDs Magazine that those deployments served as pilots and have provided valuable insight on how to design the new software and tools.
The company began re-sowing the seeds in late August, when it fashioned a "Philips Hue Entertainment" software line to focus on entertainment interactivity of Hue LED lamps, which have traditionally changed color, color temperature, and brightness in response to more conventional prompts, such as app-based cellphone control.
The sweet spot of the home interactive lighting market, for now, appears to be gaming.
"Our first step is with gaming, the largest segment in the entertainment industry, followed by movie and audio integrations," said Chris Worp, leader of the home business group at Philips Lighting.
It still remains to be seen whether people truly want dynamic, immersive entertainment lighting throughout their homes, and whether they are willing to install the extra hardware that it requires — users must set up a Philips Hue V2 bridge to make everything sync up.
Nevertheless, Philips is pressing ahead.
The company also said it will extend general Hue capabilities to a new outdoor line this summer, and that it will introduce a "redesigned" Hue app early in the second quarter.
MARK HALPER is a contributing editor for LEDs Magazine, and an energy, technology, and business journalist (markhalper@aol.com).