For industry traditionalists, Osram's new homepage might look curiouser and curiouser. But many believe this isn't Wonderland. It's the future.
Go to the homepage of a lighting company, and you'd reasonably expect to see a luminous photo. Maybe a catchy, time-lapsed street lighting scene. Or an office where workers look healthy, happy, and productive under just-right luminaires. Perhaps an elegantly lit façade, or a soft architectural interior.
But visit the new homepage of Osram Licht, the world's second largest lighting company, and what currently stares at you front, top and center?
Interested in articles & announcements on smart lighting and IoT?
Answer: An abstract mathematical diagram of lines connecting dots, over which Osram boldly proclaims: Mining for Gold: Digital lighting infrastructure provides an excellent basis for generating data.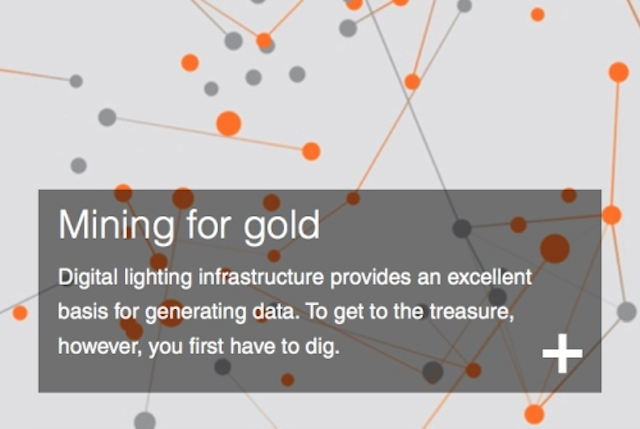 Data is the new lighting, Part II
The lighting industry awoke one morning and found itself transformed into a giant data provider. Or so it hopes. Is that a good thing or bad? (Image credit: Osram.)
What? The main message from Osram Licht — remember, "licht" means "light" in German — is all about data mining? Has the Internet crossed wires and somehow errantly posted IBM, Google, Microsoft, Amazon, or Facebook pages on the Osram site? Maybe a hacker struck?
Of course not.
In case you've been in the dark (and not reading LEDs Magazine!), the lighting industry is attempting what some people might consider the oddest metamorphosis since Gregor Samsa awoke one morning and found he had become a cockroach.
Lighting companies want to transform into information technology companies. They want to use lights and the lighting infrastructure to embed sensors and communication chips that turn lighting networks into Internet networks carrying valuable data and information that can be mined, parsed, sliced, diced, and, most importantly for the industry's financial future, sold or at least monetized in some fashion. The Osram homepage leads to a blog post featuring Osram Innovation Manager Louis Trebaol extolling the virtues of algorithms and data analytics.
LEDs has written about many examples of smart lighting over the last few years. But the latest decision by Osram to highlight the concept of data across its landing page is one of the most overarching symbols of the industry's attempt to transform into an Internet of Things (IoT) and data provider. It is akin to when Signify — then called Philips — unfurled a strategic new IoT "platform" earlier this year, in which it invoked the word "data" 17 times in its press release.
LEDs reported that development as "Data is the New Lighting." Consider Osram's latest homepage as Part II to that declaration. Osram began running with it two weeks ago — not coincidentally, right around the time that it began searching for a buyer for its luminaire business. Osram still uses the slogan "Osram is Light," but that adage seems to have taken a backseat to the data theme.
Osram and the industry can only hope that it fares better in its revamp than did poor old Gregor, who perished in Franz Kafka's famous story The Metamorphosis. And that its transformation is more into a beautiful butterfly rather than into an unsightly insect.
The lighting industry needs such a floating result, as its old business model of selling bulbs and luminaires has collapsed in the era of long-lasting solid-state light sources. The change has yet to pay off. Much of the industry continues to struggle financially, evidenced recently by Osram's own challenging third quarter.
Or to use another literary reference, the industry is looking forward to the day when its journey to the IoT future emerges from its current rabbit hole.
MARK HALPERis a contributing editor for LEDs Magazine, and an energy, technology, and business journalist (markhalper@aol.com).