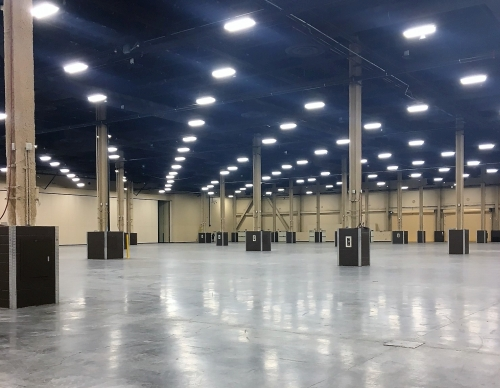 The GE Current deployment will nearly eliminate the need for supplemental lighting at exhibitions across the six halls. IoT data may or may not follow.
In a lighting now and maybe data later deal, Las Vegas' Mandalay Bay Convention Center has tapped GE's Current division for a wireless control system that allows fine tuning of 1600 luminaires across the expansive 1 million ft2 of exhibition space.
Interested in articles & announcements on networked lighting and wireless controls?
Mandalay Bay is using Current's Intel-based Daintree controls and software to alter lighting levels from 0–100% brightness, thus nearly eliminating the need for supplemental lighting over individual booths, according to Current.
Current partnered with Boulder, CO-based Energy Resources Inc., which specializes in installing and designing lighting and lighting control systems.
The project focuses for the moment on tailoring light levels and on energy savings across the facility's six exhibition halls.
The convention center's owner, MGM Resorts International, is also considering integrating data from the lighting system into its corporate building analytics software, Current said. Some people in the lighting industry believe that smart lighting's greatest value lies in gathering data that can be analyzed to reveal how to better run and allocate space in a building.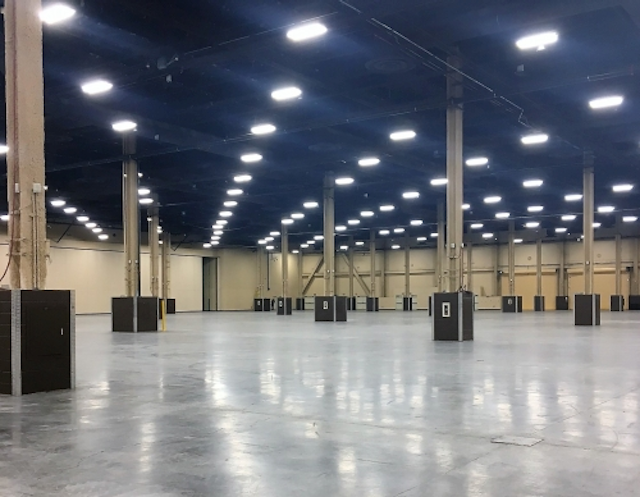 Mandalay Bay Convention Center taps wireless lighting controls across 1 million ft2
The Mandalay Bay Convention Center is turning to wireless lighting controls to cut way down on the need for supplemental lighting. (Photo credit: Current, powered by GE.)
Current — its full name is Current, powered by GE — endeavors to tie user data into GE Predix cloud software to analyze trends and help activate changes.
Such facilities and asset management benefits represent a big part of the lighting industry's push into the Internet of Things (IoT). Lighting companies are so eager to become IT providers that they sometimes participate in deals without providing lights per se, such as Current's project at Mandalay Bay, where Flex Lighting Solutions, not Current, supplied the new LED fixtures. The lead contractor was a labor union.
On outdoor jobs such as in San Diego, Atlanta, and Portland, Current ties sensors into Predix via a hardware and software combination that it calls CityIQ, which includes sensors and communication chips. As with indoor jobs, sometimes outdoors Current does not provide lighting but mounts information technology on street poles. In a new smart city partnership with telecommunication firm Nokia, Current will potentially participate into any smart city deals as a supplier of chips, sensors, and cloud connections, but not necessarily as a lighting company per se.
It's all part of a trend that LEDs Magazine has dubbed"Data is the new lighting."
Current, which GE has put up for sale, recently conducted an informal surveying suggesting that lighting companies should target sales at IT departments more than at facilities departments.
There is no guarantee that lighting companies will succeed in their attempts to transform into IT providers. Some end users seem simply uninterested.
Others, like Mandalay Bay and, for example, Puerto de la Cruz in the Canary Islands, Toronto, Guadalajara, Spain, and Knoxville, TN are opting to first deploy lights and controls for the purpose of illumination while saving any IoT implementation possibly for later.
You can see a video of the lighting installation from Flex Lighting Solutions here.
The Mandalay Bay Convention Center will be the venue for Strategies in Light 2019 next February, and for the Sapphire Awards Gala. Sapphire Awards entries are now open — submit your products for consideration and your nominations for the Illumineer of the Year for a chance to be recognized by your peers in the solid-state lighting industry during the Awards Gala.
MARK HALPERis a contributing editor for LEDs Magazine, and an energy, technology, and business journalist (markhalper@aol.com).
*Updated August 13, 2018 8:50 PM for additional project support detail.
*Updated August 17, 2018 with company name correction and video link.