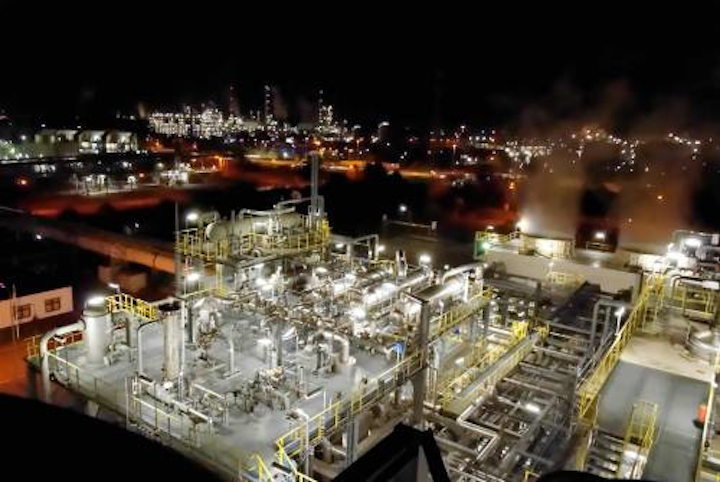 With Chess Wise's MyriaMesh, new LEDs turn on only when needed rather than staying lit 24/7 as the old fluorescents have done. It's part of a lighting-as-a-service contract at the Chemelot site.
A sprawling chemical processing site in southern Holland has tapped wireless mesh controls to assure that new outdoor LED lighting turns on, off, up, and down when and where necessary in a lighting-as-a-service (LaaS) scheme that has spared upfront capital costs and eliminates the troublesome and costly requirement to keep the operations lit around the clock.
Interested in articles & announcements on smart lighting & controls?
The Chemelot Industrial Park in Geleen previously had to leave some 17,000 fluorescent lights on for 24 hours a day because physically switching them creates a potential spark hazard under an EU directive known as ATEX, which governs operations in explosive environments.
The wireless mesh controls circumvent that danger in such an extreme industrial environment. The new ability to turn lights off and to dim them augurs enormous savings in electricity and CO2 emissions. It should also drastically reduce light pollution.
"Because we 'switch' the lights with software, dimming and switching is now possible," said Han Bak, CEO of Haarlem-based Chess Wise, the company providing the mesh technology which it calls MyriaMesh. "The main thing is the lights are only on when you really need light, which is completely the opposite of the existing situation, when the lights were on 24/7."
Chess Wise is one of several lighting-related companies involved in a one-for-one replacement of existing fluorescent luminaires with LED models in a 15-year service-based scheme led by Amsterdam based project management firm LEDsEnable. The team also includes French LED luminaire provider Dietal, and Dutch cloud computing controls firm Luminext. So far around 4000 new Dietal luminaires are up and running, with over 1000 per month planned for the next year. Each Dietal luminaire includes an embedded MyriaMesh module.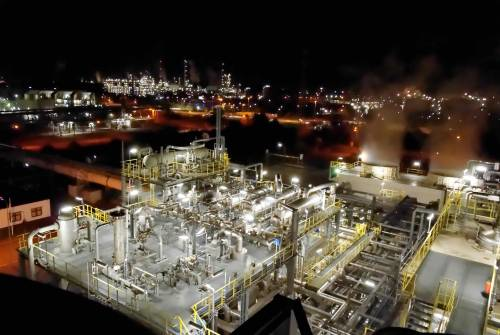 Wireless mesh controls augur huge savings, slash light pollution at Dutch chemical plant
A good chemistry of LEDs and wireless mesh controls will finally allow any of 17,000 outdoor lights
to go off when not required at Chemelot. It will also switch them on at the right times and monitor
their performance. (Photo credit: Chemelot.)
The combination of the LED luminaires and the wireless mesh controls should also slash maintenance costs, given the expected long life of the LEDs as well as the modules' ability to monitor the performance of the individual lights.
The lights cover eight different chemical sites at Chemelot, which hosts a number of chemical companies including Sabic, OCI Nitrogen, DSM, Borealis, and others. The Chemelot site in total sprawls across 800 hectares — roughly 1600 soccer fields — and also includes research outfits from Maastricht University, Eindhoven University of Technology, and Germany's RWTH Aachen University.
A utility company, Sitech Services, provides the lighting under contract with LEDsEnable, which charges a fixed monthly fee over the 15 years, plus extra charges when usage exceeds a baseline. Sitech charges the separate user companies accordingly. A lot of the money to pay for the scheme will come from energy savings. Dutch bank ABN Amro is also involved.
Chess Wise's MyriaMesh allows each entity to centrally program groups of lights to switch on and off and to brighten and dim at particular times, using Luminext's Luminizer cloud system. In the wireless mesh system, each luminaire communicates with neighboring ones for precise instructions about on/off state and brightness level, using the embedded MyriaMesh module. When needed, Chess Wise updates the control module software and driver software via gateways scattered around the site, to assure the reliability of the lighting system for 15 years. MyriaMesh also allows local wireless controls to override the prescribed settings.
"If you say the light only goes on when you need light, you really have to be sure that's happening," said Bak. "Because it's chemical plant, if they need light because there's an incident, they really need light."
Lights can also work in standalone mode with their light sensor, when, for example, they fall outside the network. The sensor and its control algorithm also avoids the "popping" effect that can sometimes happen when individual lights are influenced by other lights in the area and switch on and off at the wrong times. As Bak noted, "You don't want a disco at your chemical plant."
MyriaMesh uses Bluetooth radio chips, but Chess Wise deploys its own proprietary radio-agnostic mesh protocol, rather than using the recently ratified Bluetooth mesh standard. Chess Wise builds modules that operate at either 868 MHz or at the Bluetooth frequency of 2.4 GHz, as it has done for Chemelot.
Bak said Chess Wise is considering a Bluetooth mesh version to support customers who might prefer it. Different requirements would benefit from different protocols. For example, MyriaMesh might work better when signals have to travel longer distances between luminaires.
Chemelot's 17,000 lights are an apt fit with the MyriaMesh brand name, as "myria" literally means a unit of 10,000.
Chess Wise's MyriaMesh is installed in a variety of indoor and outdoor environments, including at the Erasmus Medical Center library in Rotterdam.
MARK HALPERis a contributing editor for LEDs Magazine, and an energy, technology, and business journalist (markhalper@aol.com).