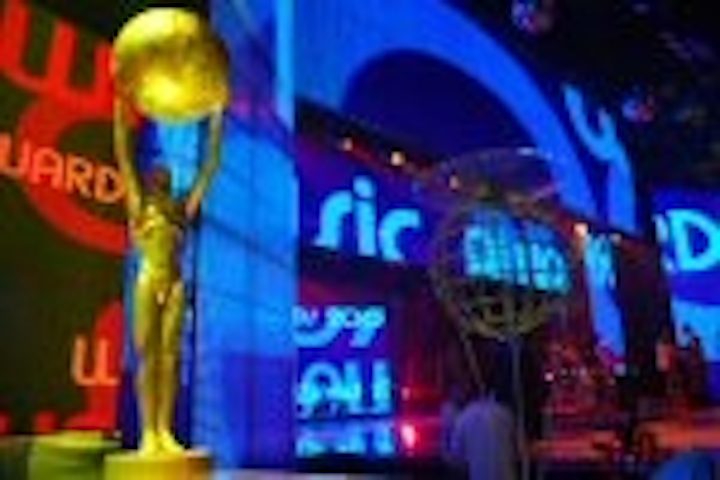 *** Company press release***
A visually stunning 190 m
2
of Martin LC Series™ LED panels were incorporated into the stage set at the 2007 World Music Awards held on November 4th at the Monte Carlo Sporting Club in Monaco.
Hosted by Julian McMahon, the 19th edition of the World Music Awards featured performances by some of the world's top recording artists; Celine Dion, Avril Lavigne, Rihanna and Akon among them.
Ninety-two Martin LC 2140 LED panels were used for set decoration, graphics/text projection and color accompaniment around a large main stage and side stages. An additional 12 LC panels were located in the audience.
According to AED Rent, supplier of the panels, the Martin LC Series was chosen for its light weight and transparency not to mention the fact that there was a large amount available. The LC Series is a semi-transparent, modular system of LED panels ideal for displaying film, digital images and graphics. Exceptionally service friendly and easy to assemble, they come in a 2 x 1 or a 1 x 1 meter size.
Video design was done by Dean Price from MSC/mo2 Design GmbH who used five Martin Maxedia HD media servers to provide digital content to the LC panels (four as active in dual output - eight outputs - and one for programming/backup). Control was by a Martin Maxxyz lighting desk with a Maxxyz PC for backup. A mainly Clay Paky lighting rig with a smattering of MAC 2000 Profiles provided by ARCO of Italy and A&O Falcon Flowers was controlled by 2 Grand MA in Network.
"The LC wall worked great and looked good on the TV monitors with much less of the problems that normally occur with lower resolution screens," Dean commented. "There were no graphics supplied from the acts and producers except for the band Mana and one logo, which turned up five minutes before the show and was quickly implemented. We had one day of rehearsal and then the show the next so it was a very testing production but in the end all were very happy." Lighting design and programming for the event was by mo2 design gmbh with lighting direction by German LD Manfred "Ollie" Olma.
The World Music Awards recognizes the "World's Best" in several categories with artists Mika, Rihanna, Avril Lavigne and Akon walking away with several trophies. All proceeds from the evening were donated to the construction of a World Music Awards hospital in Darfur, Sudan.