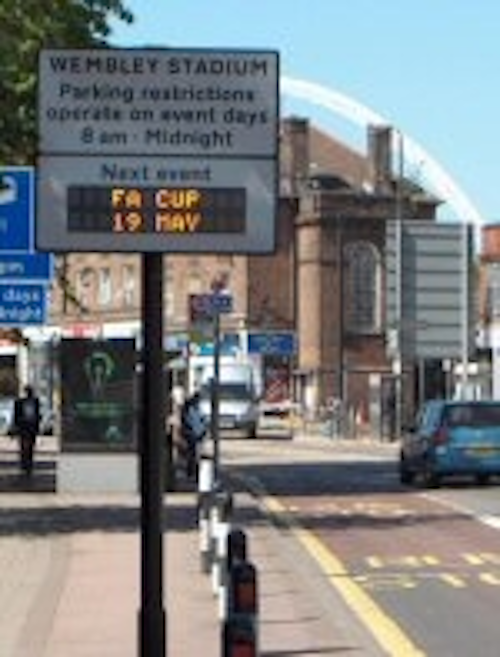 On May 19th this year, the FA Cup Final returned to the redeveloped Wembley Stadium in the London Borough of Brent. The FA Cup is England's annual football tournament (our US friends should read soccer instead of football).
With up to 90,000 fans attracted to Brent to attend the Final, Wembley Stadium's Protective Parking Scheme ensures that, on event-days, only residents and businesses displaying a valid permit in their vehicles are allowed to park inside a zone surrounding the stadium.
Visitors to Wembley who park illegally on public highways within the Event Day Zone when attending a major sport or music event will be issued with a penalty charge notice and have their vehicle removed. The provision of information communicating the event-days when restrictions apply therefore plays a central role within the scheme.
Twenty-two LED variable message signs (VMS), located on approach roads to the stadium at a 1.5 mile radius, play a central role in communicating with the public by displaying the date of the next Wembley event. A schedule is programmed into Traffic Management Software, which controls the system on a PC at the Council's offices. The software is configured to communicate with each VMS using the latest GPRS technology, taking advantage of the extensive GSM network coverage.
Each LED screen is made up of 2 rows, each of 12 characters. Every character is a 5 x 7 pixel matrix and each pixel is made up multiple LED's to enhance visibility.
A typical 10-character message, for example "FA CUP 19 MAY" would have power consumption in the region of 15W. The character height of each row is 70 mm, making it easily readable by motorists at up to 30mph.
Darren Sheriff, Managing Director of Microtima, the company that designed and manufactured the VMS and software system, said: "Managing congestion within urban areas is becoming increasingly important to local authority transport plans. The Protective Parking Scheme in Brent will go a long way in minimising the disruption of major events at Wembley Stadium for local residents. Microtima's VMS system will contribute to the schemes success for many years to come."
Councillor Paul Lorber, Leader of Brent Council, says: "Brent Council is committed to ensuring events at new Wembley Stadium do not cause unnecessary disruption to the local community and businesses. These variable message signs play a key role in warning and informing local people and visitors to the area of forthcoming events at Wembley Stadium and of the parking restrictions in place on event days."