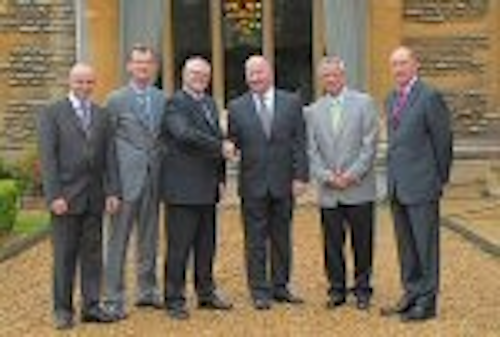 At the EuroLED show in Birmingham, UK, Anglia announced a distribution agreement with Cree to sell and support Cree XLamp® power LEDs in the United Kingdom and Ireland.
As well as sharing a booth with Cree, Anglia also had a booth to promote is distributor relationship with Avago, announced earlier this year. This is Avago's first new distributor appointment in the UK for 15 years.
Steve Rawlins, Anglia chief executive officer said that the company is seeing increasing demand for LED products across all aspects of its business. "As always, we've sought to win distribution agreements with market leaders in these specialized areas to enable our customers to integrate the latest technologies from proven sources into their designs," he said.
"The agreement with Cree is a prime example of this approach and we are looking forward to helping drive more widespread adoption of Cree LED technology in the UK."
"Anglia's strong market presence, outstanding growth in recent years and demonstrated technical ability makes it a solid sales channel for Cree," said Bob Pollock, Cree senior vice president of sales.
"Anglia's commitment to delivering LED solutions and to educating the marketplace about the revolution in lighting is exciting. We look forward to helping Anglia's customers achieve dramatically new lighting system and fixture designs."
Anglia and Avago
Anglia announced in March that Avago Technologies has appointed Anglia as UK and Ireland distributor for Avago's optoelectronic components. This is Avago's first new distributor appointment in the UK for 15 years.
Steffi Kircher, Avago's sales director for distribution in Europe, the Middle East and Africa, said, "Anglia's solid relationships in Northern Europe enable us to reach a large base of mid-tier OEMs and EMS companies. This customer base penetrates the local mid-tier sector very well and will give us access to many new accounts."
Anglia is franchised to distribute Avago's complete product portfolio. However, their main emphasis will be on LEDs, especially for the lighting market.
"Anglia's access to a unique customer base perfectly complements our existing network today," added Kircher. "With a strong technical group that is highly focused on demand creation, Anglia will successfully extend Avago's product reach into this region."
Steve Rawlins, Anglia's CEO, commented, "If you are going be serious about the LED business there is no better name to be associated with than Avago; it's by far the leading company in the field and we've already identified numerous opportunities amongst our customers for their products.
"Avago has recognized the changing shape of the UK electronics market and the value of working with local distributors. There's a lot to be gained for both of us and we're delighted to be working with them."