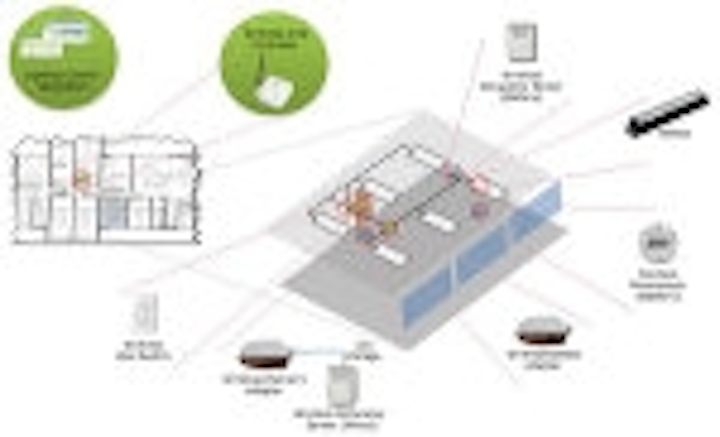 Interest is surging in the intelligent lighting concept where network-based controls will compound the energy savings attributable to green technologies such as LEDs. Startup Daintree Networks is joining the quest to win business in the commercial lighting sector with a combination of wireless network technology and software, and has just added $8 million to its bank account to fund the chase.
Lend Lease, a dedicated clean technology investor, is providing the venture funding. Anthony Pascoe, CEO of Lend Lease's venture capital business said, "Energy use in commercial buildings is one of the largest sources of greenhouse gas emissions. Daintree Networks' innovative technology and excellent management team support Lend Lease's leadership in sustainable building construction and refurbishment globally."
Mountain View, Ca based Daintree believes its wireless technology will overcome the obstacles that are especially troublesome when it comes to retrofitting lighting in buildings. The Daintree approach will use the existing AC power infrastructure for power and wireless links for communications.
Danny Yu, CEO of Daintree Networks, said "We welcome our partnership with Lend Lease and the expertise and commercial opportunities it brings to help accelerate our vision to become the leading provider of wireless solutions to the lighting industry."
Daintree will sell its technology through existing lighting and controls companies globally, as opposed to offering its own lighting products. The company will use the new funding to expand operations globally and to continue product development.
Daintree will rely on industry-standard Zigbee technology to implement wireless mesh networks between lighting fixtures. The products include connected light and occupancy sensors, and modular adapters that can be added to smart light fixtures. The company will augment the network technology with its Lighting Control Application software for commissioning and control.
Daintree follows on the heels of Digital Lumens who announced similar technology for industrial and warehouse space a few weeks back. Digital Lumens will also rely on Zigbee technology and will sell its own luminaires. And Redwood Systems recently announced a wired-network approach to office lighting. See related stories to the right of this article.