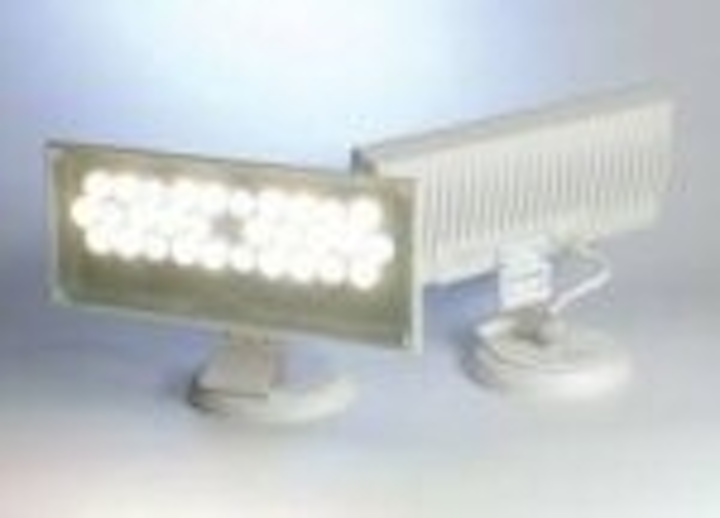 Color Kinetics has reported revenues of $14.5 million for the fourth quarter of 2005, an increase of 35% from the $10.7 million reported in the fourth quarter of 2004. Revenues grew by only 3% sequentially from the $14.1 million reported in the third quarter of 2005.
Net income for the fourth quarter rose to $1.4 million or $0.07 per fully diluted share, compared to $626,000 or $0.03 per fully diluted share for the fourth quarter of 2004. Net income was $1.3 million in the third quarter of 2005.
Revenues for the full year ended December 31, 2005 were $52.9 million, an increase of 32% from the $40.2 million reported in 2004. Net income for the full year was $4.3 million or $0.22 per fully diluted share, compared to $2.4 million or $0.14 per fully diluted share in 2004.
"We are extremely pleased with both our fourth quarter and full-year performance, which reflect strong contributions from each of our business units and demonstrate solid returns on our strategic investments," said Bill Sims, president and CEO. "We will continue to support our product portfolio, proprietary technologies and global sales network with further investments in 2006, and believe that these investments, together with our breadth of expertise, will position Color Kinetics as a market leader in intelligent solid-state lighting in the years ahead."
Color Kinetics lists its 2005 achievements as including:
• 15 new product offerings shipped, spanning both intelligent color and intelligent white light innovations – see below
• News-making installations such as Hollywood Bowl, the FAO Schwarz flagship store, Time Warner Center, the Lake of Dreams at Wynn Las Vegas, and the sets of The Tonight Show and The Oprah Winfrey Show
• Global sales force expansion

• Record licensing revenues
• The awarding of 9 new U.S. patents and 2 new regional European patents
For the first quarter of 2006, the company currently targets revenues within the range of $14.6 million to $15.6 million, with net income of $0.03 to $0.05 per fully diluted share prior to any stock compensation charges.
Color Kinetics announces latest achievements in white light innovation
[Company press release]
Color Kinetics has announced its latest achievements in white light innovation – both for specialty applications and the fast-approaching realization of general illumination.
iW Blast 12 Powercore
The company will apply years of cumulative expertise in thermal, optical and binning management, as well as control, power, networking, and other proprietary processes to expand its IntelliWhite™ series, introduce new single color temperature white light products, and deliver a comprehensive platform for general illumination in the second half of 2006. The platform comprises a replaceable ballast, socketed light module and multiple control options, forming the springboard for a new family of Color Kinetics products and enabling broad adoption through OEM relationships.
"White LEDs are advancing at remarkable rates -- enabling completely new applications and fast approaching viability for general illumination. Our platform results from eight years of development, market-tested prototypes, and an industry-first line of controllable white light products that we've been delivering for over a year," said Bill Sims, President and CEO, Color Kinetics.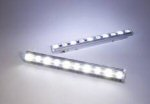 iW Profile g2
"Color Kinetics understands the complexities, technical challenges, standards and compliance demands that are critical to the development of solid-state lighting systems, whether for color or white light. These factors far surpass the enclosure of LEDs on a circuit board. We believe that we're in a highly qualified and capable position to successfully deliver on the promise of white light – influencing the progression of an industry shift that was originally thought to be decades away."
In the U.S. alone, demand for lamps, not including fixtures, is projected to reach $5 billion by 2009*. Incandescent and halogen sources account for approximately half of that market, yet they are the two most inefficient sources at roughly 11 and 13 lumens per watt respectively, accounting for far more than half of total energy consumed by lighting. Color Kinetics will directly target this replacement opportunity with two initial products based on its modular white light platform and slated for availability in the second half of 2006:
A recessed downlight offering the output of a 6-inch fixture in a 56% smaller aperture area of just 4 inches, minimizing visual intrusion to the ceiling plane and reducing the required cavity height
A next-generation MR16 lamp with output sufficient to replace widely-used halogen models, targeted for applications in hospitality and retail settings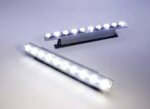 iW Cove Powercore
Additionally, Color Kinetics will unveil three of its next-generation IntelliWhite products at ARC 06 in London, February 13 – 14, enabling new and dynamic uses of white light to customize spaces, create customer experiences, alter ambience, and enhance displays. The systems uniquely allow the simple customization of environments with color temperature control – a capability first developed and commercialized by Color Kinetics. This translates to greater versatility in the use of white light, whether responding to changes in daylight, highlighting certain attributes of an illuminated object, or altering displays without re-lamping existing fixtures. The new systems include:
iW Blast 12 Powercore
Offering the versatile aesthetics, ease-of-control, and compact, rugged nature of iW Blast 12 in a complete line voltage system, thanks to Powercore™ technology, which integrates power and data management directly within the fixture to reduce wiring and simplify installation.
iW Profile g2
A low-profile, linear 12" (30.2 cm) system that features higher light output and enhanced light quality with new optics and advanced LEDs. It will be offered in three different beam angles; narrow, medium and forward-throw asymmetric, to meet diverse application demands.
iW Cove Powercore
A higher-intensity 12" (30.2 cm) linear system designed for common interior alcove applications. It also incorporates Powercore technology for simplified installation, and accommodates the use of many units in a continuous run, easily navigating bends and curves with end-to-end connectors.
The new IntelliWhite systems are slated for general availability in April 2006.