Displays: Barco, Color Web, XL Video, Daktronics, Dynamax
Feb 27th, 2006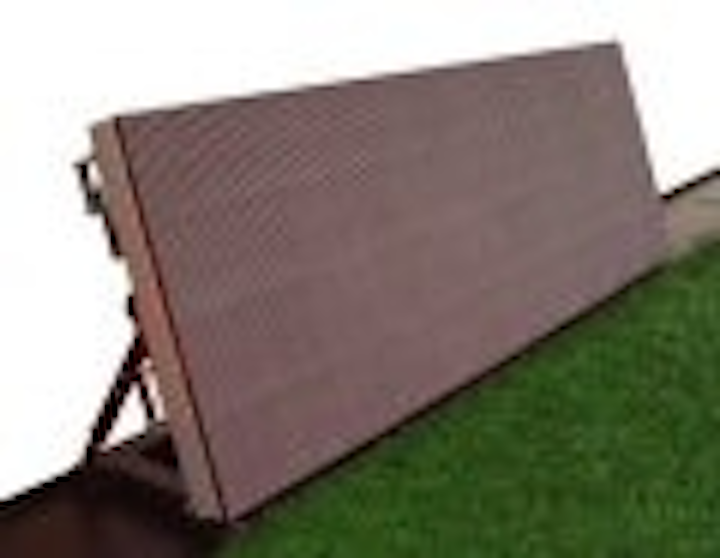 Barco sports perimeter LED display optimized for TV broadcast
Barco
has launched the Barco SP-10, a sports perimeter LED display for television broadcast. The company offers a complete digital perimeter solution, including cutting-edge visualization hardware (custom-designed LED display solution) and advanced dedicated SportsBox software (to manage the content of the display). For more information, see
product announcement
.
Barco has also expanded its North American customer support with a new 40,000 square foot facility - see http://www.barco.com/events/en/pressreleases/show.asp?index=1715.
XL Video Tours The Angel with Depeche Mode
XL Video
has supplied a wide range of A/V equipment for Depeche Mode's "Touring The Angel" show, including 6 upstage moving screens, just off-centre and all hung at slightly jaunty angles, three in portrait format and three in landscape. The six screens were all made up from Barco I-Lite 12 LED panels, with automation controlled by the lighting crew.
The set also contained an aluminium sphere hanging at stage right, containing three 'letterbox' strips of Barco O-Lite., which displayed scrolling text and key-words for most of the set, plus a few selected images.
Chroma-Q™ Color Web supplied for The Human League UK tour
Lighting Designer Rob Sinclair has used fifty square metres of Chroma-Q™ Color Web as a low resolution video wall backdrop on The Human League's Synth City UK Tour 2005 in December.
The cutting-edge lighting and video show was designed by Rob Sinclair and supplied by Lite Alternative. Sinclair was sold on the Chroma-Q™ Color Web for several key reasons. Due to the product's low cost compared to a large LED screen, he could afford enough webbing for a big effect. The webbing's modular design also meant it was flexible enough to go anywhere on-stage, suiting a wide variety of venues. The product's 80% transparent surface area also enabled Sinclair to provide a seamless integration between the video and lighting elements of the show by using it as an additional visual effects layer between the rig's lighting fixtures and normal resolution video projection screens.
As a result, he was able to use the Color Web on its own as the main video wall backdrop, light through it from behind for extra impact, or use it to provide extra effects behind the front projected video screens which came in for six songs in the set.
The Chroma-Q™ Color Web is designed and manufactured by Artistic Licence and distributed worldwide by A.C. Lighting .
Daktronics display installed at SMG Building in Shanghai
Daktronics
has designed and manufactured a video display system for the outside of the SMG Building in Shanghai, China. The display is 9.2 meters high by 11.8 meters wide (31 feet by 39 feet 5 inches) and is comprised of more than 614,000 individual red, green and blue LEDs (pixels on 23 millimeter spacing).
The ProStar® system will be used to promote SMG's programs and advertisers, and will be visible to many pedestrians and motorists passing by each day.
Double accreditation award for Dynamax
Digital signage specialist Dynamax Technologies has qualified for both Investors In People (IIP) and ISO 9001 status. The Blackburn, UK-based company has two main strands to its business – the first is that via a network of strategic partners, Dynamax offers a digital signage software solution which schedules and distributes dynamic content to screens. The second is the installation and maintenance of high-impact, tailor-made, large-scale, permanent LED screens to out of home media owners.