Displays: LEDs in Las Vegas billboards & Lisbon casino
An LED billboard network will reach 36.7 million visitors in Las Vegas, while G-LEC has provided a large exterior display for a Lisbon casino.
May 9th, 2006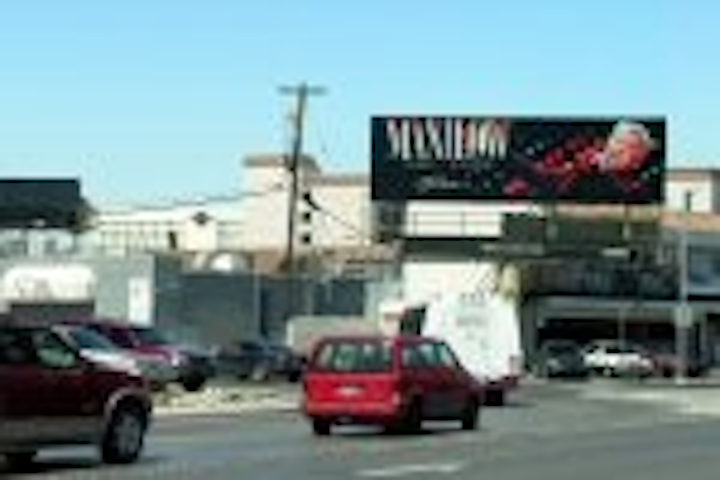 LED billboard network reaches 36.7 million visitors in Las Vegas
Clear Channel Outdoor has launched a network of six digital LED displays in Las Vegas. The network is strategically positioned along the city's tourist corridor, reaching 36.7 million visitors annually.
Eight advertising messages will run in a continuous loop of seven-second segments on each display, ensuring each advertiser's message is displayed an aggregate of 1,440 times every day.
The six 14 x 48 foot billboards are supplied by LED display manufacturer YESCO Electronics and contain 449,280 LEDs each. The pitch is 20 mm and the resolution is 168 x 576.
The screens are viewable even in the brightest direct sunlight, and because the displays are digital, even last-minute changes can be accommodated with ease. This provides exceptional flexibility to creatively promote venues, shows and events, as well as conventions.
"Our Las Vegas launch is another step in the gradual transformation of Outdoor into the most responsive and flexible advertising medium available," said Paul Meyer, global president of Clear Channel Outdoor. "Our networks will provide both general market and targeted coverage, with messages that can change as frequently and as often as advertising campaign needs dictate."
The company's highly successful first digital billboard network was deployed in Cleveland and was designed to provide market-wide coverage in that city. Meyer noted that the company is on target to deploy fully-networked digital signage products in a total of four to six markets before the end of calendar 2006.
G-LEC puts Casino Lisboa's name in LEDs
The new Casino Lisboa, which opened on April 19 in Parque das Nações, Portugal, the site of the former Expo '98 area, flaunts its name across the building in six-meter-high letters made from custom LEDs.
The 15,000 m2 building is clad in black glass, except for the LED sign, where the glass is frosted. The lettering stretches for 22 m diagonally, from ground level to roof, and required extremely bright and lightweight LEDs.
G-LEC's Portuguese partner, Fx Road Lights provided G-LEC's LightFrame system, which weighs less than 2 kg, despite covering 280 m2. The control system is located away from the LEDs. The sign will be on 24 hours a day, with soft fades and colour bars running through it continuously.
The client required a 10 year guarantee for the signage, so the system uses aluminum profiles to contain the LED tubes, with the frames then fixed to the existing framework of the building. The sign required the drilling of 12,000 holes to fix the 165,000 LEDs in the frames and then on to the building.