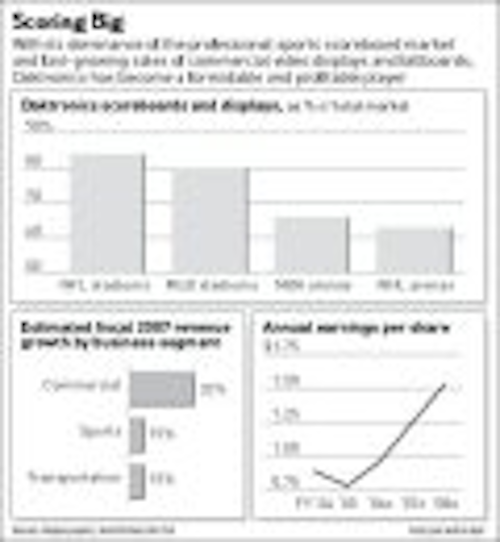 LED display manufacturer Daktronics has reported sales of $90.2 million for the quarter ended April 29, 2006, with net income of $7.1 million, or $0.35 per diluted share. Backlog at the end of the quarter was approximately $93 million.
In the same quarter last year, Daktronics had sales of $61.3 million and net income of $3.0 million, or $0.15 per share.
"The fourth quarter results exceeded our expectations and provide us with further confidence that we are well positioned to take advantage of the growing demand for LED-based display systems," said Jim Morgan, president and CEO.
Net sales, net income and earnings per share for the 12 months ended April 29, 2006 were $309.4 million, $21.0 million and $1.04 per diluted share, respectively, compared to $230.3 million, $15.7 million and $0.78 per diluted share, respectively, for the same period one year ago.
"Orders for the quarter were up significantly in the commercial market led by billboard applications, along with continued strong interest in our standard Galaxy product for on-premise advertising," said Morgan. "Our recently introduced GalaxyPro product, which offers a larger matrix full-color RGB Galaxy display at a reduced price point, has also been very well received."
Morgan said that Daktronics continues to benefit from larger orders in the college and professional sports segments, and video systems for high schools and smaller colleges. About 55% of Daktronics' sales are to sports facilities; the company even goes as far as helping high schools find advertisers for their scoreboard display systems.
Daktronics plans to invest over $4.5 million in equipment at its new facility in Sioux Falls, South Dakota, where output will focus on digital billboards.
The commercial market – including billboards, LED stock tickers and giant video displays in Times Square – is the fastest growing for Daktronics, with 32% growth expected in fiscal 2007.
Major advertising companies are adopting LED technology – Clear Channel Outdoor recently announced a new LED billboard network in Las Vegas (see news item). Also, Lamar Advertising is to spend $50 million in 2006 to triple the number of electronic billboards to 219. By 2010, that number could rise to over 1000.
The company has also increased by 30 percent the manufacturing space at its headquarters in Brookings, SD, and is beginning the move into this new addition. "We also intend to invest over $10 million in additional space and equipment in Brookings over the course of the upcoming year, including approximately $6 million in facilities," said Morgan. "The goal of these investments is to get more throughput with lower costs to reduce our lead times and improve our margin performance."
Morgan estimates that net sales for the current quarter will be in the range of $87 to $95 million, with earnings in the range of $.27 to $.36 per share.