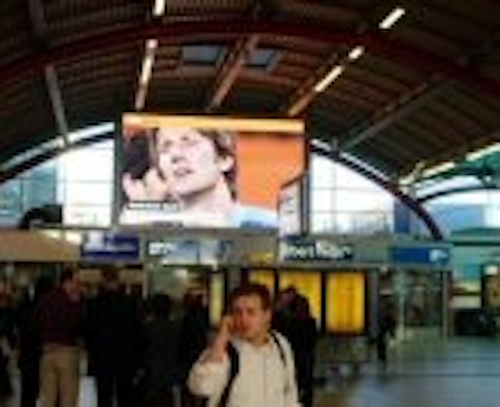 Viacom, one of the world's leading entertainment content companies, is to deploy a digital signage network at railway stations in the Netherlands using LED displays supplied by Lighthouse Technologies.
Dutch systems integrator Hecla Professional Audio & Video Systems has installed a Lighthouse P10 10mm LED video screen on the main concourse of Utrecht Central station, the country's busiest railway station.
The 80 panels of Lighthouse P10 LED screen, measuring 6.4m wide x 3.84m high, is housed in a frame that is custom-made by Hecla in the Dutch railway company's colors and brandishes the Viacom logo. A national rollout will eventually include10 of the country's biggest stations, including Amsterdam, Rotterdam and The Hague.
The digital LED signs will allow Viacom to broadcast a unique mixture of realtime video and entertainment news, interspersed with advertising to a captive audience.
"There are some very important reasons for choosing the Lighthouse screen," says Hecla's Jos den Hartog. "It had to be lightweight because it's hung from the station roof, which has a particular load bearing capacity, whilst producing the correct minimum power."
The vertical and horizontal viewing angles were also very important because of the screen's position. "There has to be an optimum vertical viewing angle so that people standing in front of the information board can also see the LED screen," said den Hartog. An additional factor is the screen's fanless design, which is important for both silent operation and energy efficiency.
Viacom recognizes the need to embrace the shift from television advertising to this new medium, and believes that advertisers are more interested in, and will get more return from, this type of captive audience medium. The fully developed system will consist of LED screens in the network of station's central halls, along with LCD screens on the platforms.
Third LED network for Clear Channel
In related news, Clear Channel Outdoor, the world's largest outdoor advertising company, has unveiled its third network of digital LED outdoor displays. Eight LED displays will be deployed in Albuquerque, New Mexico, following other networks in Cleveland and Las Vegas.
However, it's not all LEDs for Clear Channel; the company's UK network of digital billboards will use Magink, a reflective digital ink technology that is brighter in direct sunlight.