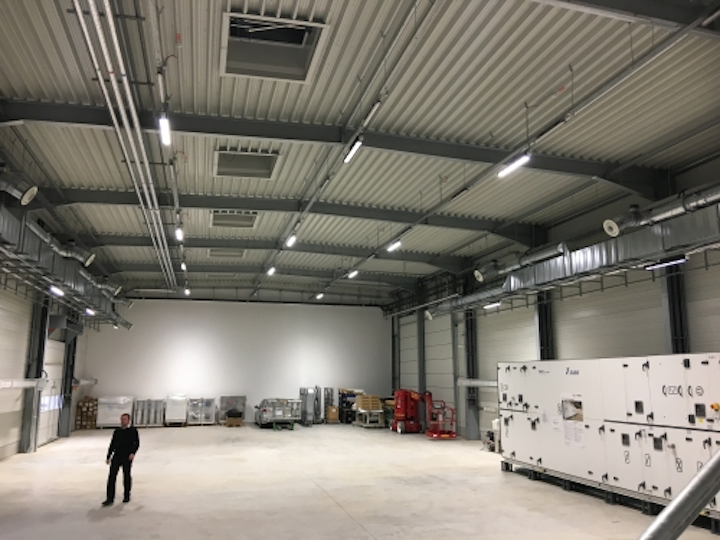 The powerline communications specialist is now a one-stop shop for controls, data analysis, and lights, in a new "one throat to choke" strategy.
The lighting industry has a new LED luminaire provider, as smart lighting controls company enModus is now offering complete solutions that also include its own branded luminaires, LEDs Magazine has learned.
The Chepstow, Wales-based company is a specialist in smart lighting systems that use standard electricity cables to carry information to and from lights, supporting intelligent controls as well as the analysis of data collected by sensors in luminaires. The technology is known as powerline communications (PLC). EnModus focuses on manufacturing and warehouse spaces.
Up until now, enModus has provided its PLC technology to lighting companies, working with those companies in tying the PLC into the lights. It is now working more directly with end users by providing the LED luminaires, which enModus is sourcing from two OEM contractors in China. It will also soon add two European manufacturers who sell under their own label but who will make private-labeled luminaires for enModus.
"We've gone the next step," enModus CEO Andy Heaton told LEDs. "Rather than provide our control solutions to other people to put in their lights, we have partnered with lighting manufacturers and we are actually supplying the whole shebang. We think we are probably the most vertically integrated solution on the market."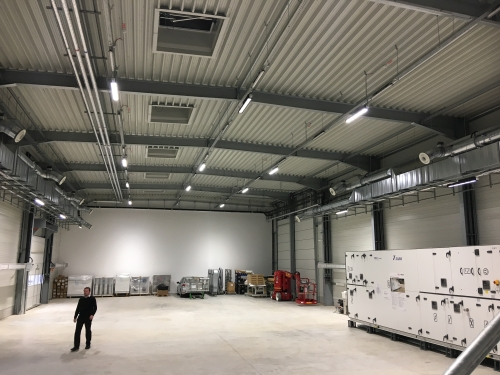 Those are enModus LED luminaires in the E.ON research center in Aachen, Germany (top photo), powered by the company's Wattwave PLC technology per the schematic (below).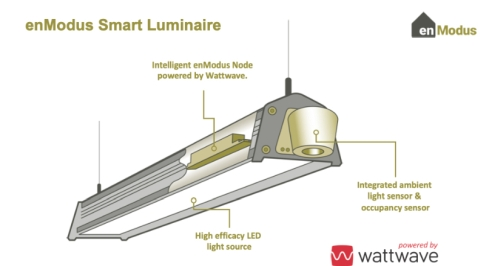 By taking broad responsibility for the various elements of smart lighting deployment, now including the lights, enModus is giving customers a "one throat to choke" solution, Heaton quipped, borrowing a phrase from one of his users.
"Where there is a passive piece of the puzzle — and a light is a passive piece of the puzzle — where none of our IP is involved, we will partner," he said.
The new approach not only helps protect enModus IP but also potentially brings more of the revenue of a smart lighting job into the enModus coffers, rather than sharing it around.
EnModus is also developing a new business model that it hopes to put into place later this year, Heaton said. The model will include a service approach. Currently, enModus sells on a product basis.
The company has already installed its own luminaires at one site, at least — a research center for German utility E.ON at RWTH Aachen University near Germany's Dutch and Belgian borders. EnModus had announced the PLC deployment earlier this year but did not at the time reveal that it was also the lighting provider.
E.ON is also serving as a marketing partner for enModus.
The enModus technology offers a centralized, wired way to control and program lights embedded with PIR occupancy sensors, across wide-scale areas.
It can also be used for "beyond lighting" functions, such as gathering data about building use and sending that data to the cloud for analysis of how to optimize space and processes. It communicates that data via PLC, forsaking the notion of using wireless mesh technologies such as Bluetooth and Zigbee for the same purpose. Heaton noted that PLC is a more robust technology for such use, especially since it can reliably transmit information across up to 1 or 2 km without using repeaters, and without relying on the game of "Telephone" that mesh technology transmissions may instigate.
However, enModus is developing Bluetooth support — not Bluetooth mesh — in which it would add Bluetooth-enabled sensors and beacons either near or inside the luminaires, to communicate with Bluetooth receivers in the luminaires. These Bluetooth chips would transmit information about asset location, air quality, temperature and humidity, vibrations, and so forth.
For example, an air quality monitor might reside halfway up a wall or column in a plant or warehouse, where it would be more effective than if it were located higher up in the ceiling luminaires.
But they would not communicate via a wireless mesh; rather, they would send the information a short distance to the hardwired luminaires, which would communicate back to the cloud via PLC.
"The strength of Bluetooth is in the last 10–20m," Heaton said.
EnModus' decision to provide its own LED luminaires contrasts with the move by some other lighting companies to pull back from luminaires as they push into smart lighting systems. For instance, Osram is exiting the luminaire business while building up its Lightelligence Internet of Things (IoT) lighting platform.
MARK HALPERis a contributing editor for LEDs Magazine, and an energy, technology, and business journalist (markhalper@aol.com).