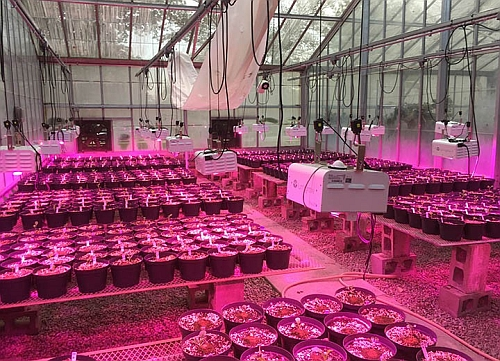 Researcher Rob Baker uses a tunable SSL system to accelerate seed production across many Brassica rapa strains at the Miami University Department of Biology, leveraging horticultural lighting to learn how environmental stress factors impact gene expression.
Most often we write about LED-based horticultural lighting as a way for growers to accelerate plant production and save energy, but the tunable capabilities of solid-state lighting (SSL) can also accelerate the pace of seed genetics research. About a year back, for example, we published an article on the use of horticultural lighting to accelerate the cyclic production of wheat to double the pace of generational research. Now LumiGrow has announced details of research by Rob Baker, PhD, that is underway at Miami University focused on developmental genetics of Brassica rapa, and tunable horticultural SSL systems are accelerating seed growth cycles.
Baker began his work at the Miami, OH-based university's Department of Biology in 2017. He soon discovered, however, that short winter days and overcast conditions throughout the year did not provide sufficient sunlight for rapid seed production even in a greenhouse setting. Baker's prior work was at the University of Wyoming, where greenhouses got sunlight more than 300 days each year.
The genetics research focused on environmental stress factors depends on the ability of Baker to study cultivars for which his laboratory has sequenced the genes. So Baker's program must grow all of its own seeds and the work spans 700 different genotypes. But the Ohio greenhouse setting had resulted in dismal seed production, thereby retarding the pace of research.
Seeking to accelerate the studies, Baker approached LumiGrow, hoping to install the company's horticultural lighting at the university's Belk Greenhouse. Ultimately, LumiGrow supplied its Pro 325e horticultural luminaires to the project. But the key to success also required wireless controls. Baker wanted to incorporate the ability to vary spectrum in his research as part of evaluating how the stress factors impacted the cultivars. For such tunable horticultural applications, LumiGrow offers its smartPAR wireless control system.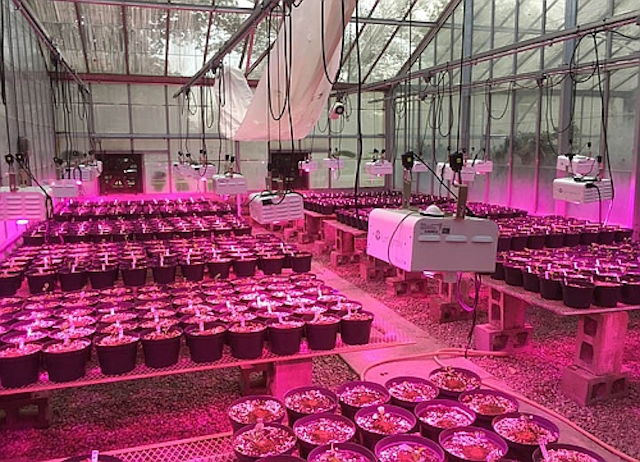 Tunable LED-based horticultural lighting from LumiGrow is helping to support scientific study into the genetics of Brassica rapa by accelerating seed growth cycles.
The controls enable both testing different spectral recipes and precise control of when the lighting is used. Baker seeks to treat the plants to a constant 16-hour photoperiod each day. The lighting can be automatically turned on at 5:00 AM and then back off at sunrise. And again at the end of the day, the system can once again turn the lights on at sunset and then off at 9:00 PM.
Describing the results of adding the supplemental lighting, Baker said, "The brassicas are doing awesome now — the difference is phenomenal." Baker collects quantitative data on metrics such as germination rate, flowering time, and chlorophyll content. He added, "They're flowering much earlier than they were last year."
Baker is clearly enthusiastic about his work and the importance of the diverse species. "Brassica is agriculturally important. The canola [field mustard] industry alone brings in several hundred million dollars annually," said Baker. "Studying how abiotic factors influence the plant at each stage of development has real implications for how people plant, grow, and manage these crops. It's not just a cool thing to think about from a scientific perspective."
Field mustard, bok choy, turnips, and many more subspecies comprise the Brassica rapa family of cultivars. The diversity provides a challenge for an SSL system. The harvest time for seeds, leaves, roots, and oil differ from cultivar to cultivar. So Baker is planning to add LumiGrow Light Sensors to the system and install zonal control. That development will enable the fixtures to automatically deliver a specific daily light integral (DLI) and simplify simultaneous work with different cultivars.
The Miami University project is not the first instance in which LumiGrow has supported research. Back in 2017, we covered the work by the US Department of Agriculture (USDA) into studying corn or maize flowering relative to spectrum. The company has also been involved in a number of commercial grower products such as a lettuce-focused production facility called Lettuce Work Foundation in New Albany, OH.