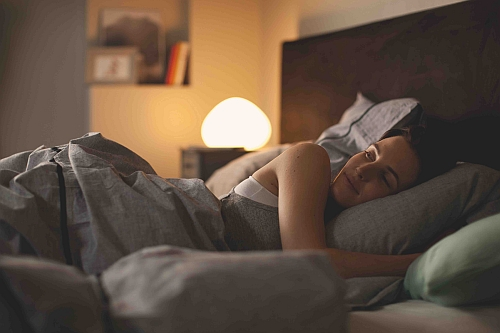 At CES in Las Vegas, Signify shows Hue lights instructed by Google Assistant to slowly dim at night and brighten in the morning.
What a difference a year makes: At the 2018 CES consumer electronics tradeshow, Signify — then called Philips Lighting — was interested in keeping people entertained with lights. At this week's installment of Las Vegas' sprawling annual exhibition, the company focused on making people wake up and go to sleep using technology linked to the Internet of Things (IoT).
In keeping with a growing sleep technology theme across the general show floor, and in the spirit of today's IoT-driven lighting, Signify teamed with Google to add voice controls that turn down the brightness of Signify's Philips Hue LED lights to help with drifting off at night.
Using the Google Assistant voice feature, users say "Hey Google, sleep the lights at 10 PM," which instructs the lights to shift to a warm white tone and to gradually dim until they turn off after 30 minutes.
Likewise, "Hey Google, turn on gentle wake up" will sync the smart LED lighting to switch on and gradually brighten over 30 minutes at a specified time in the morning.
"While many people need an alarm clock to wake up in the morning, by using light that simulates sunrise by gradually increasing light levels before the alarm goes off, you can improve wellbeing, mood, and cognitive performance even much later in the day," Signify claimed.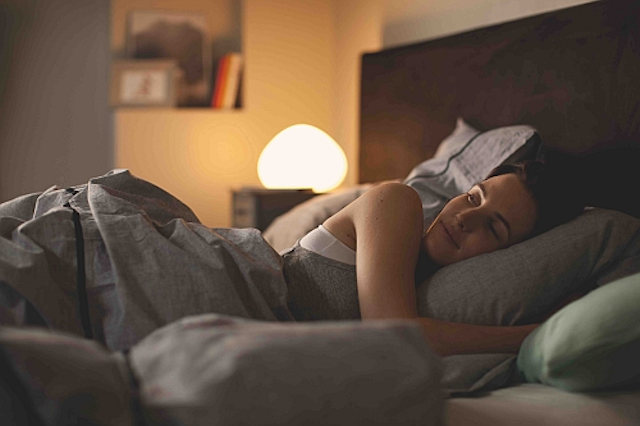 Signify adds voice controls to help you wake up and go to sleep
She had a word or two with that light, so it knew to start waking her up about half an hour before the alarm clock. (Photo credit: Signify.)
Signify said the alarm-clock voice control will be available in English-speaking countries starting in March. Initially, it will work only via Google Assistant. Other Hue voice controls also work on Amazon and Apple technology.
The new feature is the latest example of how the ability to tune solid-state lighting (SSL) products' brightness, color, and color temperature is playing a growing role in health and wellbeing.
The Signify-Google announcement was one of many new sleep technology gadgets on display at CES, not just in the lighting field. For example, Signify's former owner, Royal Philips, showed a headband that delivers sound waves to abet sleep.
Signify's Google voice-activated sleep control could appeal to a niche group of users. At last year's CES, Signify also showed niche technology, extending the ability of its Hue smart lights to change color, brightness, and color temperature in response to the action of video games, movies, and television programs showing on computer-connected screens, and to music.
The 2018 announcements included a partnership with PC gaming company Razer to enable the interactive entertainment lighting.
Signify did not limit itself to sleep-related announcements this year. It also introduced a new battery-powered outdoor sensor that will turn on both outdoor and indoor Hue lights in a manner pre-programmed with a Hue app. The sensor will be available in North America and Europe starting in February, with a suggested retail price of $49.95 and, likewise, €49.95.
The company also added a number of outdoor Hue lights, in pedestal, post, wall-mounted, and floodlight versions.
MARK HALPER is a contributing editor for LEDs Magazine, and an energy, technology, and business journalist (markhalper@aol.com).