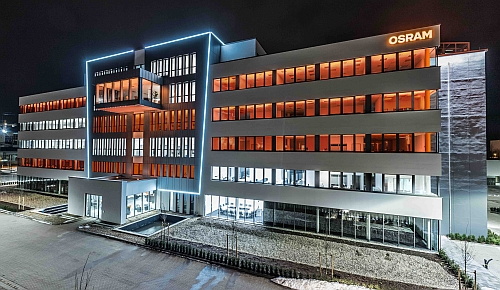 Business transformation remains a costly proposition, especially amid trade conflicts and a soft automotive market.
With no let-up in sight to the financial strains of transforming its business model, of relying on a soft automotive market, and of dealing with global trade wars, Osram warned that its 2019 first quarter will be weak when it reports results in two weeks. It also announced job cuts.
In a short statement, the Munich-based company said that operating revenue would fall by 15% on a comparable basis, from €939 million ($107M) in October through December quarter a year ago to €828M ($945M) in its new fiscal year. Osram also warned that its adjusted EBITDA margin will likely take about a 40% hit, coming in at 11.3% compared to 18.5% a year ago.
It based its outlook on preliminary figures. Osram plans to report its full first-quarter results on Feb. 7.
Osram said it is cutting 300 of 2800 jobs at its Regensburg, Germany chip plant through voluntary dismissals, following a period of three years in which the company had added 800 full time jobs at the site.
The latest warning applies across all three of its groups — Osram Opto Semiconductors, Digital, and Automotive. It comes about three months after Osram restructured the groups in an effort to offset the difficulties of 2018, a fiscal year in which Osram issued two financial warnings leading up to a year of profit decline and flat revenue.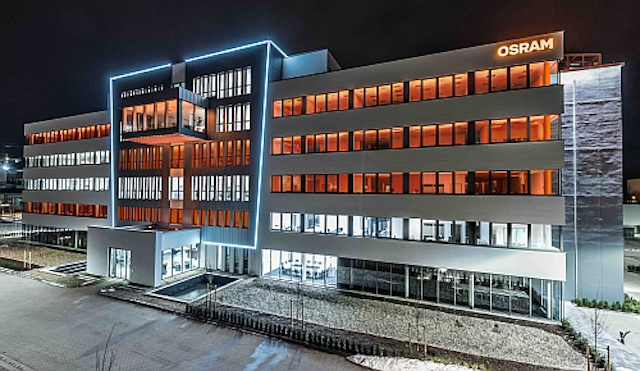 Osram warns of a weak first quarter as it cuts jobs
Osram is eliminating about 10% of the jobs at it Regensburg facility through voluntary cuts. (Photo credit: Osram.)
Osram continues to hope for long-term relief by transforming itself away from lighting and luminaires and into a company that will profit by selling Internet-connected lighting services that gather and analyze data. But developing new related technologies and services has come at a cost.
The company also continues to aggressively push the use of optical chips including LEDs and VCSELs for a wide variety of uses beyond illumination, including medical and fitness devices, virtual and augmented reality, security, drones, self-driving cars, and more.
Osram relies on the automotive market for nearly half of its revenue, and a big downturn in the Chinese auto sector has been particularly damaging, but has not been the only factor hurting Osram's numbers.
"The reason for the disappointing revenue development is the accelerated market decline, especially in December 2018," Osram said. "Particularly affected were the core markets automotive, general lighting, and mobile devices. Foremost, the ongoing trade conflicts, the weak growth in China, and the general political uncertainties had a negative impact."
It was not optimistic in its outlook, noting that "visibility for the quarters ahead will remain significantly low."
MARK HALPERis a contributing editor for LEDs Magazine, and an energy, technology, and business journalist (markhalper@aol.com).