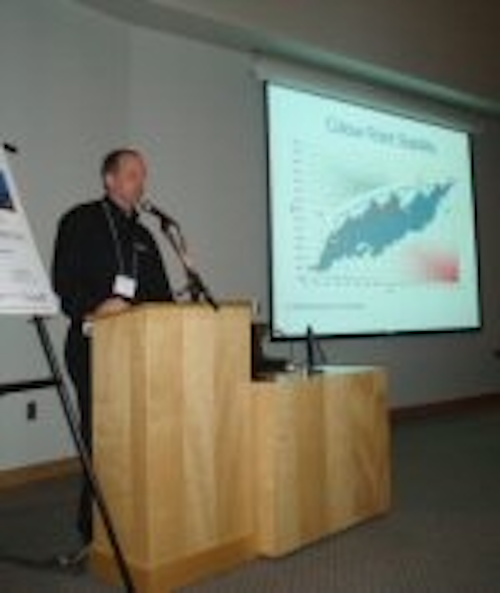 LEDiscovery
takes place next week in Toronto, Canada on April 7-8. To date, over 200 registered attendees from the municipal and private sector involved in both indoor and outdoor lighting design, specification and procurement have committed to attend. They will join with over 25 SSL exhibitors on April 8 to discuss issues related to the industry and the marketplace as well to feature their current and new SSL products and developments of interest to this very specific target audience.
In its second year, the event is expected to draw over 500 attendees from the public and private sector, as well as the general public, over the 2 days. LEDiscovery is a unique event that fosters exploration and discussion of LED technology among private and public organizations and LED luminaire manufacturers and agents in an effort to further market acceptance and resultant market transformation.
Taking place at the Direct Energy Centre (Canada's National Trade Centre) on the grounds of the host sponsor, Toronto's Exhibition Place, the event is sponsored by OSRAM Sylvania and Toronto Hydro Electric System.
The event is hosted by greenTbiz, the energy and environmental conservation program of the Toronto Association of Business Improvement Areas (TABIA).
There are two opportunities to attend LEDiscovery:
April 7, 2009 from 16:00 to 20:00 -
Anyone interested in learning more about LED technology and viewing the latest luminaires can attend the event on April 7. Drop by anytime between 4pm and 8pm to view the LED Luminaire Display Forum and Energy & Environmental Organization Display Forum. Make sure you attend LEDiscussion repeated at 5pm and 7pm to learn about LED and the truths and myths behind the technology.
April 8, 2009 from 08:00 to 16:30 -
If you are a designer, architect, property manager, business owner or part of a government sector organization, you won't want to miss this full day seminar especially designed for you. In addition to the LED Luminaire Display Forum, you will have the opportunity hear short infomercial-style presentations from LED luminaire manufacturers/agents and influence technology development through dialogue. Networking continues over breakfast and lunch as you plan your next LED installation.
There is no cost to attend LEDiscovery however it is important to register since space is limited. Organizers report that attendance for April 8 is now on a waiting list. Space for additional potential exhibitors is now also limited for both days.
Highlights for 2009
The April 8 luncheon Keynote Speaker, Brian Owen of greenTbiz and Canadian Columnist and Contributing Editor with LEDs Magazine, will be giving an encore presentation, first given only a week back at the Energy Star Lighting Partner Meeting in San Antonio, Texas, entitled, "Understanding LED: An Overview of the Technology and the Market recounting the Myths, Truths and Untruths" covering SSL and Questions to Ask when dealing with manufacturers and their agents and reviewing product options.
How much information is too much, process and what is needed to make an appropriate decision will be discussed, along with an update as to the current progress in the resolution of the Energy Star issues. In an upcoming issue, LEDs Magazine will feature an article reporting on Manufacturer (based / developed / directed) education and tools to assist potential buyers, influencers and specifiers.
Also presenting, as a Keynote Speaker at the luncheon will be Venkat Venkataramanan, Head of Scientific Operations at the Institute for Optical Sciences, University of Toronto, who will highlight the work being done at the University regarding SSL.
Dr. Venkataramanan, during his update, will be making a significant announcement as to the progress of a research and testing facility, industry resource and professional development centre, as well as the formation of an SSL industry network in the Canadian marketplace, fostering SSL technology manufacturing in Canada and further promoting local green economic development.
"We are proud to once again host LEDiscovery and further foster SSL industry and governmental as well as private sector relations," said Chantal Brundage, greenTbiz Program Manager and Event Organizer, adding that, "greenTbiz and the Toronto Association of Business Improvement Areas (TABIA), greenTbiz's parent organization, are also pleased to partner with Exhibition Place in the hosting and staging of the event." Exhibition Place is the home of Toronto's first pilot of SSL in a roadway lighting application and is currently investigating further deployment of SSL technology in an expanded program.
"We were very pleased with last year, our first, which delivered valuable take-away information to attendees and saw many discussions between government agencies and manufacturers." said Brundage, adding "It is our aim to move into the practical and realistic application of the technology and turn the discussions into actions that result in significant energy reduction and environmental benefits." The 2008 event was also the launch to Toronto's LightSavers LED and Adaptive Lighting Technology Piloting Program.
As reported in LEDs Magazine last year (see Article), 23 manufacturers and agents of LED products and adaptive lighting controls met over two days with close to 200 potential buyers and specifiers from the private and public sectors. Billed as "LEDiscovery … The Future Vision of Lighting for Public Spaces — Using LED and Lighting Controls to Reduce Energy," the event was held during the week leading up to Earth Hour. This year, the event falls between Earth Hour and Earth Day. Earth Hour was the largest controlled lighting blackout since the Edison invention itself and new technology will hopefully prevent the real thing from occurring, even under the strain of ever-increasing electricity demand.
"It's the Lollapalooza for LED lighting" said Mary Pickering of the Toronto Atmospheric Fund. Dave Ferguson of the City of Welland (both Toronto and Welland are designated as an LED City) commented, "I think the sharing of information, is integral, not only to the municipalities but also to the manufacturers so they can continue to improve their products. I also thought the LEDiscovery was an excellent opportunity to review the products of the various manufacturers and to talk to them about their products. There is obviously a lot of interest in the potential benefits of LED products and I'm sure events like that will only increase this interest." The event also hosted the 1st LED City Summit, where the US cities of Raleigh, NC and Ann Arbor, MI attended and met with Canadian cities of Toronto and Welland to share lessons learned and best practices within the LED City program.
Further information can be obtained at the greenTbiz website (www.greenTbiz.org) or by emailing Chantal Brundage, greenTbiz Program Manager (Chantal@greenTbiz.org).