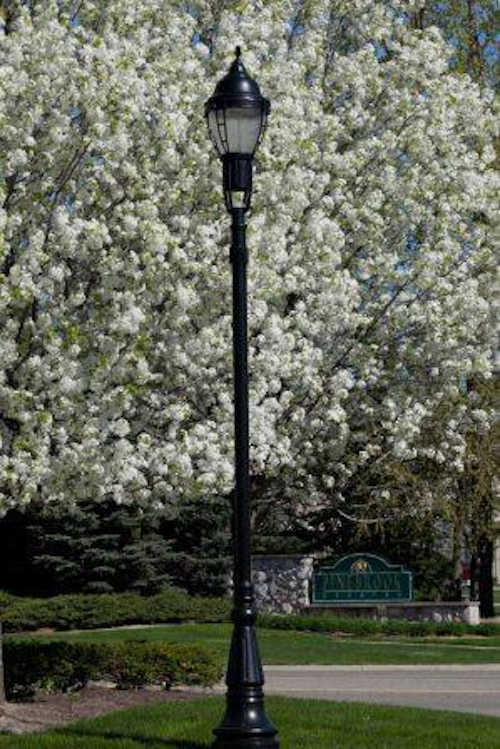 Sensity Systems and Amerlux have announced a partnership around Sensity's Light Sensory Network (LSN) technology and the Net Sense platform that includes an open application programming interface (API) that allows customization of feature sets in a lighting network. The LSN technology supports adaptive control in outdoor solid-state lighting (SSL) systems, along with cloud services and other features that can help justify the installation cost such as security-system functionality.
Amerlux had previously announced its own wireless networking technology called SmartSite that was intended both to enable control of outdoor lighting and to use the network for other applications such as delivery of advertising messaging via speakers on light poles or even video screens. Apparently the company will now use Sensity's network technology to accomplish the service delivery goals over the SmartSite network.
"As a result of partnering with Sensity, we are opening up an entirely new area in lighting applications and services for our company that goes far beyond lighting controls by offering an array of third-party applications on our SmartSite LSN products that will include video-based security and public safety, parking management, predictive maintenance and more," Chuck Campagna, president and CEO of Amerlux. "These new offerings will provide us with a significant competitive advantage."
Initially, Amerlux will focus on lighting-centric features in offering NetSense-enabled luminaires. The company said its initial focus will be on "centralized lighting control, energy optimization scheduling, predictive maintenance and real-time fault notification, measurement and verification, analytics and reporting and demand response." But the open API in the NetSense platform will enable development of additional services.
"Our open, standards-based, multiservice platform enables the industry's transformation from simple control technology to lighting with truly intelligent networking capabilities, cloud services, and partner ecosystems," said Hugh Martin, chairman and CEO of Sensity Systems.
Specifically, Sensity says that the platform will enable security systems that integrate with building security systems and extend the perimeter. Parking services for paid parking lot applications are a potential use. Moreover, the company said that the network could be used to monitor an area for CO2 emissions, seismic activity, pollutants, or UV radiation.
Sensity initially announced its technology at the Lightfair International event in 2013.
Subsequently the company announced its own luminaire portfolio.