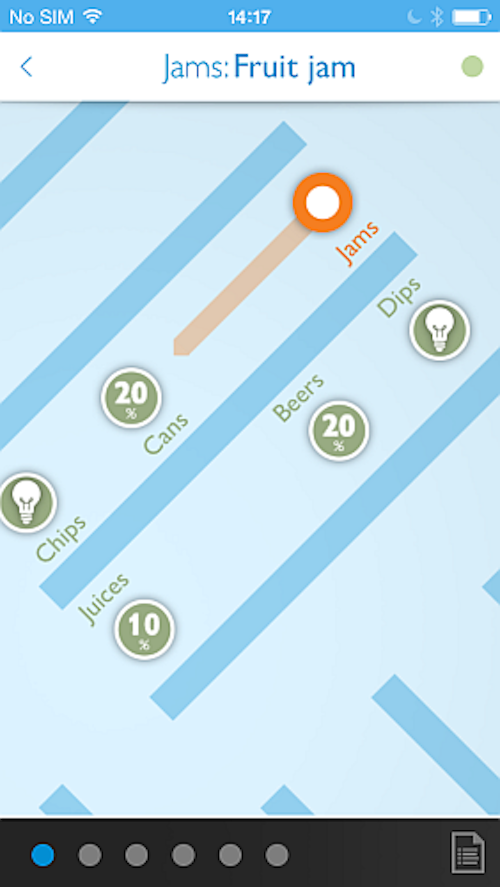 Philips Lighting has used the retail-oriented EuroShop trade fair in Düsseldorf, Germany to demonstrate an indoor GPS-like, location-determination technology that relies on one-way communication between networked LED-based luminaires and customers' smartphones. The demonstration leverages a supermarket scenario in which the technology guides the customer around the store to gather items for a recipe, and includes the ability for the store to send special coupons or other offers to customers based on their current location in the store.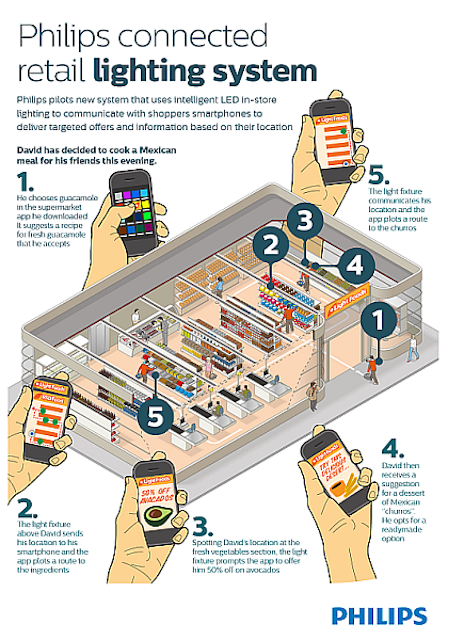 The technology would operate based on the instantaneous response of LEDs in on-off cycles that could transmit data to the camera of a smartphone without humans detecting the light changes. The customer would presumably download an app to utilize the technology. The communication link from luminaires to the smartphone would deliver the location data and other offers.

Note that the Philips demonstration is not the first time we've seen the concept for such an indoor LED-based location technology. In the fall of 2012, startup ByteLight announced that it had been funded to pursue a very similar technology to the one demonstrated by Philips. The company envisions usages in applications including retail shopping, conventions, museums, college campuses, and other settings where location services would provide utility for visitors and the potential of revenue for the facility owner. Later, ByteLight and Solais Lighting announced that the latter would integrate the ByteLight technology into LED retrofit lamps.

In the Philips case, the company is touting the advantage that retailers will not have to invest in another system to support location services. "The beauty of the system is that retailers do not have to invest in additional infrastructure to house, power, and support location beacons for indoor positioning," said Gerben van der Lugt from Philips Lighting. "The light fixtures themselves can communicate this information by virtue of their presence everywhere in the store."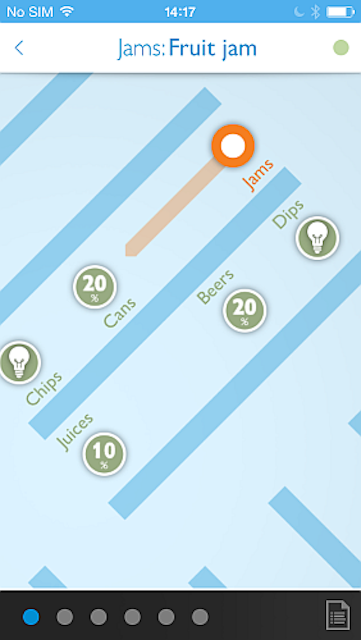 Philips Lighting demonstrates LED-based indoor location detection technology
While van der Lugt is correct, the vision does assume the installation of a two-way lighting network in the facility in question. It's increasingly likely that businesses will install such systems simply to maximize energy savings via adaptive controls and to proactively monitor the temperature, power consumption, and the operational health of lights. Still, such a network is not the norm today, and the luminaires in such a scenario would require additional features in the driver electronics to modulate the LED and implement the one-way link to the smartphone camera.

Philips used a humorous demonstration scenario that places a shopper in need of ingredients to make guacamole. The nearby graphic supplied by Philips provides an illustrated example of the way the technology might be utilized. Moreover, the company offered a look at what the navigation display might look like on a smartphone.