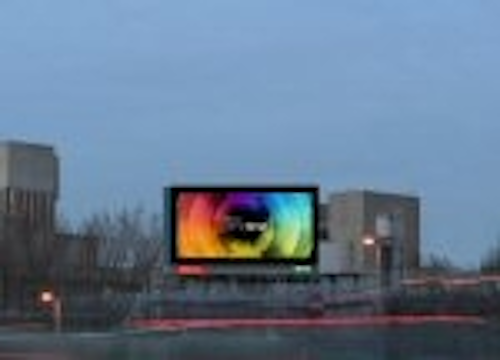 JCDecaux, a leader in European outdoor advertising, has chosen LED display manufacturer Daktronics to provide the company with 20 digital LED billboards for installation in the United Kingdom. It will be the largest deployment of roadside digital screens in Europe, and it marks a significant step in the growth of digital outdoor advertising on that continent.
The digital billboards will be installed at existing locations throughout London and will replace the scrolling displays currently in use. Each digital billboard measures approximately 6 meters wide by 3 meters high (19 feet wide by 9 feet 6 inches high).
The network is scheduled for completion in April 2008. JCDecaux says that advertisers can expect their ads to be displayed 60 times an hour and over 20,000 times in two weeks, across all 20 billboards.
This is the second time Daktronics has supplied digital billboards to JCDecaux in the past year. JCDecaux purchased two digital displays in late 2007, which were installed into a structure uniquely designed in the shape of the Olympic torch. The structure, known as the "Torch," quickly became a landmark in the United Kingdom.
According to Lawrence Haines, the managing director of JCDecaux's large format division, the successful Torch installation was a big reason why JCDecaux chose Daktronics as their supplier for this project. "With the installation of the Torch and its great success in London," said Haines, "we have the confidence in Daktronics to deliver the best quality products as we continue our expansion in the digital billboard market."
In addition to designing and manufacturing the digital billboards, Daktronics will provide JCDecaux with full-service operation of the billboards through Daktronics Network Operations Center. Daktronics Network Operations Center offers a comprehensive solution including network programming, monitoring and display control.
"Daktronics is pleased with the opportunity to work with JCDecaux on this project," said Jim Morgan, Daktronics CEO. "Our dedication to the digital outdoor advertising market since 2001 positions us to serve the global community. During these years, we've aligned market-specific products, comprehensive services and manufacturing capacity to streamline our response to customers."