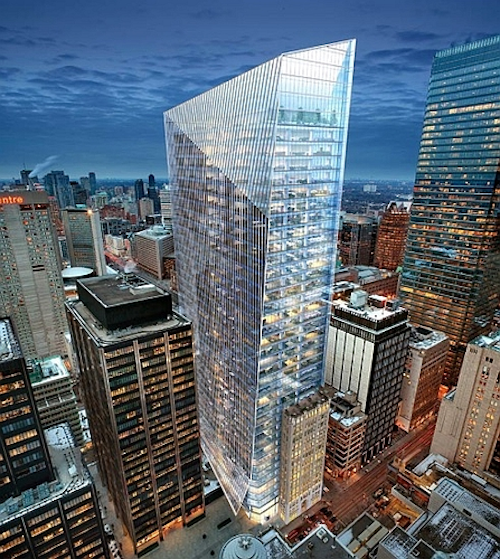 The EY Tower would presumably be one of the world's tallest Internet-controlled skyscrapers. And it's not even Power over Ethernet.
The owners of a 42-floor skyscraper under construction in Toronto are outfitting it top-to-bottom with an Internet-based building automation network that tenants can tap into for intelligent lighting controls, provided they make their individual LED lights IP addressable.
Interested in articles & announcements on smart lighting?
The development illustrates that yet another force — the real estate industry — is getting behind lighting's move into the world of the Internet. Owner and real estate company Oxford Properties is offering access to the system as a lure to prospective tenants at the 617-ft EY Tower due for completion next year with consulting firm Ernst & Young as the anchor tenant.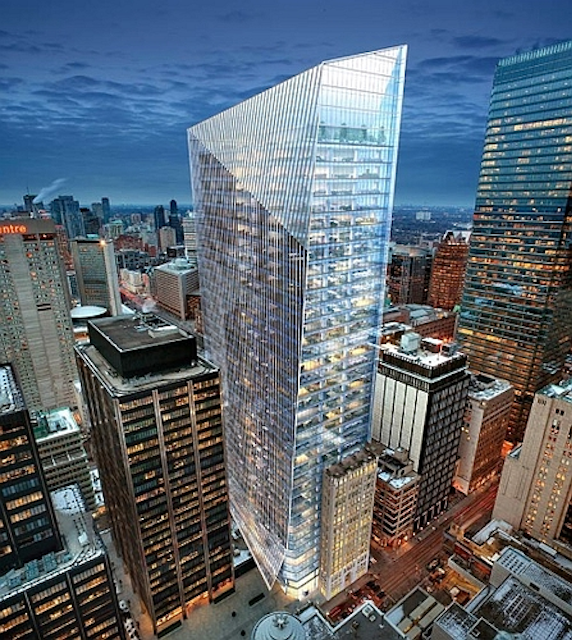 Smart lighting system rises at Toronto skyscraper with IP addressable LEDs and a real estate push
Owners Oxford Properties are offering Internet-controlled smart lighting and building systems as an option to tenants at EY Tower. (Source: Oxford Properties.)
Oxford told LEDs Magazine that it is facilitating networked controls of systems including lighting, HVAC, and security access by integrating an automation platform using Internet protocols into the building's infrastructure.
The integral network at the skyscraper would presumably be one of the world's tallest smart lighting office installations when completed.
"This is what we refer to as a 'Smart + Connected' building," Oxford vice president Claire McIntyre said. "Our tenants can leverage these smart features when they fit out their space."
Oxford did not divulge many details of the system's capabilities. Like other smart lighting systems, it would presumably let building occupants turn lights on and off via computers and gadgets, which they could also use to brighten or dim. Some systems also provide the capability to change colors and light temperature, and some include sensors that help control other building functions such as heating and physical security, and that collect data on occupancy that facilities managers use to make more efficient use of space.
Whatever the extent of the functionality — which probably depends to some extent on systems that individual tenants install — a construction manual for the property notes: "To leverage this capability for their space, customers should be aware of a few basic requirements. Foremost is the need to ensure that any new devices the customer wants to automate, like custom lighting, access control or HVAC, are IP addressable and use a supported protocol for communication. Specifically, any new systems need to conform to the TCP/IP (v.4) standard for data communications, and use either an industry standard protocol like BACnet or an Internet standard (REST/JSON) for message passing."
The manual further specifies that tenants who want to take advantage of the system must tie into the building's IP network "via a compatible IP network," and that "the lighting system should be addressable at the individual light fixture level with the ability to both read the current on/off state and set that state to control lighting."
While the system puts EY Tower on the vanguard of modern lighting controls, it does not include Power over Ethernet (PoE) lighting, McIntyre said. PoE runs both electricity and data to LED lights, and is considered by some to be the future of indoor commercial office lighting. Among other reasons, it can lower new construction costs by eliminating the costs associated with conventional wiring and electricians.
One source said at the time that the owners specified the system — around 3 or 4 years ago — PoE could not economically handle the wattage required for LEDs. Another Toronto building owned by Oxford, RBC Water Park Place, features PoE lighting on five floors occupied by PoE vendor Cisco, which uses the space to showcase the technology.
EY Tower's LED luminaire provider is Canadian lighting company Metalumen.
The building was designed by New York architects Kohn Pedersen Fox (KPF) to include an information technology infrastructure that improves the operations and efficiency of converged building systems including lighting and heating.
"If you do not think of these kinds of things when you design the building, then you're going to pay a lot more money if you do that after the building is done," said John Baekelmans, chief technology officer of Cisco's Internet of Things (IoT) solutions group.
Baekelmans said the KPF design represents a leap forward in architectural thinking of how people will use interior spaces.
MARK HALPERis a contributing editor for LEDs Magazine, and an energy, technology, and business journalist (markhalper@aol.com).